Onset of Festive & Wedding Season celebrated by Cleopatra: Onset of Festive & Wedding Season celebrated by Cleopatra: Interpretations of fashion & beauty are changing fast and so are the looks for different seasons and occasions, Chandigarh is surely beating the city of fashion, Paris when it comes to the metamorphosis of Fashion and makeovers.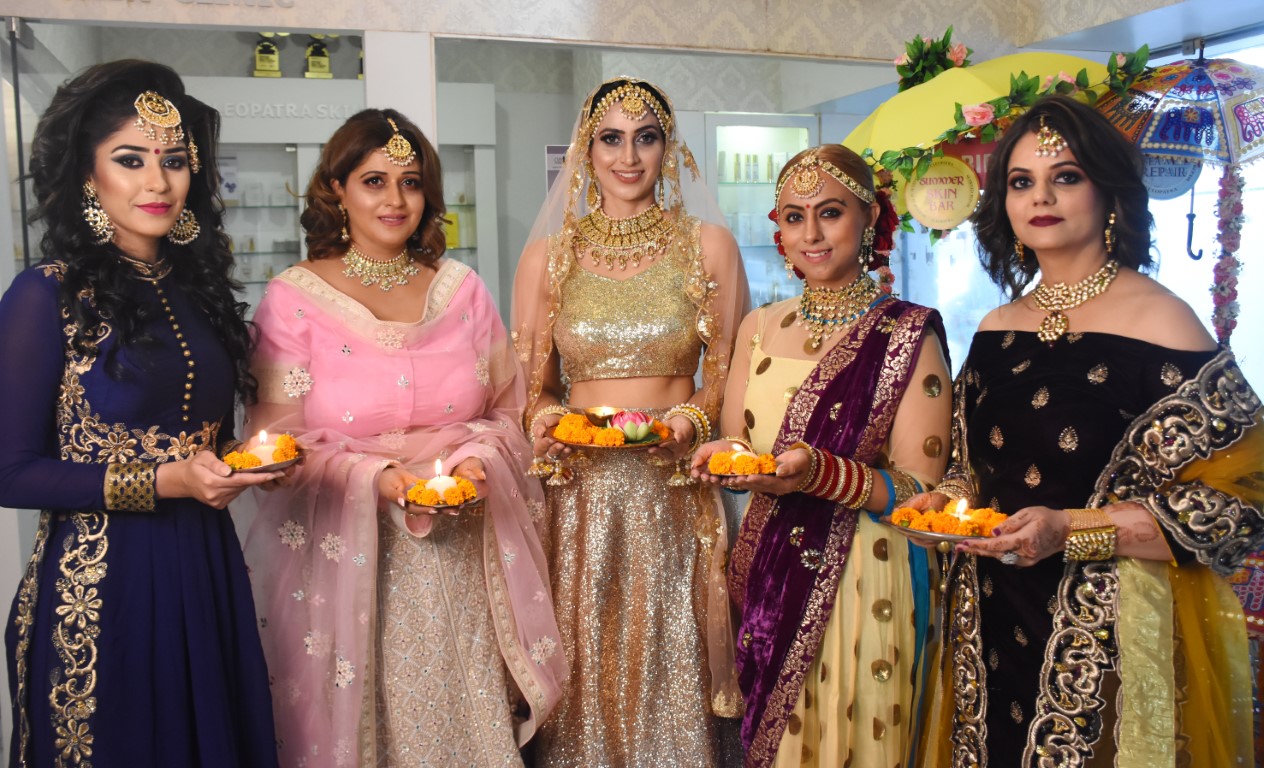 Richa Aggarwal, ace makeovers expert has successfully been driving this change back home and is credited for launching the most exquisite and trendsetting looks that gell with sensibilities of women  in the city beautiful.
Keeping up with the spirit of the festive season and traditional preferences  Richa Aggarwal along with beauty expert Harveen Kathuria unleashed new palette of makeovers and hairstyles this season that will not only add a glow of festivity to your beauty but also up the style quotient for millennial women.  
Sparkles to the festive jamboree were added by beautiful Samaira Sandhu  who along with gorgeous models indulged in exotic spa and beauty pampering and previewed festive looks for the season, On the onset of wedding season, fresh trends were unveiled for bridal makeups and hairdos, where changing fashion silhouettes and new hues of makeup and hairdos were presented. The new looks and styles were appealing and kept shutterbugs busy. Work of fancy and elaborate accessories, Wonders were done with the acumen of maquillage and brush.
Speaking on the occasion Richa Aggarwal stated, Wedding and festive season remain favorite for all of us for many reasons, people love to celebrate and they also love to wear the best of ensembles and looks,  Makeovers, hairstyles and nail art play a major look in accentuating and defining the overall personality. Unlike last year's trends, this time is progressing towards experimentation and amalgamation of western styles with traditional charm, makeup trends during the festive and bridal season are shifting towards going little blingy which is not over the top but is all about creating a balanced look. If eye makeup is flashy than the rest of the look on the face is subtle and nude. Last year a lot of hairdos work was done with flower-based accessories but this year its the juxtapositioning of both, a magical charm in bridal makeup is created with the interplay of flower accessories with Swarovski and pearl-studded hair jewelry, the trend is global though and we have gone further with this while adding creativity and ingenuity.
Stunning Samaira Sandhu looked smitten by her own look and she didn't mince words while praising the work of Cleopatra, " This is not the first time for me to get groomed and get myself donned in the makeup of Cleopatra, For me Cleopatra is most trusted name for curating versatile looks, be it a party makeup, engagement or a bridal makeup, red carpet look, ultra-glam Bollywood look or a subtle princess look, I have tried all kinds of different looks here and every time creativity in their work  throws upon element of surprise and pleasure. Even today I am spellbound with my own look, they truly know the art of transformation like no other contemporaries.