newnew (Zirakpur) : For the first time in Zirakpur, Residents of  Zirakpur will now experience a whole new level of good health in the town with the opening of Oxizone Fitness & Spa. Presenting world class facilities in the area of 7000 sq feets its Located at prime location of Zirakpur in Apple Heights, VIP Road, Zirakpur. Renowned model and celebrity Sara Gurpal along with well-known singer Harf cheema, Deep karan, Jashan Nanarh, were present at the launch.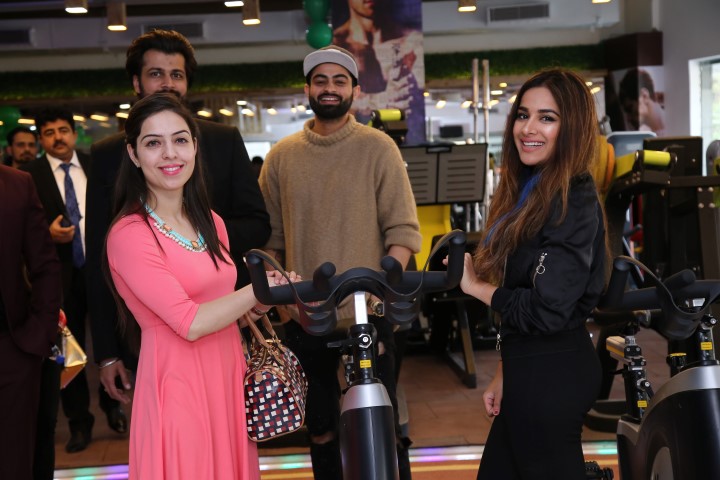 Speaking at the launch Dr. Simer Kaaur said we are happy to announce the opening of our fifth branch of Oxizone Fitness & Spa in Zirakpur. The Oxizone has a team of experienced Doctors, Physiotherapist, Dietician and Naturopath to spread health and fitness in society and that give scientific base to exercise which merges health and Fitness.
She further said first time in North India a gym has Indoor Running Track made Originally from material that gives cushion to Knee, Pool, Table Tennis, Foosball, TRX Cross Fit Zone, Fitness Library, Health Café, badminton and Among other facilities we have equipments designed to make particular muscle group work and no chances of injury, sauna and steam Bath and master trainer with experience of 18 years.
Oxizone provides world class health facilities with a team of Doctors, Physiotherapist, Dietician and Naturopath in the governance of Dr Simer Kaaur (maxillofacial surgeon )who is an International Taekwondo player and 7 times National Gold Medalist and National Medalist in Athletics
Oxizone fitness & spa with its scientific training and medical base has made many members get rid of thyroid and blood pressure medicines by giving by health nd fitness. Many people got permanently relief from knee and back ache.
Oxizone organizes free eye test, blood test and physiotherapy camps for its members and their family members for early diagnosis of disease and firmly believe in prevention is better than cure . Apart with facilities of state of art Cardio & gym equipments, spa, cafe, group fitness studio, body Composition analysis machine, regular medical camps, Oxizone take cares of post surgery cancer patient to improve their movements and make them fit after surgery and other therapies.