NewZNew (S A S Nagar) : Drug menace is a big challenge, not only for Punjab state but also for our entire world & our nation too. People from every part of society should come forward to join hands for complete eradication of drugs from Punjab. Only then a new society could be formed. This was stated by Sh. Vinit Joshi Assistant Media Advisor to CM Punjab Sh. Parkash Singh Badal. Here at Phase – 3 Mohali, Sh. Vinit Joshi laid down the foundation stone for second storey of Shaheed Udham Singh Bhawan and expressed his view to the press.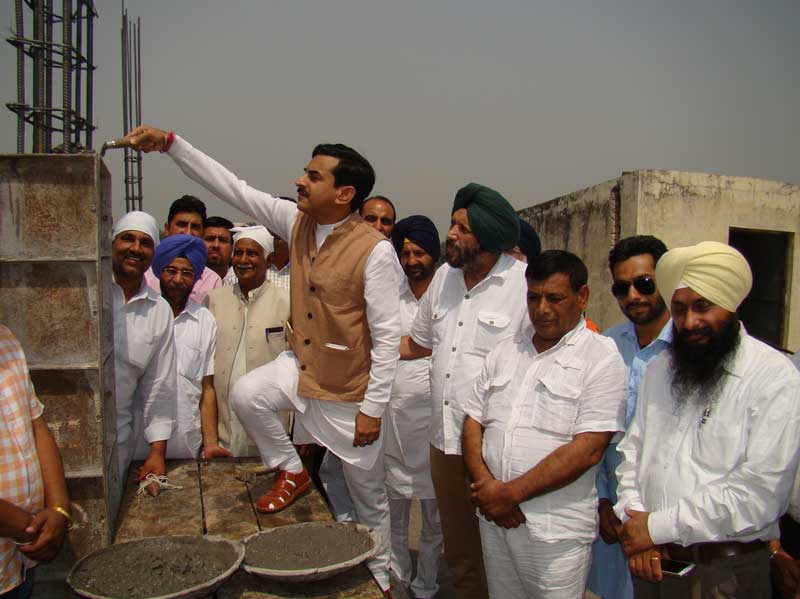 During this, Sh. Vinit Joshi said that where at one end in Punjab, Social service societies are contributing towards society integration, whereas on the other hand they are also establishing their own buildings at where they could share their views by conducting meetings. These meeting halls/ buildings are also helpful for organizing marriages and functions by the needy persons. Speaking about the Shaheed Udham Singh Education & Charitable Trust (Regd.) Mohali he said that the building established by the trust is a symbol of Kamboj Unity & their integration and also this building is proving very beneficial for the local residents and by constructing its second floor it will become more useful. During this On Behalf MP Sh. Abinash Rai Khanna he announced to provide financial assistance of Rs. 2 lacs from MP Quota for construction of second floor.
During this, Sh. Vinit Joshi said that people should remain alert about the negative tricks of opposition.  Lashing a whip on statement of congress party he said that congress party is always trying to create a bad name for Punjab. He said that I totally disagree with the congress party's statement stating that 75% youth of Punjab is drug addicted. Whereas drug addiction in neighboring states is more as compared to Punjab. He further said that Congress party is befooling the general public & farmers for land acquisition bill. He said that people should know the facts and refrain themselves from these fraudulent parties.
Before this, Sh. Boby Kamboj General Secretary Shaheed Udham Singh Educational & Charitable Trust (Regd.) Mohali said that estimated amount for construction of second storey is Rs. 1.5 crore. He said that Govt. of Punjab has provided a Plot to the trust for construction of Shaheed Udham Singh Bhawan.  He requested to wave off the interest money of Rs. 57 lacs on land cost. During this, Vice Chairman Infotec Sh. Khushvant Rai Geega, Chairman Bankfico Sh. Om Parkash, Chairman Distt. Planning Committee Ferozepur Sh. Daulat Ram Kamboj, Trust Chairman Dr. Bhupinder Singh, District President Kamboj Sabha Ferozepur Pala Bhatti, Councilor Gurmukh Singh Sohal, President Akali Dal SCBC Wing SAS Nagar, BJP Leader Harjit Bhullar, Vice Chairman BankFico Sh. Ashok Kamboj, S. Baldev Mamjoia, Sh. Dimple Kamboj, Vipan Kamboj and other trust members were present. During this Path Sh. Sukhmani Sahib & Shabad Kirtan was also organized.