SARAS MELA TO PRESENT THE BEST OF INDIAN HANDICRAFT, DIVISIONAL DEPUTY DIRECTOR
BDPOS OF SEVEN DISTRICTS DISTRIBUTED POSTERS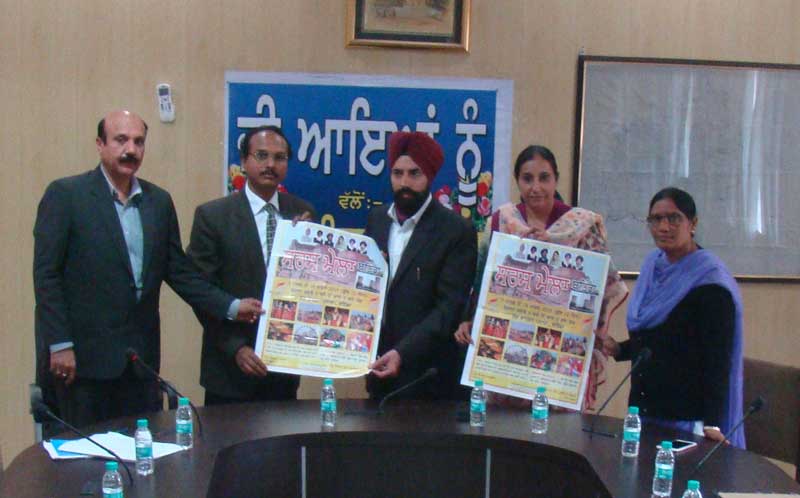 NewZNew (Bathinda) : The poster of SARAS Mela, being held from March 7 to March 18, was released by the divisional deputy director, rural development and panchayat department Mrs Parampal Kaur Maluka, chairman zila parishad Bathinda Mr Gurpreet Singh Maluka and the additional deputy commissioner (development) Mr Varinder Kumar Sharma.
Releasing the poster the divisional deputy director Mrs Maluka said that SARAS mela will exhibit the best of Indian handicraft and would provide the artisans a platform to sell their creations. Addressing the Block Development and Panchayat Officers from Bathinda, Mansa, Sri Muktsar Sahib, Ferozepur, Faridkot, Fazilka and Barnala she said that they should make announcements in respective villages and people about this fair so that maximum number of people can enjoy it.
All the BDPOs were distributed posters and a copy of the announcement CDs. Speaking at the event, the chairman zila parishad Bathinda Mr Gurpreet Singh Maluka said that the SARAS Mela is being held at Rose Garden Plaza, near Rose Garden. He said that large scale arrangements were being made to provide lodging and food facilities for the artisans of various states and the security and other arrangements for people visiting mela.
ADC Mr Varinder Kumar Sharma stated that daily there would be cultural performances for eight hours a day by performers from 18 states. Cultural items  will include folk dances of UP, HP, Jammu and Kashmir, Rajasthan, Gujrat, Maharashtra, Bihar, Assam, Manipur, Meghalaya, Tripura, Nagaland, Mizoram, Sikkim, Arunachal Pradesh, Haryana, Uttrakhand, Punjab (rural bagpipers, Malwai gidha, bhand marasi). Besides these sufi music, qawwali, Kathputli, Bamboo walkers, cinema scope, madari, jadugar, saperas, nachars etc will also steal the show. North Zone Cultural Centre (NZCC), Patiala is sending Troupe of 150 Dance artists from 8 North Eastern States of India.
Besides these handicrafts from 22 states Bihar, Gujrat, Himachal Pradesh, Odisha, Haryana, Jharkhand, Jammu and Kashmir, Uttar Pradesh, Rajasthan, Madhya Pradesh, Kerala, Maharashtra, Andhra Pradesh, Tripura, Tamil Nadu, Telangana, West Bengal, Nagaland, Uttrakhand, Assam, Manipur, Punjab would be on display.
District Development and Panchayat officer (DDPO) Bathinda Mr Rajinder Batra and various BDPOs were also present.