newznew (Chandigarh) : Members of the Chandigarh Press Club on Sunday participated in a day-long athletics meet at a stadium in Sector 7 here with the aim to keep the club members fit.
More than 30 journalists and their families participated in the first-of-its-kind event, which will be a regular activity now, Press Club President Jaswant Singh Rana said.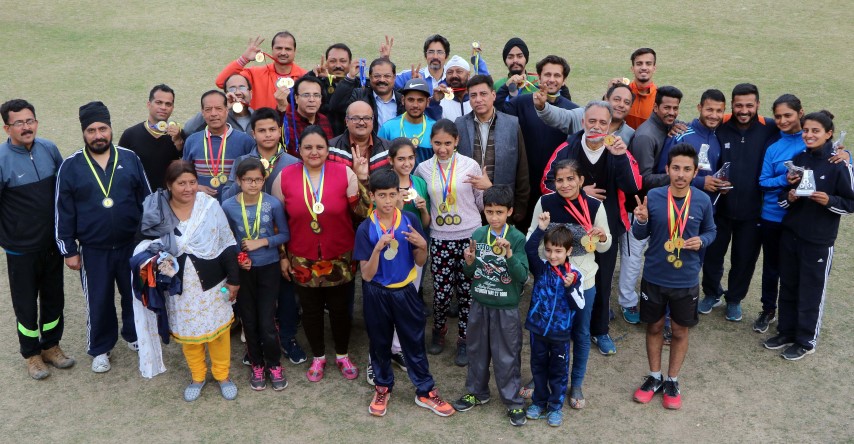 He said the event also helped to make the journalists, who are overworked, free from stress.
"In our daily routine, it's difficult for a journalist to spare a time for self and for the family. Such activities also help to evaluate one's fitness level," Rana said.
Advocating promotion of sports, he said this Press Club, established in 1980, would soon host national inter-Press Clubs cricket meet in association with the Haryana government.
Rana said the government has allocated Rs.15 lakh for organising the cricket tournament, first time in the country, by involving journalists from across the country.
He said in-house badminton and tennis tourney would also be organised this month.
Earlier, the Chandigarh Press Club in association with the Department of Forests had participated in a three-km 'greenathon' at the Sukhna Lake reserved forests with the objective to keep the club journalists fit and think 'green'.
WINNERS OF SHOT PUT
1 Amar Jeet Singh-
2 Narinder Kumar-
Dr Joginder Singh
3 Jaipal Singh
WINNERS OF DISCUS THROW
1 st AmarJeet Singh
2 nd Narinder Kumar
3 rd Dr Joginder Singh
WINNERS OF HIGH JUMP
1 st Ramesh Handa
2 nd Saurabh Duggal
3 rd Dipankar Sharda
WINNER OF LONG JUMP
Ramesh Handa
WINNERS OF 100 MTRS FINAL IN DIFFERENT CATEGORIES
Men 45to 55yrs 1 st Ramesh Handa
2 nd Anil Khurana
3 rd Jaipal
Boys Upto 15yrs 1 st Arnav
2 nd Aman
3 rd Jasbeer
Women upto 45 yrs 1st Pragati
2 nd Renu
3 rd Manpreet
Men upto 45 yrs 1 st Satish
2 nd Deepankar
3 rd Brijender
Boys 15to 30 yrs 1 st Shikar
2 nd Ramchandra
3 rd Samyat
Girls upto 15yrs 1 st Komal
2 nd Saumya
3 rd Manrit and Punya
WINNERS OF 400 METERS UNDER DIFFERENT CATEGORIES
Women's upto 45 yrs 1st Renu
2 nd Komal
3 rd Pragati
Mens upto 45 yrs 1 st Satish kumar
2 nd S.P Sodhi
3 rd Saurabh
Mens above 45yrs 1 st Anil Khurana
2 nd Dr Joginder singh
3 rd Vijay Dabur
Boys 15 to 30 yrs 1 st Shikar
2 nd Kamalpreet
3 rd Kshitij
WINNERS OF 3000 MTRS MENS WALK IN DIFFERENT CATEGORIES
Above 65 YRS 1 ST Manmohan Singh
Above 60 yrs 1 st L.N Patnaik
Below 45yrs 1 st Rakesh and Kamalpreet Sodhi
WINNERS OF WOMEN FUN RACE (THREE LEG RACE)
Upto 15yrs 1 st Navya and Dhavika
2 nd Rinku and Pragati
3 rd Komal and Manmait