Pracheen Kala Kendra organized its 9th quarterly Baithak in New Delhi under the series "Legends of Tomorrow" at Triveni Kala Sangam, at 6:30 pm onwards where Prof. Neera Grover  , an eminent Vocalist from Chandigarh presented vocal recital and city based Spectacular Sanjeet Gangani   cast magical spell with his elegant Kathak dance.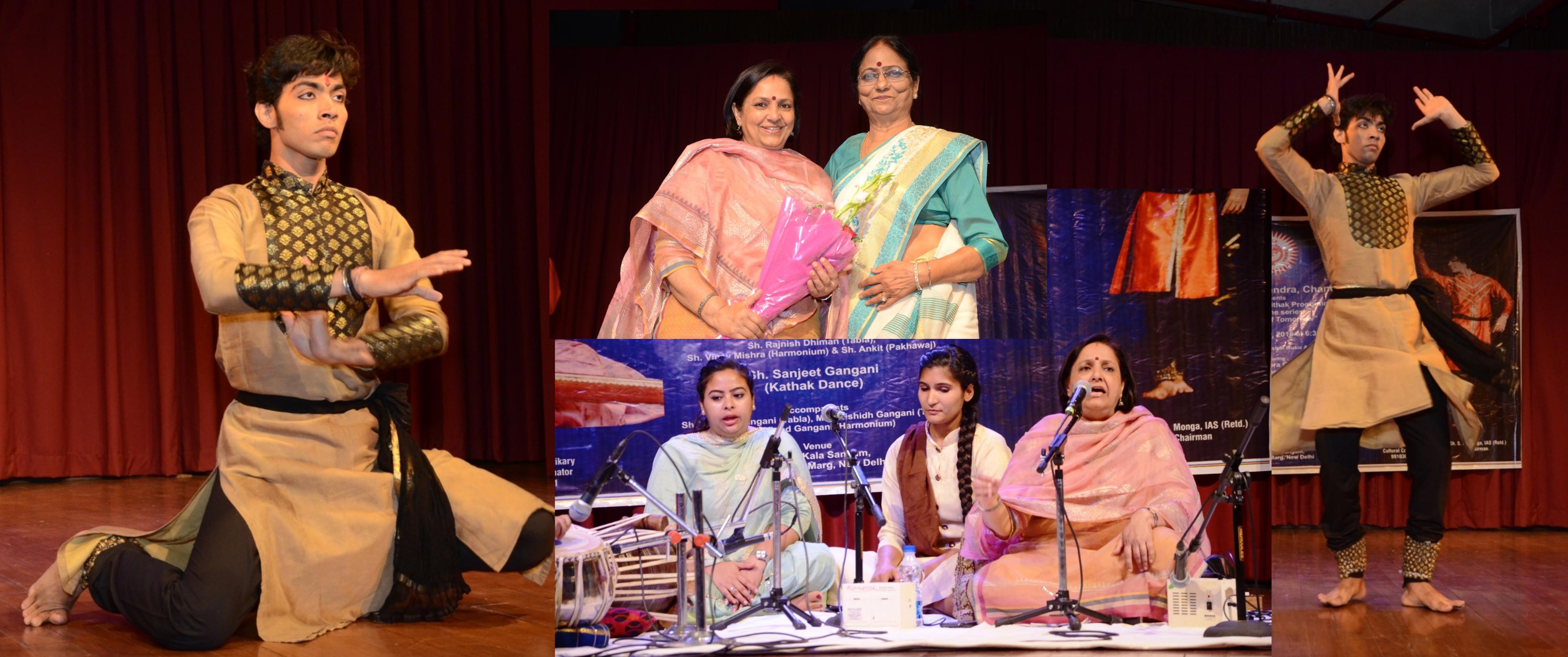 Prof. Neera was initiated into the Khayal Gayan tradition of Hindustani Classical Music by her father, (late) Dr. Panna Lal Madan, who belonged to the Vishnu Digambar parampara and, also, had the distinction of starting M.A. classes in Vocal Music of Panjab University at Chandigarh. She was awarded Gold Medal for Khayal Gayan by the prestigious Shri Baba Harballabh Sangeet Mahasabha, Jalandhar. She won top prizes in vocal and instrumental music in numerous music conferences, and competitions and Youth Festivals at Inter-College, Inter-University and Inter-State level. She also learnt from Padma Bhushan (late) Ustad Khadim Hussain Khan at Mumbai.  As an artist, she has given performances in several Mehfils all over India.
On other hand Sanjeet Gangani is a young and talented Kathak dancer . He born inGharanedaar family  of and since his childhood and started learning dance from his legendary father Pt. Rajendra Gangani .   He is grateful to his guru for developing his dance to the high level of perfection and enabling him to establish equal command on Nritya & Abhinaya paksh.
Prof. Neera commenced her recital with Raag Puriya Dhanashree , and after aalap she presented bandish "Braj jan mangal gayo" was developed with soothingly inserted alap badhat. It was followed by a chhota khayal  bandish "Bhanak padi kaan". She chose Raga Nand  as  her next rendering with bandish "Dhan Dhan bhag Nand ke"  which was laced with rhythm deployed variations.  She then moved on to present a bhajan in raga Bhairavi "roop aroopi rang rangeele" followed by invocatory Krishna Kiratan.  Neera provided a befitting finale to her recital with a Tarana  amid applause displaying her musical capabilities in a highly impressive manner.
She was ably accompanied by Rajnish Dhiman (Tabla, Vinay Mishra (Harmonium) and Ankit on (Pakhawaj). After this melodious recital Sanjeet Gangani took the centre stage and  opened up the programme with a spiritual performance Guru Stuti , followed by Traditional Kathak Dance.  Gat, Nikas Thaat, aamad, uthaan, paran, chakradar paran, upaj , pramilu so on were presented with captivating and graceful movements and fine footwork. Sanjeet also displayed his command over abhinaya aspect of Kathak. His  inimitable style of presenting bhavas in nritya enthrall the city audience.
The accomplished artists Yogesh Gangani and Nishidh Gangani on Tabla, and Vinod Gangani (Harmonium) embellished the recital.