The college allotment of seats under PTET 2017 has been released on July 1. Maharshi Dayanand Saraswati University (MDSU) issued the allotment letter to candidates who are participating in the counselling for admission to PTET 2017 and four year integrated pre-B.A. B.Ed and B.Sc. B.Ed courses. As part of the first round of counselling, candidates have been allotted seats in the colleges based on their place in the merit and also considering the options entered by them during the registration for PTET counselling 2017. The merit is further based on a candidate's performance in the entrance test.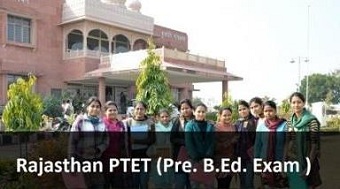 MDSU, Ajmer is carrying out the proceedings related to PTET 2017 and had conducted the entrance test on May 14, releasing results of the same on May 31. The detailed notification for commencement of counselling was issued on June 3 wherein it was noted that the registrations for counselling and college allotment process will be done between June 5 to June 26. However, the process was extended by two days as candidates were the given deadline of June 28 to register for counselling, June 30 for payment of counselling fees and option entry.
Candidates may visit the PTET 2017 website: www.ptet2017.com and www.ptet2017.net for downloading of their allotment letter and details/notices on the further counselling schedule.
95,000 seats available
Amid these developments, the schedule of release of PTET seat and college allotment was also changed. The allotment was to be done on June 30 at 5 pm but was published on the night of July 1. While the seats available for admission through PTET 2017 is only near 95 thousand, the number of PTET takers was 2.15 lakh, and 29,600 more for pre-B.A. B.Ed and B.Sc. B.Ed admissions onto the academic session starting in 2017.
Admission formalities
Now, the candidates who have been allotted a college/seat and if they wish to get admission on that seat, they will need to complete the admission formalities laid forth by MDSU within next 8 days. The reporting to the colleges allotted will have to be done between July 2 to July 9, 2017. The fees for admission i.e., Rs 22,000/- must also be paid within the specified dates which will be notified by Monday morning.
The candidates will get the chance to apply for upward movement from July 10, within a two days duration and the allotment of college and seats after upward movement will be released tentatively on July 13. The entire schedule that was notified originally has been delayed by a day. The dates mentioned have been fetched by sources and the official notice for further scheduled should be out by morning, and should be considered final for any information. We'll update then.
Apart from the first round of college allotment, two more rounds will be done which will involve applying for upward movement. An additional round may also be held.