7.52 BENEFICIARIES GETTING BENEFIT OF ATTA-DAL SCHEME IN BATHINDA
FROM JUNE TO DEC 2014 22735.64 MT WHEAT HAS BEEN DISTRIBUTED TO BENEFICIARIES
NewZNew (Bathinda) : In order to provide better diet the Punjab government is running Atta-Dal Scheme distributing ration on subsidize rates. Under this scheme, 1.84 lacs families of Bathinda district having 7.52 lacs members are being provided subsidized ration.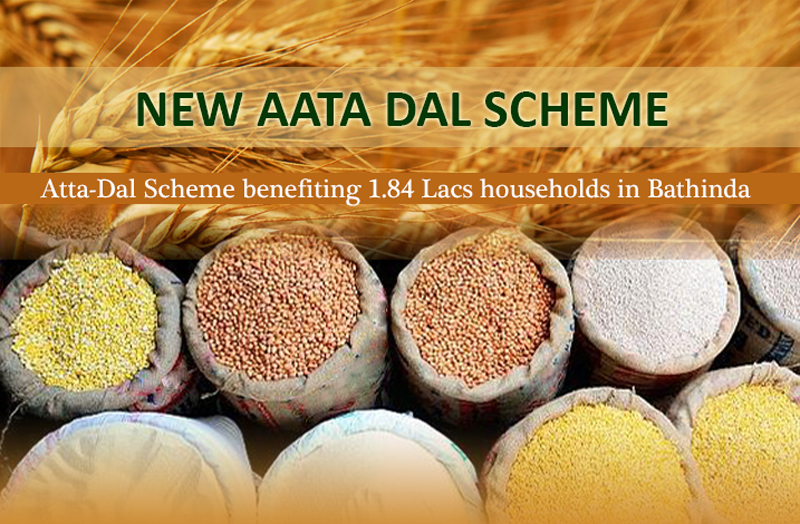 Giving information in this context today the Deputy Commissioner Dr Basant Garg stated that for the past one year the government has been providing ration for a period of six months together so that the beneficiaries do not have to make trip to depot holders every month. He added that this initiative of Punjab government was proving very helpful for the poor families in today's times of inflation. The last six months' ration has been distributed under tutelage of good supply inspectors. He said that from June 2014 to December 2014, 1,84,914 families having 7,52,181 members have been distributed 22735.64 MT of wheat.
Similarly, under the Antodya Ann Scheme there are 5926 card holder families that have 24995 members. Similarly under BPL cards scheme the district has 8589 card holders having 36185 family members. He added that the Antodya Scheme card holders are given 35 kg of wheat. The holders of other scheme cards are given per person 5 kg wheat per month at the rate of Re 1 per kg. Besides this, under the schemes government gives 500 grams per person and 2.5 kg pulses for a family of five at the rate of Rs 20 per kg.
The district civil and food supplies controller Mr AP Singh said that through public distribution system the Antodya and BPL card holders are also given 10 liters and 5 liters of kerosene oil respectively. The kerosene oil is given to those beneficiaries who do not have LPG gas connection.