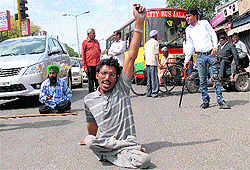 NewZNew (Chandigarh) : The Punjab Government today agreed to fill the vacant posts of disabled persons against the prescribed quota in the Local Government Department to clear the backlog in the three Corporations of Amritsar, Jalandhar and Ludhiana.
Disclosing this here today a spokesperson of the Chief Minister's office said that a decision to this effect has been taken in a meeting with a delegation of Handicapped Welfare Union led by its state President Mr. Mangal Singh Gill at the level of Principal Secretary to the Chief Minister Mr. SK Sandhu and Secretary Local Government Mr. Ashok Gupta.
Mr. Sandhu sympathetically listened to the grievances of the union and amicably resolved the matter to their satisfaction. On the assurance from the senior officer, the association immediately announced to call off their ongoing strike and expressed gratitude to the state government for acceptance of their long pending demand.
It may be recalled here that the Members of the Handicapped Welfare Union were on indefinite Hunger strike outside the Local Government Department's office here for the last 20 days to initiate recruitment process to fill 274 vacant posts reserved under Handicapped category persons at Amritsar, Jalandhar and Ludhiana Corporations.