Punjab Marriage Palace & Resort Association Submits Memorandum to CM: Punjab government should reopen the state's marriage palaces & resorts by allowing a minimum of 300 guests or guests equal to half of the 'guest capacity' available in a marriage palace or resort for a wedding with proper COVID 19 Standard Operating Procedures (SOPs'), this was stated by Sukhdev Singh Sidhu, President, Punjab Marriage Palace & Resort Association (PMPARA) at a media interaction held.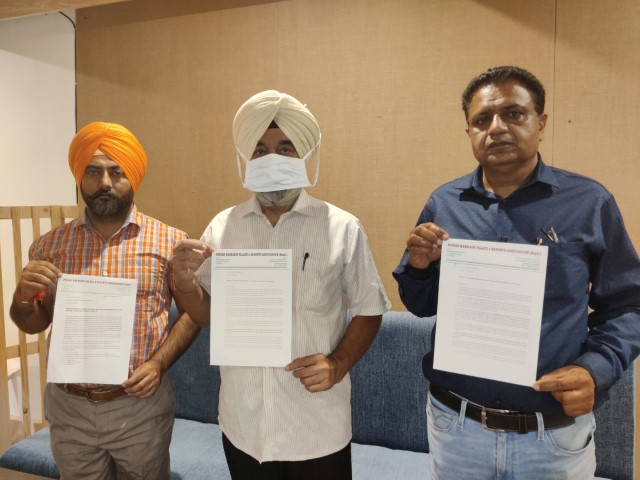 "Generally marriage palaces have 10,000 to 1 lakh sq feet of open gardens and banquet halls from size 5000 sq feet-30,000 sq feet, besides large area for proper parking, on the contrary hotels, restaurants, malls, gyms and markets that have been opened are having small areas. It is not understood as to why marriage palaces have not been granted permission to hold wedding functions where SOPs' with regard to COVID 19 can be implemented very easily." Argued Sidhu. Also Read: Finch Relaunches with world renowned mixologist
Also present with Sidhu were Karamjit Singh Canadian, Joint Secretary, PMPARA, T S Dhindsa, President, Marriage Palace Association, Fatehgarh Sahib and Raman Khanna, President, Mohali Marriage Palace Association.  It was informed that the PMPARA has already handed over a letter in this regard to Punjab CM Capt Amarinder Singh through the Group of Ministers (GOM). Also Read: Punjab CM orders strict enforcement of Covid-19 protocols
Sidhu further said, "There is no forthcoming action yet by the Punjab government. We want to now give the state government an ultimatum that if it does not take the decision to reopen the marriage palaces and resorts by end of this month, the association will adopt a course of agitation and protest from October 2." Also Read: Punjab Govt. to continue Fight against Anti-Farmer Agri Bills till last Breath – Manpreet Badal
Punjab has over 5000 marriage palaces and resorts which have been closed since over 7 months. This has rendered over hundreds of vendors connected with the events and marriage industry jobless, resulting in a situation of massive unemployment and extreme financial distress for marriage palace owners and all other service providers.
Karamjit Singh Canadian, Joint Secretary, PMPARA said, "The marriage palaces and resorts sector is an organised one and once government allows reopening, all COVID 19 Standard Operating Procedures (SOPs') will be followed. A majority of venues have a capacity to accommodate 1000-2,000 guests and if the government allows reopening with 300 guests per event all the vendors who were jobless will get work and even the state government will stand to gain as revenues will start pouring in." Also Read: Centre forcing farm laws on nation: Punjab CM
Under Unlock 4 most states neighboring Punjab, have allowed events of up to 100 guests, this has triggered the revival of marriages and events at hotels in Chandigarh and Panchkula near Punjab's Mohali. On the other hand, Punjab's marriage palaces and resorts are shut.
Raman Khanna, President, Mohali Marriage Palace Association said, "The marriage season has started and all marriage palaces in Punjab are feeling the heat as people from Mohali are heading for Chandigarh, Panchkula or even Himachal to organise marriages. Same is the situation in other parts of Punjab where too this trend is being witnessed. This coupled with months of zero income could result in the closure of most of the marriage palaces and resorts in Punjab if the government does not get up from its slumber and orders reopening."  Also Read: SAD'S Chakka Jam decision clear Bid to Exploit Farmer's Sentiments – Punjab CM
Adds Sidhu, "When a marriage or event is held at a marriage palace or resort, service providers like DJ professionals, caterers, light and sound people, tent service providers, décor experts, etc get associated and employed. On an average on one wedding function as many as 100 people get direct employment and as many as 500 people get indirect work."    
T S Dhindsa, President, Marriage Palace Association, Fatehgarh Sahib said, "Punjab government is losing crores of rupees in form of GST, other taxes, liquor permits revenue, income from the sale of liquor etc. So it should immediately reopen marriage palaces & resorts."
Sidhu further stated, "The marriage palace industry has an inherent quality of giving a fillip to the economy in general. Once a wedding is booked it gives rise to demand and this is what is required at the moment in Punjab."
Every year this industry contributes to giving employment to lakhs of professionals who are connected with the events business either directly or indirectly. Now these people are on the verge of financial collapse which can turn into a law and order situation in the state.
There is an urgent need to restart marriage palaces and resorts in Punjab due to the sheer size of staff or number of people associated with it:
Total number of marriage palaces and resorts in Punjab – 5000
Total staff in these – 40000
Caterers' staff (like chefs, waiters, supervisors and kitchen staff)-  2,25,000
Florists, décor specialists' etc-20000
Staff with tent service providers -30000
Staff with DJ, singers, and troupes -40000
Staff with band groups -25000
The staff of security, valet parking, etc -15000
Staffs with food & fruit stall providers – 30000
Photography staff from the side of the bride and groom -15000
Grand total of staff- 4, 40,000
The Association has assured adherence to the following COVID guidelines:
An area will be earmarked per person/guest.
Regular sanitization in halls, washrooms and other areas
Sanitisation stations at each entry point face masks and gloves will also be provided to guests.
Guests from containment zones will not be invited.
To maintain social distancing large sized tables will be provided on which not more than 4 guests will be seated.
Food will not be served at any table, for this multiple buffets will be established.
Those working at the marriage venue will be engaged only if their COVID report is negative. Workers will be wearing face masks and gloves.
A quarantine room will also be maintained.