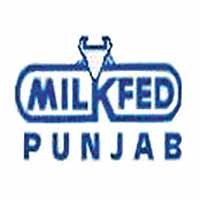 NewZNew (Chandigarh) : Punjab State Co-operative Milk Producers Federation Limited (Milkfed) has procured 380.57 lac kg of Milk from 6371 societies of the State during the month of November, 2014.
Stating this here today, a spokesman of Milkfed said that daily average milk procurement of the Milkfed was 1268.6 thousand kg in Punjab. The spokesman further said that Milkfed was also taking care of animals, especially milch animals. As many as 64475 sick animals were treated in Punjab through 561 First Aid Centres and  1763 Veterinary centers of Milkfed.
He said that cattle feed, mineral mixture, lick brick and fodder seed was sold by the Milkfed to the tune of 5414 metric tonnes, 4673 kilograms, 275 and 8886 kilograms respectively to the milk producers. The Milkfed has also sold 80.7 metric tonnes of Ghee through Societies in the state, he added.
He said that Punjab Government was committed to continue its efforts for the welfare of dairy farmers, so that they could get better remuneration of their milk, the spokesman added.