Punjab Vidhan Sabha Speaker Unveils Unique App, 'Amritsari Haveli Supermarket': With an aim to bring a range of grocery items at customers' doorstep amid the growing fear of the new COVID strain and under the new normal- an innovative online app 'Amritsari Haveli Supermarket' was unveiled by Rana KP Singh, Speaker of Punjab Vidhan Sabha.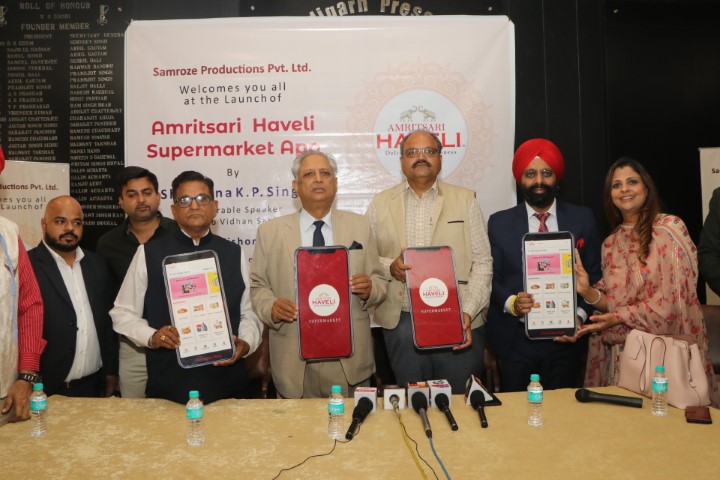 Rana K P Singh was accompanied by Jugal Kishore Sharma, Chairman, PUNSEED, Punjab. The special guests at the occasion were Bollywood actor Arvinder Bhatti and director Parmod Sharma Rana.
Rana K P Singh in his address said, "The brains behind the app have taken a step ahead of the times. They have unveiled an online app 'Amritsari Haveli Supermarket' for the benefit of people, so that customers don't have to go out to buy groceries in times of the pandemic. Groceries and rich in taste and nutrition food will be delivered through an online app system."
The App has been launched under the banner of Samroze Productions Pvt Ltd and the tricity franchise partner is Pehal Max Mart. Sharing greater details about the newly initiated startup, Rubjeet Singh Grover , MD, Samroze Productions Pvt Ltd said, "Amritsari Haveli Supermarket is an online store where you get 1000's of grocery products on a single platform at competitive prices. With people restricted to their homes during the pandemic an idea came to our mind to present them an app that combined both groceries and ready-made food  – the two most needed daily essentials. I am happy that after making an impact in Amritsar, now the app has been rolled out for Chandigarh capital region."
Amritsari Haveli Supermarket not only provides you a hassle free , easy and seamless browsing cum shopping experience for groceries, but also offers mouthwatering Amritsari cuisine from the stable of the famous Amritsari Haveli.
Rachit Sachdeva, a co-owner in the franchise company Pehal Max Mart said, "The App is user-friendly and dynamic with newer products upgrading on it on a regular basis. The app was earlier launched in Amritsar and now it has been unveiled for tricity residents. The delivery has initially been made available in a 15-20 kms radius covering Chandigarh and Mohali."
So No more getting stuck in traffic jams,  standing in long queues, and carrying heavy bags to get your favourite food and daily grocery, just do a free download of  Amritsari Haveli Supermaket App and order your needs.
Meeta Baweja, Director, Samroze Productions Pvt Ltd said, "After the success of the online supermarket in Amritsar the management was looking for expansion and decided to launch it in Chandigarh. The tricity  has a high demand. People here are busy in professional work and this coupled with the COVID impact has resulted in a situation where they don't want to venture into malls and physical supermarkets & want everything at home. We are also planning to expand the app in other cities of Punjab."
Rohit Arora , the other co owner in the franchise company Pehal Max Mart said,"In the grocery section, it has products spread across various categories such as beverages, personal care products, baby care products, etc."
For food geeks, the app offers the Amritsari Haveli's iconic & sumptuous 18 Inches Kulcha, and signature dishes like Maharaja Thali, Mutton Nali Nihari etc. It is pertinent to mention here that 'Amritsari Haveli' had set an enviable benchmark on 25th December 2020 by making a World Record of Largest Amritsari Kulcha measuring 2.7 feet (32 inches) at Mall of Amritsar and it was awarded by World Book of Records, UK.