NewZNew (Chandigarh) : Students of Quest Group of Institutions brought laurels to the institution by securing Merit positions in University examinations. In the recently received merit lists of PTU Examination April 2015 and November 2015-Quest students Shyam Kumar Rauniyar (Civil) of 6th Semester  and Nita Karki (ECE) of 5th Sem  topped in the University both bagging first position. In other branches also the students have attained top 10 positions .Jasleen KAur  Computer Science & Engineering 3rd & 4th semester got  87.73% &88.13% whereas  Nita Karki Electronic & Communication 3rd,4th  & 5th  semester secured 86.13 %& 85.41 %,89.50% and Shyam Kumar Rauniyar Civil Engineering good 5th & 6th & 7th semester  85.38 %, 87.63% ,86.00% respectively .Amanjyot Kaur Electronic & Communication  Secured 90.00% & 85.75% 88.94% in 5th and 6th  7th semester.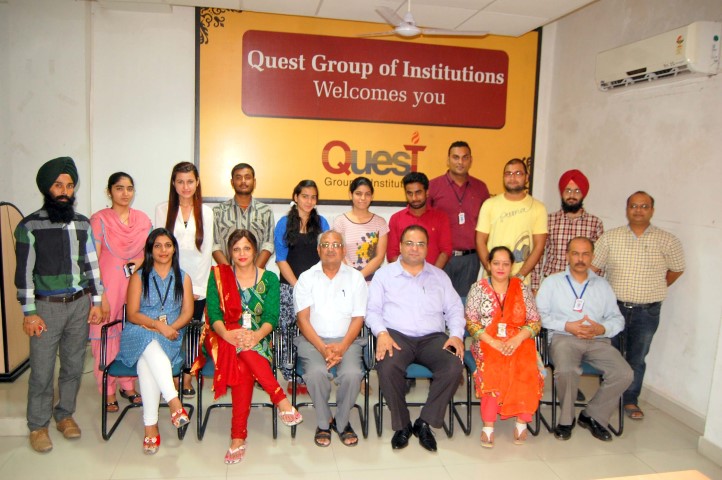 Bipana Thapaliya Computer Science & Engineering got 91.76%, Ujjwal K C Mechanical Engineering student got 87.06%, Priya Negi in Physics got  89.41%, whereas Amrit Sah Mechanical Engineering student 3rd Semester got 84.24% and  Krishna Gupta Mechanical Engineering  got 82.59%. Third Semester,S Kawaljeet Singh Civil Engineering bagged 84.25%, Sundarshan Pant Civil Engineering ,fifth Semester student got  85.88%, Kanwardeep Kaur Electronic & Communication Engineering ,Fifth Semestern got 86.75%, Amrinder Singh Dhiman Mechanical Engineering ,Fifth Semester, secured 85.29%
Chairman, Quest Group, D.S.Sekhon expressed his happiness and congratulated the students for securing positions amongst top ten in the University. With such excellent results being produced by the College regularly, the College has become one of the most preferred among students. Quality education is motto of the institution and result of the students has proved that we have been successful in our endeavours.Vice Chairman, Harinder Kanda bestowed blessings on them for success in future and said it is an achievement which they have truly earned.