radha raseshvari ramya, rama cha paramatmanah, rasodbhava krishna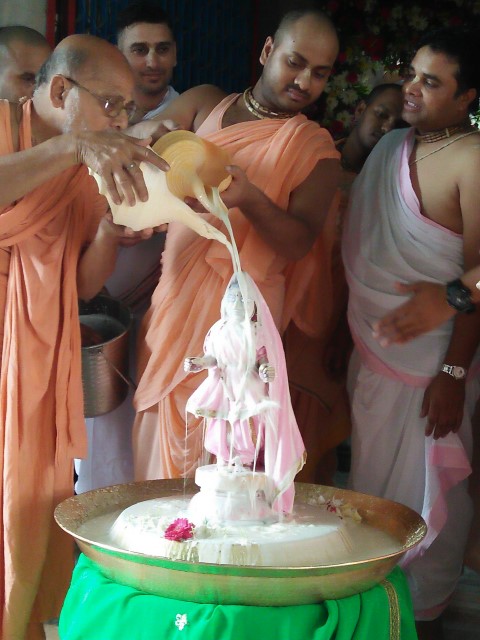 NewZNew (Chandigarh) : Radhashtami is a Hindu holy day commemorating the birth anniversary of Radha. On this day, she emerged from a lotus flower as the lover-consort of the Lord Krishna, 'eighth avatar of Lord Vishnu'.
It is mainly celebrated in Brij. But Tradionally, followers of Goudiya Vaishnavism celebrates this day all over the country with immense reverence and utmost devotion. A similar view was seen in the Chaitanya Goudiya Matth in sector-20, Chandigarh today, where hundreds and thousands of devotees were seen dancing, and singing bhajans in the devotion and belief of Radharani and Lord Krishna.
While addressing the media, Press Incharge of Chaitanya Goudiya Matth, Prakash Gupta shared his views on the significance of this holy day. Adding on to it he also told that, 'followers of Goudiya Vaishnavism follows a half-day fast. Radha-Krishna icons are traditionally dressed entirely in flowers. The devotees fast until noon of the divine couple and their past times. Then a feast is served, most often including a spicy, plum chutney.'
Mainly, Panchaamrit is served as a Prasad. The Head Pandit of the Matth (Poojya Baman Maharaj) carried out the pooja followed by the Aarti with full rituals. And the arrangement of bhoj for almost 1000-1500 people was also carried out in the name of Radharani and Lord Krishna.