Rannvijay Singha X Zee Zest take you on a journey into the wild with a new show 'Safari India': Zee Zest launches a first-of-its-kind show Safari India, an adventurous, entertaining and thrilling journey across some of India's prominent National Parks with actor Rannvijay Singha.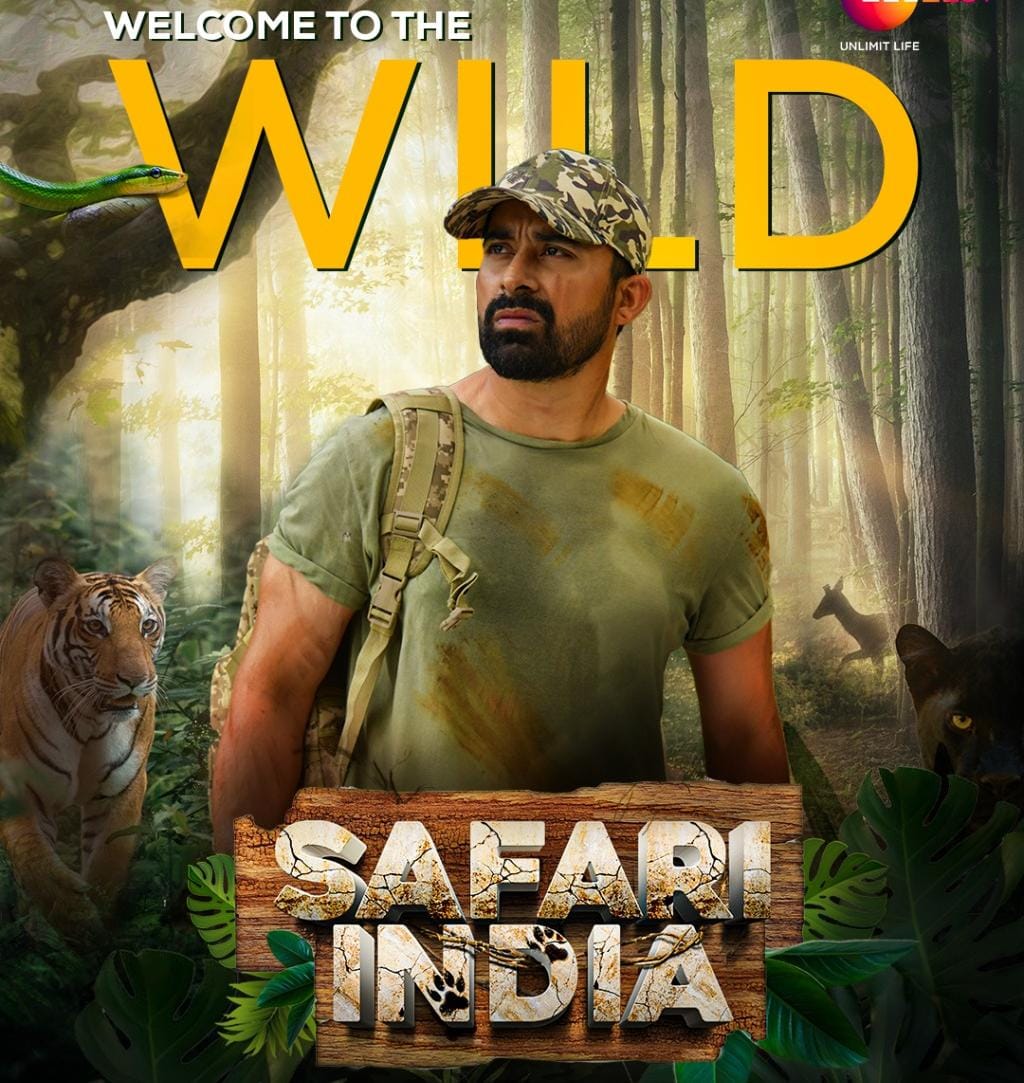 With an aim to explore and experience India's rich biodiversity, the people behind the parks, and the urgency of preserving the magnificent wildlife, Safari India explores seven of India's legendary National Parks via an eight – part tentpole series.
It is said that animals are more than ever a test of our character, of mankind's capacity for empathy and for decent, honorable conduct and faithful stewardship. Thus, with the ongoing Human-Wildlife Conflict in several parts of the globe, it's important for us humans to treat these animals with kindness, now more than ever before. For these animals are the bridge between humanity and the beauty of all that is natural.
Driven with the same purpose, Safari India is geared up to take you on an adventure through the country's breathtaking wildlife ecosystem. Venturing along with host Rannvijay, to track the life that resides at the heart of the wilderness, trekking through the dense tropical jungles of the land, to crossing perilous rivers, Safari India explores the unexplored side of the wild.
The seven National Parks captured through Safari India's lens are the popular Jim Corbett National Park in Nainital, Kaziranga National Park in Assam, Pakke Tiger Reserve in Arunachal Pradesh, Ranthambore National Park in Rajasthan, Gir National Park in Gujarat, Netravali Wildlife Sanctuary in Goa and Dubare Elephant Camp in Karnataka. Each jungle, with its own wildlife diversity that breathes life into nature, and that echoes the roar of its own emotion, taking you through an exciting and thrilling experience.
Every day is a new adventure and a fascinating learning experience. And traversing through these National Parks, host Rannvijay will be seen interacting with several forest rangers and park keepers, learning about their different wildlife preservation methods, surprisingly high usage of modern tech, rehabilitation centers, animal laws, and more across these preservation parks.
But as viewers it would be imperative to understand the crucial role of preserving nature's lifeline as Rannvijay uncovers the same when he visits "The Centre for Bear Rehabilitation and Conservation" (CBRC) which is the first specialised rehabilitation centre for Asiatic black bears in India aimed at rehabilitating displaced cubs back into the wild which otherwise face major threats with persecution and habitat destruction.
Actor Rannvijay Singha, who is always driven by adventure, is the perfect fit to host the show with his impeccable mindset and skills. An adrenaline junkie, he loves taking up challenges and learning about new things. Sharing his experience from Safari India, Host Rannvijay Singha says, "Safari India was the most adventurous and thrilling experience I've had this year.
It was a series of astonishing and larger-than-life experiences. I interacted with several forest rangers and learned about their efforts towards preserving our wildlife. I've had some exceptional learning experiences and it was only because of the show that I realized what a rich wildlife ecosystem our country has. I feel extremely honored to be a part of the show and hope that with Zee Zest, we are able to yet again UNLIMIT experiences for the viewers."
On the launch of the new show, Amit Nair, Business Head, Zee Zest said, "In our quest to enhance our viewer experience and keeping in mind the UnLimit promise we are very excited to partner with Rannvijay on this unique show. While most wildlife shows are voice over driven, here we have tried to place the audience in the thick of the action, giving them the vicarious pleasure to explore the wild through the show and possibly inspire them to undertake their own journeys of adventure. Our country is blessed with some of the most amazing forests and wildlife and we should all actively participate in conserving and protecting them."
Safari India premieres on  31st January 2022 on Zee Zest SD and HD, along with ZeeZest.com.
Know More About Zee Zest
Zee Zest will be a 360-degree platform and will reach the audience via TV, Web, Events, and Social Media. With various recipes, itineraries for road trips, DIY hacks, articles on interesting cultural and historical facts will bring the audience a step closer to the life they have always hoped to explore. To sum it up, UNLIMIT Life by joining Zee Zest to imagine and experience some of the never seen before, heard before ideas and stories as the channel offers shows revolving around travel, food, culture, home decor, health, relationships and more along with some exclusive global content featuring for the first time in India.