Raymond Launches A Refreshing New Campaign To Ring In The Wedding Season: Welcoming the season of weddings, Raymond Ltd., India's largest textile player, launched their latest campaign titled 'Weddings by Raymond'.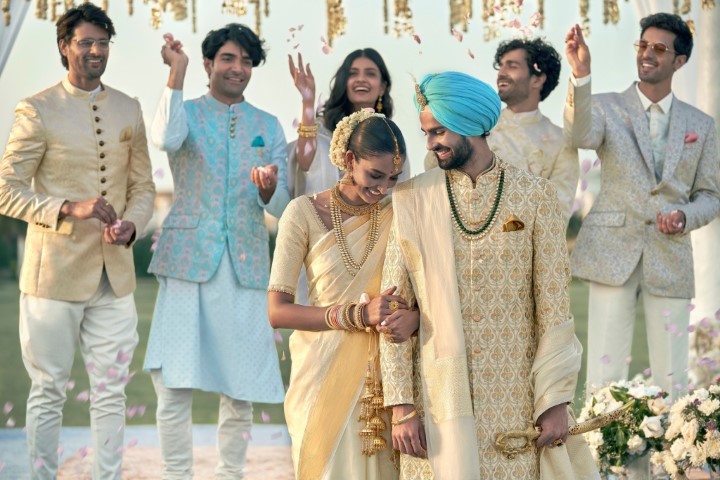 The 360 degree marketing campaign spells for its viewers the modern way of weddings. With its thought-evoking storyline, the campaign showcases couples and their families starting a new journey by embracing something new, be it a new definition of equality, a new culture, a new bond, and a beautiful new dream.
In India, weddings don't just unite two souls, they unite families as well. And when you are a nation that's a melting pot of 1.3 billion individuals, weddings have the power to unite cultures and beliefs too.
The campaign is conceptualised on this insight and emotion and takes on a unique approach by narrating the experiences and cultures that has cemented many notions of weddings in India calling it stereotypical – like Punjabi wedding rituals that go on for 3 days, while a Malayali wedding is relatively short & sweet. The ad depicts the mélange of both cultures showcasing the purity in traditional rituals during the main ceremony.
The new communication has multiple facets, including a digital film that was unveiled and went live during the IPL and a film in multiple languages on television and OTT platforms across multiple genres, targeting the eligible grooms and family members.
Speaking about the campaign, Madhu S Dutta, Head Marketing Raymond Ltd said, "Weddings are undoubtedly the most memorable part of our lives. Every couple looks forward to this special moment and desires to look their best, whether the occasion transcends across 3 elaborate days of celebrations or a shorter version. We at Raymond have always redefined conventional outlooks through fresh narratives and iconic campaigns. Weddings by Raymond is another such campaign that reiterates our modern take on existing perspectives depicting a beautiful and soulful narrative through the lens of a cross-cultural wedding ceremony. And showcases the best-in-class wedding fabric offerings  translating in varied silhouettes that aptly compliments the occasion, cultural nuance and regional flavours of the weddings in India"
Ketan Desai COO Grey India said, "Weddings don't just unite two souls, they unite families as well. In India, weddings have the power to unite cultures and beliefs too. Our experiences and popular culture have cemented many notions of weddings in India that have become stereotypical – This wedding season, we wanted to reinterpret wedding ceremonies in a new modern avatar, making this uniquely Raymond with table covers wholesale selling."
Weddings by Raymond is not only for the groom but for all the men in the family who want to nail an immaculate look with the most elegant, understated yet uniquely crafted and differentiated fabric offerings.
The unconventional colour palette, pastel hues combined with intricate
embroidery and craftsmanship and offbeat patterns by Raymond Design Studio will make you look your best amidst a crowd for all wedding celebrations.
Link to the campaign: https://www.youtube.com/watch?v=6eUrotcQWYo
Campaign credits:
| | |
| --- | --- |
| Client | Raymond Limited |
| Agency | GREY India |
| Chief Creative Officer | Sandipan Bhattacharya |
| Chief Operating Officer | Ketan Desai |
| Executive Creative Director | Vivek Bhambhani |
| Creative Team | Mangesh Kavale, Mehul Prajapati |
| Servicing | Anand Ashar, Yash Jain |
| Production House | SeeOn |
Know More About Raymond
Raymond is India's largest integrated worsted suiting manufacturer that offers end-to-end solutions for fabrics and garmenting. Over the years, Raymond has been synonymous with quality, innovation and market leadership. It has some of the leading brands within its portfolio – 'Raymond Ready to Wear', 'Park Avenue', 'ColorPlus', 'Parx', 'Raymond Made to Measure' amongst others. Raymond has one of the largest exclusive retail networks in the country with over 1,500 stores in more than 600 towns.
Raymond also has presence in FMCG sector through Raymond Consumer care that offers wide range of products in men's personal grooming category and personal hygiene. The group also has presence in engineering and auto components across national and international markets. In 2019, Raymond has also forayed into the realty sector through the launch of its maiden project 'aspirational district' spread across 14 acres housing ~3,000 residential units.
Having enjoyed the patronage of over a billion consumers, Raymond as a brand has been consistently delivering world class quality products to its consumers over the past nine decades.