NewZNew (Zirakpur) : Award winning Author & Renowned Birder Ranjit Lal, held a Creative Writing & Story Telling Workshop for students of Dikshant International & Global Schools at the Dikshant Global School, VIP Road, Zirakpur campus.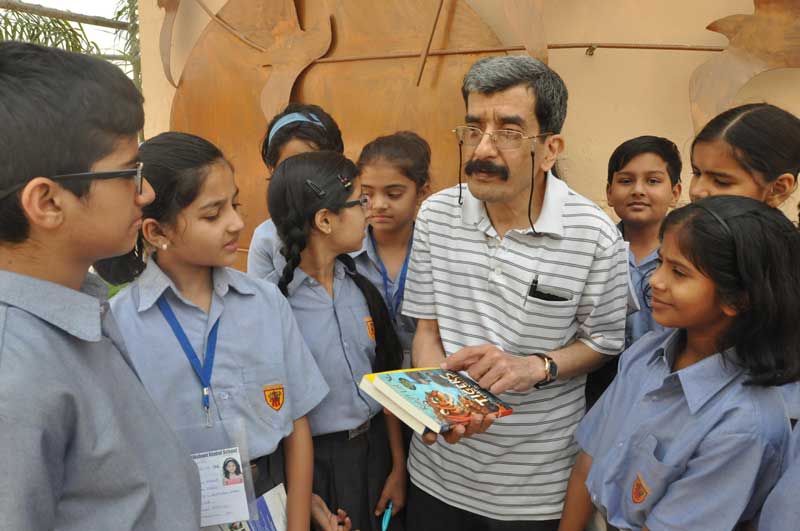 For two hours students of Dikshant were taken through all important aspects of creative writing by Ranjit Lal, an author & columnist who writes for both children and adults. He has had 30 books published so far, in both fiction and non-fiction categories. "I covered subjects like how writers dream up stories and use characters & plot. I also dwelled upon how writers pick the subject of their stories? Are these nature based or based on events, on friendship etc. These were some of the questions I tried to answer from my experience as a writer."
It is noteworthy that Ranjit Lal's book Faces in the Water, won the Crossword Best Children's Book Award in 2010 and the Laadli National Media Award.
"The workshops were held in two sessions for age groups 8-12 & 12-16. We at Dikshant try to rope in well-known subject specialists for different training workshops. Ranjit Lal is a well-known Author & a Birdwatcher of eminence. He has a rich experience in writing books for children and this helped him strike a great connect with the students." Said Mitul Dikshit, Chairman, Dikshant Group of Schools.
"We learnt about the finer nuances of writing a good story. It was a great experience interacting with Ranjit Sir, as he explained everything in a very simple way." Said Vedant Kapoor of Class X.
Some of the titles Ranjit Lal has authored include The Crow Chronicles,The Life and Times of Altu Faltu, That Summer at Kalagarh, The Bossman Adventures, Enjoying Birds, Birds of Delhi, Birds from My Window, The Caterpillar Who Went on a Diet and Other Stories, When Banshee Kissed Bimbo and The Battle for No.19.  His last book, Miracles, was published in 2013.
"The students were very responsive and full of ideas. The questions they asked were pertinent. It was an interactive workshop in which I engaged students by making them develop small creative write ups which boosted their confidence." Summed up Ranjit Lal.