NewZNew (Chandigarh) : Chandigarh has been selected under the Fast Track Cities for Smart City Mission under the Ministry of Urban Development (MoUD). In this phase, Chandigarh will be competing with 23 other cities, to enhance its Smart City proposal and become eligible for funding on accelerated basis in 2016-17.
To refine its vision, mission and a proposal based upon suggestions received from panel of expert and MoUD, the consultant team from AECOM India Pvt Ltd has been hired. The consultant team is on ground since last 4 week reviewing comments received from panel of experts and MoUD, talking to stakeholders, conducting assessment of previously submitted SCP and making necessary refinements to the Chandigarh Smart City Proposal.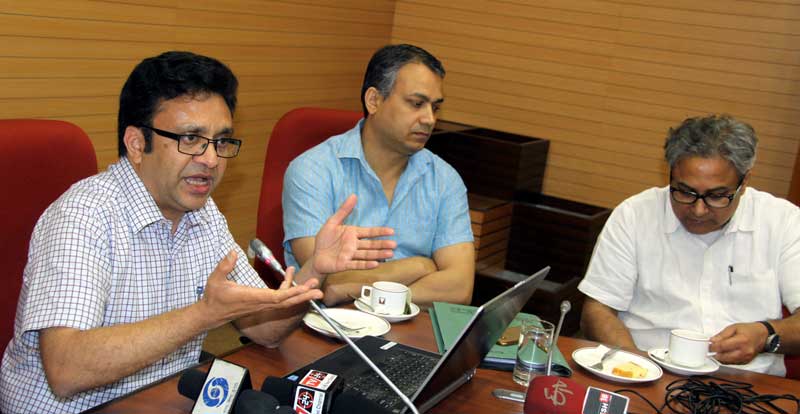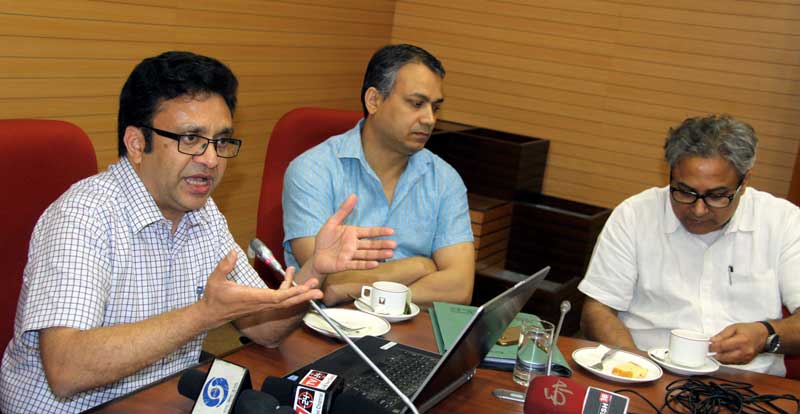 A Press Conference was held today at the UT Secretariat, under the chairmanship of Sh. Anurag Agarwal, IAS, Home Secretary cum State Mission Director, Smart City to give an insight into the revised smart city proposal for Chandigarh. Other senior officers present during the conference were Sh. Baldeo Purushartha, IAS, Commissioner Municipal Corporation cum Nodal Officer, Smart City Mission, Sh. Bhupesh Chaudhary, IAS, Co-Nodal Officer, Smart City Mission and Sh. Amit Talwar, PCS, Additional Deputy Commissioner cum Director        CTU, UT, Chandigarh. The press conference highlighted various aspects of the revised Smart City Proposal, which included:
Strategic Blueprint
The strategic blueprint for Chandigarh was developed based upon the City's SWOT analysis, Citizen Input in terms of their needs and aspiration, benchmarking of relevant case studies and review of planned, ongoing and proposed projects. The strategic focus of Chandigarh over next 5-15 years would include:
Chandigarh to emerge as vibrant regional centre that builds upon its strong social, intellectual and cultural heritage. Chandigarh will focus on inducing people-intensive activities and uses in the fields of arts, culture, sports and innovation by providing necessary infrastructure while building upon the presence of strong institutes. A vibrant Chandigarh will use technology that will enable enhancement in governance, providing the citizens real time information while giving them tools to make daily choices. A vibrant Chandigarh will tap into its tourism potential building upon its natural resources, architectural heritage, distinct regional identity and opportunities.
Chandigarh to emerge stronger to withstand the 21st Century challenges of Climate change, and modern day man-made disasters such as flooding, air pollution, rising temperatures and unforeseen events. The recent flooding in Chennai to drastic measures taken by Delhi to confront unhealthy air to alarming increase in the number of vehicles plying on the Chandigarh roads and resultant health and safety hazards are strong indicators where climate change is real and Chandigarh will become resilient to address such challenges. Such a strategic blue print for Chandigarh will ensure "Prevention is better than cure" and will put in place measures to ensure that the City doesn't have to resort to drastic measures in future to counter today's problems.
Chandigarh to emerge as a healthy and sustainable city where health and safety of the citizens is of primary importance. With the rising urbanization and better living standards, the city people are more prone to life style diseases. There  is  rise  in  number  of  cases  reporting  to  the  Hospitals  with Hypertension, Obesity, Cardiovascular diseases (source: Chandigarh Action Plan on Climate Change). In addition, Chandigarh is experiencing high vehicle growth rate that result in air pollution, high congestion levels and high incidents of road accidents. The strategic blueprint of Chandigarh is to grow towards a more healthier and sustainable growth addressing these issues by creating a more walkable &bike friendly city where people have choice of non-motorized transportation, easy access to public transportation, where the city will promote a compact and mixed-use model of future development that will bring jobs closer to home, and where the citizens are able to live a healthier lifestyle.
Vision and Goals
Vision Statement:
'A Vibrant and Distinct Regional Centre. The City beautiful is envisioned to become leader in sustainability, liveability, equality and innovation'
Goals:
A model city for Liveability and mobility
A Healthy and Sustainable City
A City that celebrates it 'Modern Planned Heritage', culture and natural infrastructure
A centre of Innovation & Start-ups
Reinstate as a 'Vibrant Regional Centre'
PAN City Initiative
Pan city proposal is to improve public life and safety, and livability using two initiatives-
a) Smart Integrated e-Governance
A unified portal to access services with a personalized profile based mobile app which will act as one stop app and a gateway to enable two way citizen engagement.
b) Intelligent Multi-modal command & control center
To supplement the ongoing individual initiatives ITMS, SCADA implementation of Water, Police system, Health & traffic etc and expansion of unified command and control centre for Traffic, Police, Fire, Health & Disaster with utilities services.
Both initiatives will use common cloud based Infrastructure solution and operation, data integration platforms having unified database.
Area Based Development
The Area Based Development (ABD) proposal aspires to address the key issues that emerged out of citizen engagement and focuses on the theme of "Prevention is better than cure". The challenges that Chandigarh faces today are mostly related to the City retaining its vitality as a vibrant regional centre, job growth and economic development, tourism potential, national leader in knowledge sector and innovation, and retaining its advantage as one of most liveable city in India. The ABD strategies objective is to learn from the global best practices and identify locally relevant initiatives and technologies that could yield measurable benefits. Additionally, ABD strategies have taken inspiration from international examples like Barcelona (transforming the city economically, socially and culturally) and New York (transforming public spaces from vehicle only to pedestrian only).
The ABD boundary includes Sector 16 (part), 17, 18 (part), 22, 35 and 43. The infill development in sector 43 is in line with the Draft TOD policy but also fulfils the essential requirements towards making Chandigarh a preferred destination and a 'Vibrant Regional Centre'. Key projects include:
Introducing vehicle free zones – internal areas of sector 17
Transitioning diesel operated auto-rickshaws to E-rickshaws over time.
Electric Buses (Refurbishment of Existing Buses) for ABD and Battery Operated Buses for Intra Movement of Sector 17 to aid in non-motorised movement in ABD area.
Pedestrian signage and way-finding
Public Bike Sharing
Adaptive re-use of Press Building as Incubation centre
Smart Signalling & Traffic Surveillance
ITS Application in Public Transport including Smart Ticketing, Vehicle Tracking and Passenger Information System
Smart On-Street Parking
24 x 7 Water Supply
Recycled Water Supply
Solid Waste Management
Smart Metering for power and water
Introducing bicycle trail in Leisure valley with trail nodes
Sidewalk improvements, Handicap accessible sidewalks, comprehensive bicycle network
Installation of Solar based LED Street Lighting along with installation of new light poles along streets and public parks, Solar roof top
Provision of Public Toilets along with Bus-Stops to provide better facilities
Undergrounding surface parking lots into MLCP structures and making space available on ground for other activities like food on wheels, art/cultural events spaces, exhibition/display spaces etc
Innovative use of open spaces. Urban design of public plazas into a space for active recreation like Art/culture bazaars like 'Nature Bazaar/Dastakar', food courts etc
Pedestrianisation of Jan Marg on weekends with active functions like art fairs, food trucks, yoga and active sports, streets shows, plays and music concerts bringing people on the streets and taking cars off the street – something similar to "Rahagiri – Our Streets our Freedom"
In-filling the vacant land in sector 43, an area of approx. 71 acres to create a compact and mixed use anchor development.
Implementation Strategies
Chandigarh Smart City project will be implemented by a Special Purpose Vehicle (SPV). This SPV will be a company and will be incorporated under the Companies Act, 1956. It will be 50:50 Joint Ventures between Chandigarh UT Administration & Municipal Corporation, Chandigarh. It will be a100% public company. The primary role of the SPV will be to plan, appraise, approve, finance, implement, manage, operate, monitor and evaluate Smart City Solutions (both Pan City & area wide).
It is estimated that the total cost of the projects to be implemented as a part of the Smart City Project will be Rs. 6200 Crore (Rs. 250 Crore for the Pan City Proposal and Rs. 5950 Crores for the Area Based Development).  The SPV will fund the identified projects through the following means:
Equity to be invested by the stakeholders: total equity of Rs. 1,000 crore will be invested by the two stakeholders i.e. Municipal Corporation Chandigarh and Chandigarh Administration. MCC's equity will be generated from the grant fund which will be created to receive funds made available by GoI under the SCP program.
Convergence with Other Schemes: Funds for the Smart City Proposal will be made available from the convergence from other schemes of Govt. of India as well as Chandigarh Administration, like AMRUT, Solar City Mission, Integrated Power Development Scheme (IPDS), Digital India etc.
Leveraging other resources – Private sector led funding: Some of the projects will be funded through Private sector.