Role of traders is vital for making nation financially strong : Gupta: Speaker of Haryana Vidhan Sabha Gyan Chand Gupta has said that the contribution of traders is extremely vital in terms of making a nation financially strong.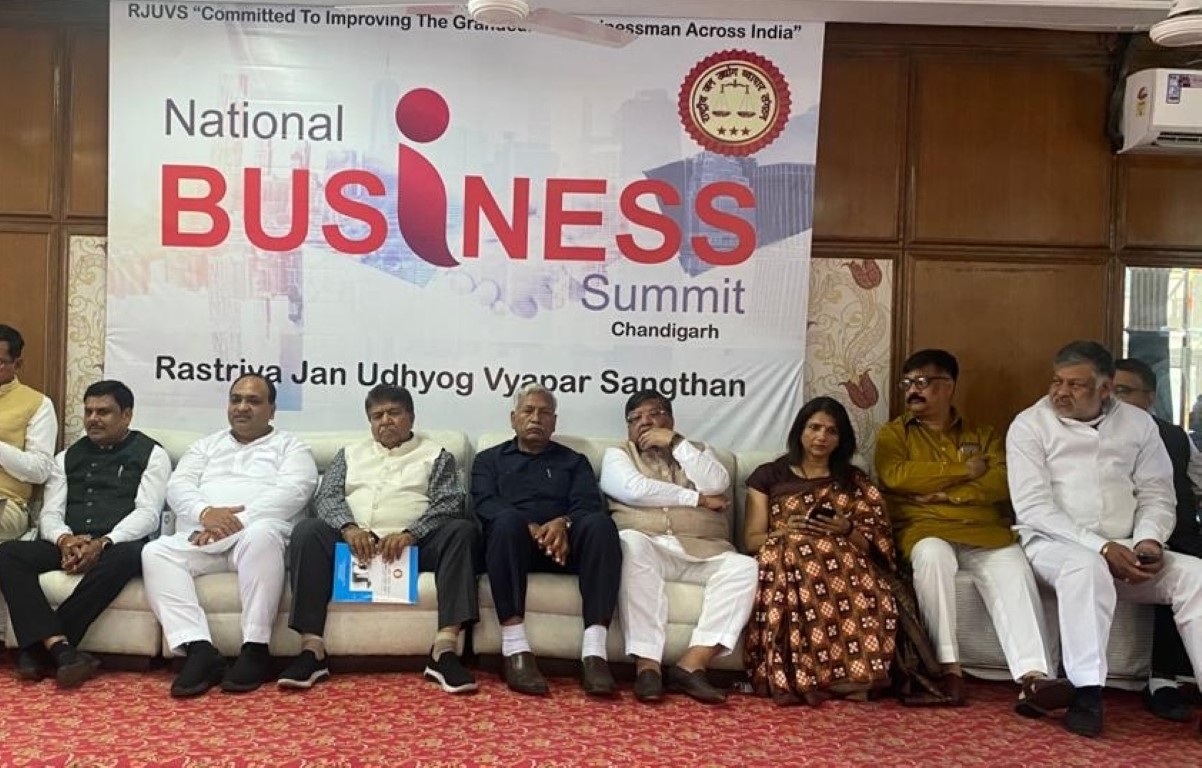 He stressed upon that the time has come when traders will not only have to show solidarity to fight for their rights but to shape it in the form of movement.
Gupta was the chief guest at the closing ceremony of the two-day seminar of the   Rashtriya Jan Udyog Vyapar Sangthan (RJUVS) at Agrawal Bhavan, Sector 30 on Sunday which was well attended by  retail traders and small entrepreneurs from Punjab, Haryana, Delhi, Himachal, Uttarakhand, Uttar Pradesh and Gujarat.
He said that not only Haryana and Chandigarh, but businessmen from all over the country have given significant support to society and government.
Earlier, inaugurating the closing ceremony, Ramnivas Goyal, Speaker of Delhi Legislative Assembly, said that Inspector Raj is the biggest obstacle in the development of trade and traders.
Till the time the traders are not united, they cannot pressurize the administration to meet their demands. Presiding over the function, Chairman of Haryana Merchants Welfare Board Ramnivas Garg said that a joint meeting with the Director General of MSME Department will be organized soon to resolve the problems of traders. Apart from this, the claim received by the traders will be deposited directly in their account after consulting the Chief Minister.
Earlier, welcoming the retail traders and micro entrepreneurs from eight states of the country, National President, RJUVS, Amit Gupta said that the e-commerce market is a threat to the retail traders and small scale industrialists of the country.
RJUVS's working president Ashok Buwaniwala, while supporting the peasant movement, said that the government of Delhi and Haryana should together give farmers a separate space for the agitation. Because of this movement, three thousand industries running in the border of Haryana are being badly affected. The entrepreneurs working on the Delhi border are neither able to get the raw material nor supply resulting the industries are on the verge of closure.
Present on the occasion, Ashok Goyal Mangaliwala, Managing Director, Gulf Petrochem  also discussed the demands of the traders. On this occasion, Haryana's State President Gulshan Dung and General Secretary Pawan Aggarwal said that till the Inspector Raj is not over, there cannot be welfare of the business class.
Several dignitaries were present on the occasion including Rajiv Khandelwal, representative from Surat, Rakesh from Varanasi, Jagat Narayan Gupta from Mathura, Shivam Bishnoi from Uttar Pradesh, Niti Paseen from Satna Madhya Pradesh, Ramotar Goyal from Rajasthan and others.