Dr. Rajendra Joshi & Mrs. Ursula Joshi were recognized as Friendship Ambassadors on occasion of 70th anniversary Year of Swiss-Indian Friendship: Connecting Minds – Inspiring the Future 2017-18
Mr. Jayant Joshi and Mr. Abhishek Joshi of RUJ Group received the award on behalf of the Swiss Couple
Swiss Embassy in New Delhi celebrated 70th Anniversary of Swiss-Indian friendship treaty where Federal Councilor, Ignazio Cassis met India's Minister of External Affairs, Sushma Swaraj, recently in New Delhi for political talks on Swiss-Indian relations with a view to strengthening bilateral ties in their mutual interest.  In the same series, Swiss Foreign Minister felicitated Dr. Rajendra Kumar Joshi and Mrs. Ursula Joshi of RUJ Group, who have contributed to friendly bilateral ties between India and Switzerland and the ones who live Swiss-Indian friendship in their daily lives.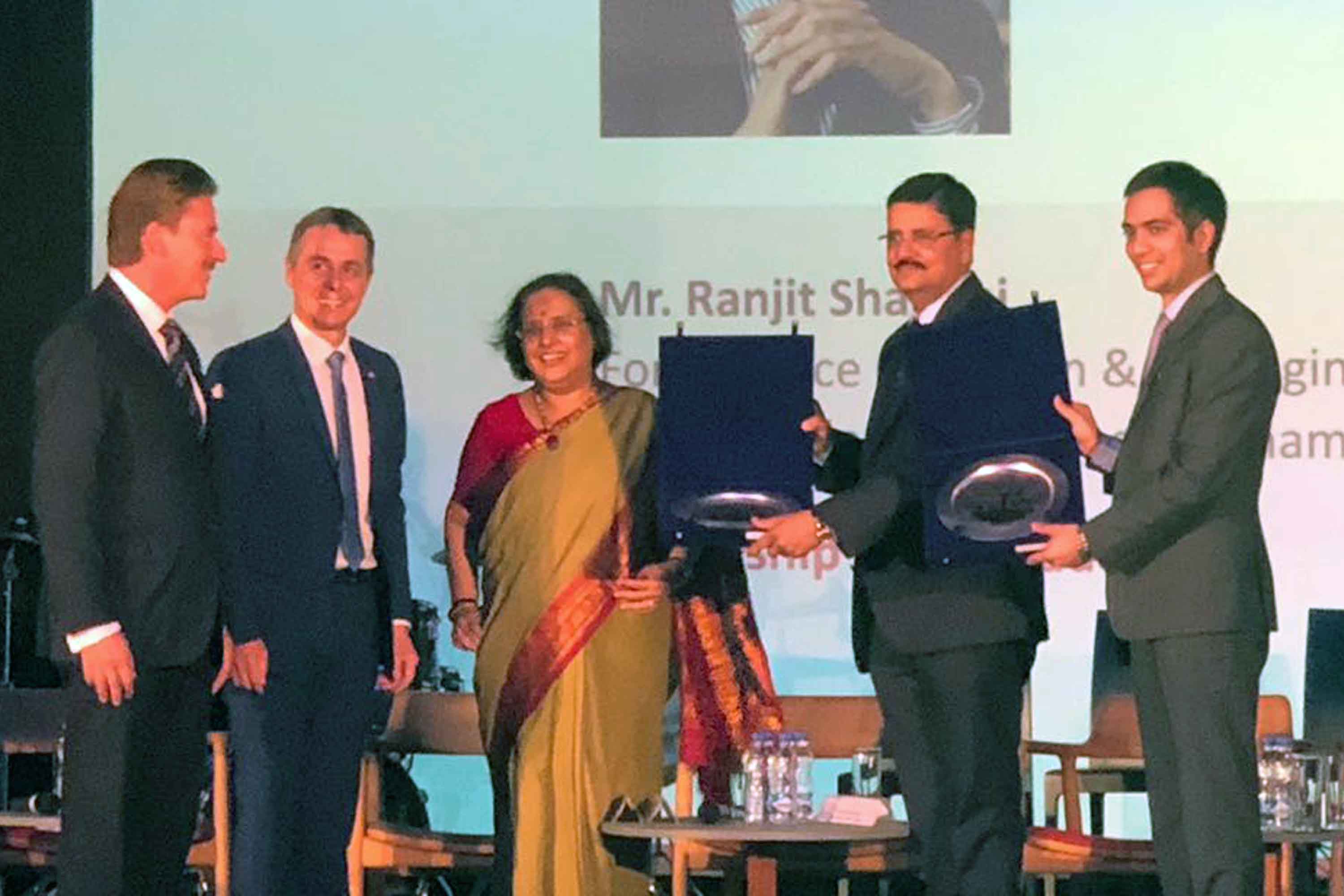 On this auspicious occasion, Dr. Rajendra Joshi & Mrs. Ursula Joshi were recognized as Friendship Ambassadors by Swiss Ambassador, Andreas Baum; Federal Councilor, Ignazio Cassis; and Mrs. Ruchi Ghanshyam, Ministry of External Affairs for their outstanding contribution in the field of Vocational Education training in India.
Switzerland and India have close ties with each other where India is Switzerland's second-largest trading partner in Asia.  Receiving the award, Mr. Jayant Joshi & Mr. Abhishek Joshi reiterated Dr. Joshi & Mrs. Ursula Joshi's contribution in skill development in India by the way of skilling youth through Bhartiya Skill Development University, Jaipur explaining how skilling helps overall in economic growth of the nation.
Swiss diplomatic network in India is connecting Swiss and Indian minds that are actively shaping the future of both countries. The focus not only lies on creating opportunities for innovation in business, research and technology, but also in the fields of governance, art or social inclusion.