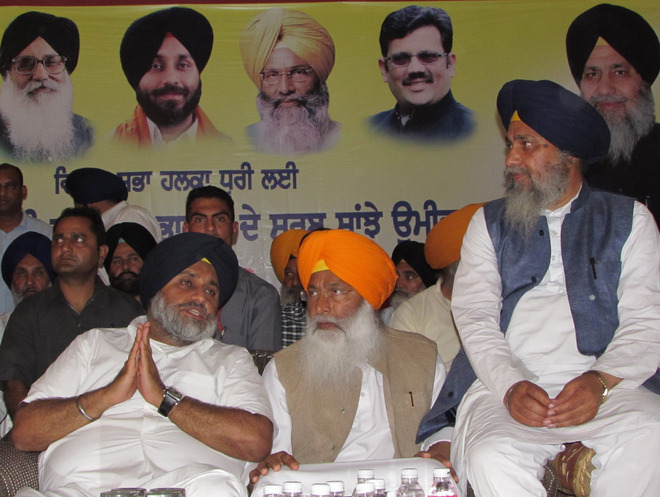 NewZNew (Dhuri/Sangrur) : Shiromani Akali Dal (SAD) president Sukhbir Singh Badal today said the SAD – BJP alliance was important for Punjab but Punjabiat and had stood the test of time because the SAD had always offered unconditional support to the BJP.
Addressing a well-attended rally of BJP workers led held by BJP district Vice President Brajeshwar Goyal at Mohalla Shivpuri here, the SAD President said the by-election was truly a SAD-BJP election because the entire rank and file of the SAD and BJP realised the need to fast track development in the constituency. "Mark my words. I am committed to changing the face of this constituency within one year. All essential services including water works, sewerage, street roads and lights will be addressed within one year".
Asserting that he never made a promise which he could not fulfil, Mr Badal said he had earlier made the State power surplus. "Now we have decided to connect the entire State with four and six lane roads for which the central government has extended full support by approving projects worth Rs 20,000 crore". He said development ushered in by the SAD- BJP government could be gauged from the fact that Punjab would soon be the only State to have two international airports.
Stating that all social welfare schemes including the Shagun scheme, Atta Daal scheme and old age pension had been introduced during the chief ministership of S Parkash Singh Badal, he said in stark contrast not a single social welfare measure had been taken during the earlier Congress government of Capt Amarinder Singh. He said forget social welfare, Congress men had failed to bring any major project to the State. "I asked Congress MLA's during the recent Vidhan Sabha session to name five contributions of the earlier Congress government. They could not name even one contribution", he added.
The Deputy Chief Minister also highlighted the steps taken in favour of traders on the occasion. He said the government had introduced a Rahat scheme under which traders having a turnover of below Rs 1 crore need not file any assessment. Mr Badal said even those with a turnover of above Rs 1 crore would be assessed randomly to ensure no one was harassed. He said similarly retailers with a sale of less than Rs five lakh would have to pay only Rs 51 per annum and be issued a sticker to ensure they are not checked by any Inspector.
BJP leaders stressed that the SAD was always pro business and pro traders. They stressed that the entire business community understood this and could not be misled by the false propaganda of the Congress.
Mr Badal also addressed well attended meetings at Ratna Resort, Gur Mandi, Shivpuri and Kranti Chowk during the course of which a large number of Congress leaders joined the SAD. He was accompanied by a large number of senior akali leaders including Dr Daljit Cheema, Bibi Jagir Kaur, Surjit Singh Rakhra, Sarup Chand Singla and N K Sharma.