SAEINDIA and Chitkara University Sign MoU for BAJA SAEINDIA 2020 – 2nd Edition: SAEINDIA, a professional Society of Automotive Engineers today signed a Memorandum of Understanding (MoU) with Chitkara University for the upcoming BAJA SAEINDIA 2020 (2nd edition in March 2020).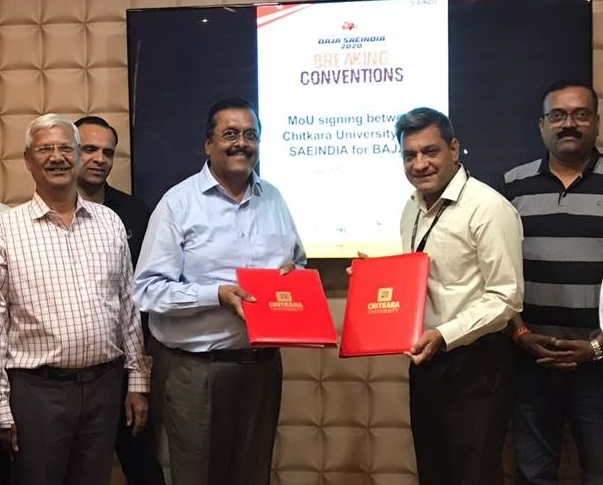 This is the model which BAJA was eyeing for 3 years whereby the universities come forward to host this esteemed event. In addition now the doors will be open for  the universities in South India to come forward and host  BAJASAEINDIA – 3rd edition.
The 13th edition of the much-awaited BAJA series will be held at the NATRIP facility at Pithampur near Indore, from 23rd to 26th January 2020 and the 2nd edition of 2020 from 5th to 9th March 2020 at Chitkara University, Punjab.
Speaking on the occasion, Mr. S. Balraj, Convener, BAJA SAEINDIA 2020 – Pithampur said, "Tying up with Chitkara University is a stepping stone towards skill development of undergraduate students through the BAJA SAE India competition. We intend to replicate such initiatives across the nation in order to make BAJA SAE INDIA a quasi HR tool for budding engineers."
Speaking on the MoU signing ceremony, Dr. Madhu Chitkara, Vice-Chancellor, Chitkara University Punjab said, "It's a great honour for Chitkara University to contribute in skill development of undergraduate students through BAJA SAE INDIA competition. The past relation of 3 years with SAE India and Mahindra for hosting Virtual BAJA SAE is now taken one step ahead by hosting the final round of BAJA  II at Chitkara University Punjab from March 5-9, 2020. I wish all the best to the participating teams and wishing to see them here on our campus for the final round."
In India, the BAJA SAEINDIA (Society of Automotive Engineers) began its journey in the year 2007 and was launched under the leadership of Dr. Pawan Goenka (during his tenure as SAEINDIA President) and the convenorship of Dr. K.C. Vora. As SAEINDIA ventured on to the unchartered territory of holding a mega-event of this scale, NATRiP came forward to lend a helping hand through an earmarked zone at its upcoming proving grounds- NATRAX, situated at Pithampur, Indore.