Safe & Green initiative by Punjab police to improve patrolling : With the goal of contributing to reduced air pollution and maximize environmental savings as well as enhance its motor pool to suit urban pedestrian environments, Punjab police has started a pilot project to adopt electric bicycles for its patrolmen and roped in the country's top bike maker, Hero Cycles, for the purpose.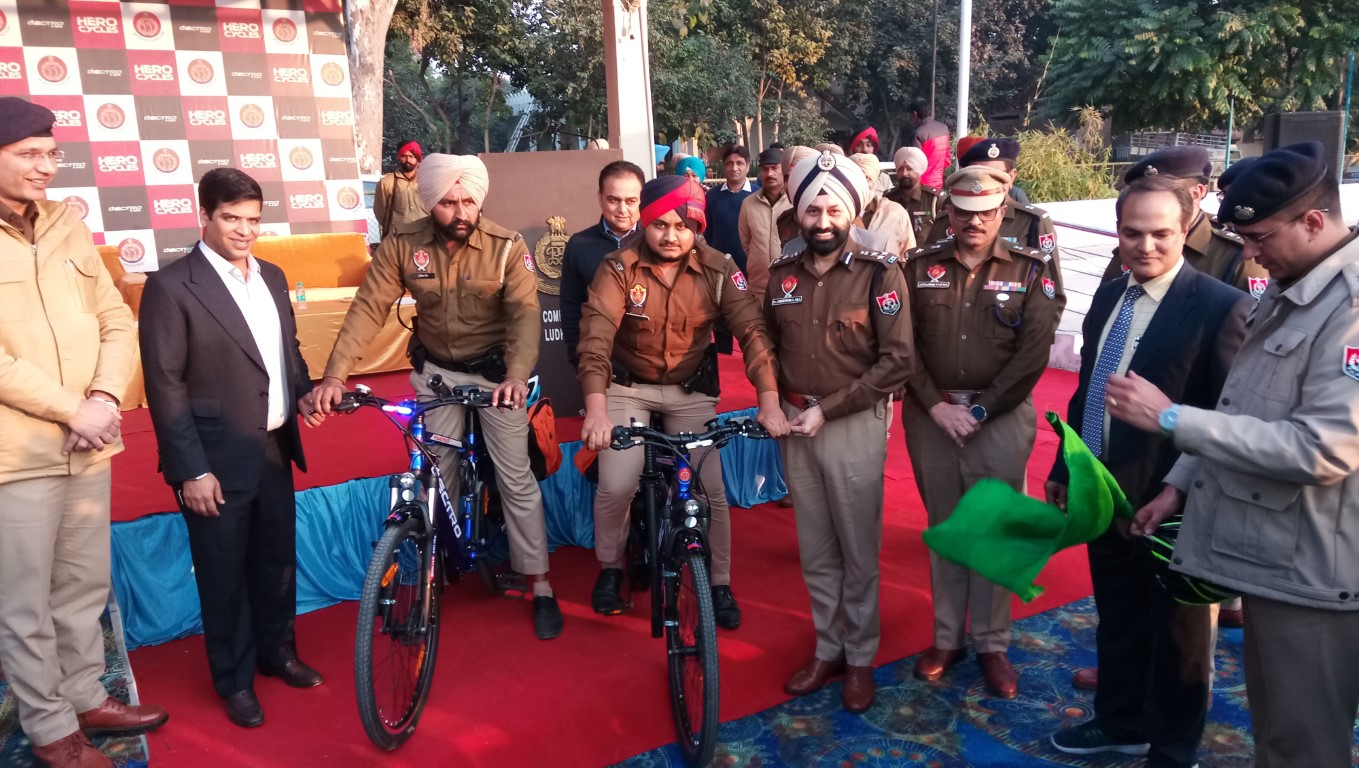 In many crowded situations, narrow lanes and faced with congested road traffic obstacles, it makes tactical sense for a police organization to have a variety of patrolling options at their disposal for quick response and chase. E-bikes are a significant improvement over conventional bicycles and are able to cover about 25-30 kilometers without pedaling and reach sustained speeds of up to 25 km/hr.
The distance coverage can be increased further if pedals are used. They act as a carbon-footprint-free supplement to conventional police motorcycles and jeeps in helping personnel reach emergency spots faster, weave through traffic nimbly, overtake offenders who are on foot and even carry the bicycle around when traveling upon many different modes of transport.
"It makes perfect sense for a public agency as important and responsible for our safety as the Punjab Police to use electric vehicles for patrol duty in certain situations. E-bikes can help keep our streets safer by improving police presence at trouble spots. For Hero Cycles, it gives us a chance to demonstrate the effectiveness of our Lectro e-bikes in different usage environments. Compared to other patrol methods, this Lectro e-Bike has the potential to save taxpayer money over time as well as remain friendlier to the environment", said Abhishek Munjal, Director Hero Cycles.
"It's important for us that we not only remain agile but also spread the message of safe cycling. This step is in line with our commitment to engage with the community we are a part of. As a responsible public authority Punjab Police will take all steps to meet green objectives. Besides, we increase our patrolling effectiveness and utilize our resources efficiently by incurring the least cost possible for mobility in action.", said Dr. Sukhchain Singh Gill, IPS of the Punjab Police.
In order to promote environmental savings and improve patrol presence in urban pedestrian environments, crowded, tight spaces and traffic, Punjab Police's Dr. Sukhchain Singh Gill, IPS Commissioner of Police, Ludhiana, has initiated a pilot project to adopt electric bicycles in collaboration with Hero Cycles.
E-bikes offer tactical versatility for patrol methods, supplementing conventional police vehicles and can save taxpayer money spent on petrol and maintenance.
About 25-30 kilometers can be covered by a single battery recharge and sustained speeds of upto 25 km/hr attained, pedaling will increase distance covered further, leaving the rider less exhausted and more prepared for action.
Police forces around the world, especially in Europe and the USA, have successfully adopted e-bikes for use in their patrol strategies. It was found that they provide a friendlier image to the policeman on his local beat. Officers were able to approach suspects faster and were less exhausted upon reaching victims. Electric bicycles allow the rider to travel faster than a conventional bicycle, navigate through end-to-end traffic or tight spaces, in parking lots, public parks or shopping enclaves. They also make traveling over uphill and uneven terrain easier, leaving the policeman more prepared for action.
At present, Hero Cycles offers one of the cheapest e-bikes in the market – the Lectro E-Zephyr, priced at Rs 26,990 and a running cost of just Rs 7 for each 100 kilometers of travel, which is just 1/50th of the cost of maintaining a motorcycle. Lectro E-bikes are also leaner and better able to reduce traffic volume. Hero Cycles acquisition of the world class Hero Global Design center in Manchester and its collaborations with Yamaha and Mitsui enables it to make and market state-of-the-art electric bicycle models that are comparable to the best in the world.