Truly cord-free design for a tangle free experience and complete immersion in an activity
Users can call, message or listen to on board music playlists by means of touch controls
Samsung, India's biggest and most trusted consumer electronics and mobile phone brand, today introduced the all new Gear IconX, a truly cord free earbuds, designed to enhance any activity by giving you tangle-free usage and music on-the-go. Lightweight and ergonomic, the earbuds are designed around the human ear to ensure a comfortable yet secure fit to last through the most intense activity.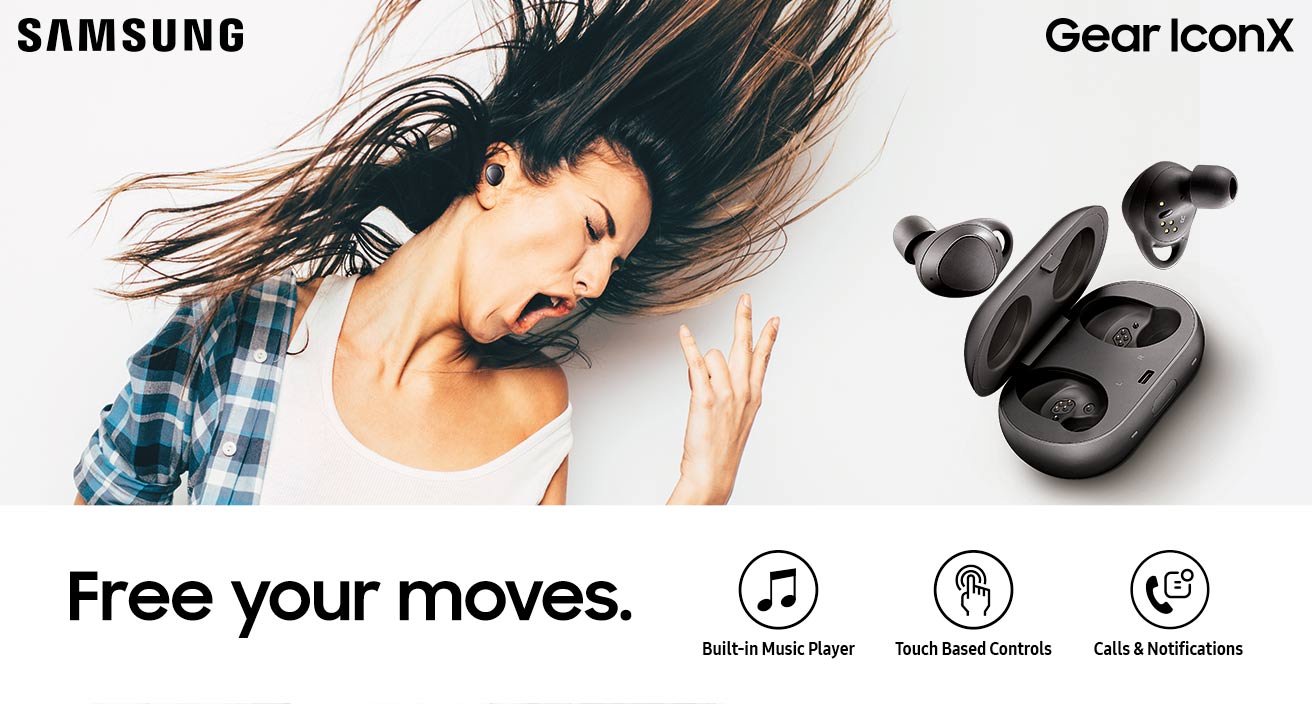 Gear IconX is ideal for consumers who are always in action so that they can be totally immersed in what they are doing without worrying about tangled wires and could actually strive to do better with the accompaniment of their favourite music tracks.
"Gear IconX brings a lot of enhancement besides completely cord-free usage, including Bixby voice commands, activity tracking and, most importantly, the music experience. These lightweight and comfortable earbuds are an ideal music companion for consumers, could be a dancer, painter, chef and anyone else, who needs tangle-free movement of their hands, while he/she is working. It also has special features for the fitness enthusiasts," Aditya Babbar, General Manager, Mobile Business, Samsung India, said.
"A lot of consumer insights have been incorporated in terms of design aesthetics, comfort and usability of these earbuds. For example, a touchpad eliminates the need for keys or press buttons that is uncomfortable and irritating for the users," he added.
Designed to complement any kind of movement and activity, Gear IconX is a perfect accompaniment that brings seamless connectivity and even adds music to liven up the moment – while they are commuting, relaxing at home, or even doing their daily chores.
Enriched Music Experience : Gear IconX's standalone music playback and 4GB of built-in storage allow users to listen to their favorite music without being connected to the phone. Music can be easily loaded either wirelessly or from the phone or PC using a USB cable. Once done, touch based gestures allow for the usual play, pause, skip as well as the power to browse entire playlists making it an intuitive listening experience with minimum fuss.
The equalizer feature allows users to quickly and easily adjust the audio frequency to optimal levels by choosing from five finely tuned presets: Bass Boost, Soft, Dynamic, Clear and Treble Boost. The enhanced Ambient Sound function enables users to specify exactly how much ambient sound they would like the earbuds to let in. This makes it easier for users to pay attention to sounds around them.
Enhanced Connectivity : Gear IconX lets you take your calls in stereophonic clarity. It also calls out incoming callers, messages and notifications for you. The earbuds are also your newest connection to Bixby. With a simple tap and hold of the earbud you can use your voice to control your music or place a call or put out a message – without even having the phone in your hand.
Gear IconX comes with fast-charging and battery life of up to five hours of music streaming or seven hours of standalone music playback. Gear IconX case also works as a power bank and gives you one additional battery charge. A quick charge of 10-min in the case gives you one hour of connectivity for when you don't have the time for a full recharge.
Smart Activity Tracking : The sweat resistant and cord free design of Gear IconX makes it perfect for people who like to stay fit with dedicated fitness routines. While it can be paired with dedicated tracking devices like the Gear S3 Frontier or the Gear Fit2 Pro, it also has activity tracking capabilities built into it. It can automatically track your run or walk and return analytics like distance, time and calories burned.
It can also double up as an in-ear running coach as it syncs in with the Pace Setter feature on the Samsung Health platform. The Pace Setter allows users to choose from various preset activity programs from 'Light Walking' to 'Speed Endurance' to custom creating programs on their smartphone.
Once the Gear IconX is synced up with the Pace Setter on the phone, it takes over by coaching the user with in-ear voice prompts to speed up or slow down at predefined moments in the chosen program without requiring the phone to be around. The enhanced Ambient Sound function makes it easier for users to pay attention to sounds around them, which makes Gear IconX especially useful when running or cycling outdoors.
Price and availability : Gear IconX will be available in India from July 26, 2018, in Black colour at INR 13,990 at major retail outlets, Samsung Online Shop (shop.samsung.com/in) and Flipkart.