To enable Connected Home, Manage Food,
Provide Entertainment and Strengthen Family Connections
Samsung has always believed in developing products that ease the lives of consumers through path breaking innovations. The country's biggest and most trusted consumer electronics brandtoday unveiled the next generation of refrigerators – IoT enabled Family Hub. The introduction of the Family Hub will revolutionize the Indian refrigerator industry and set a new standard for connected living.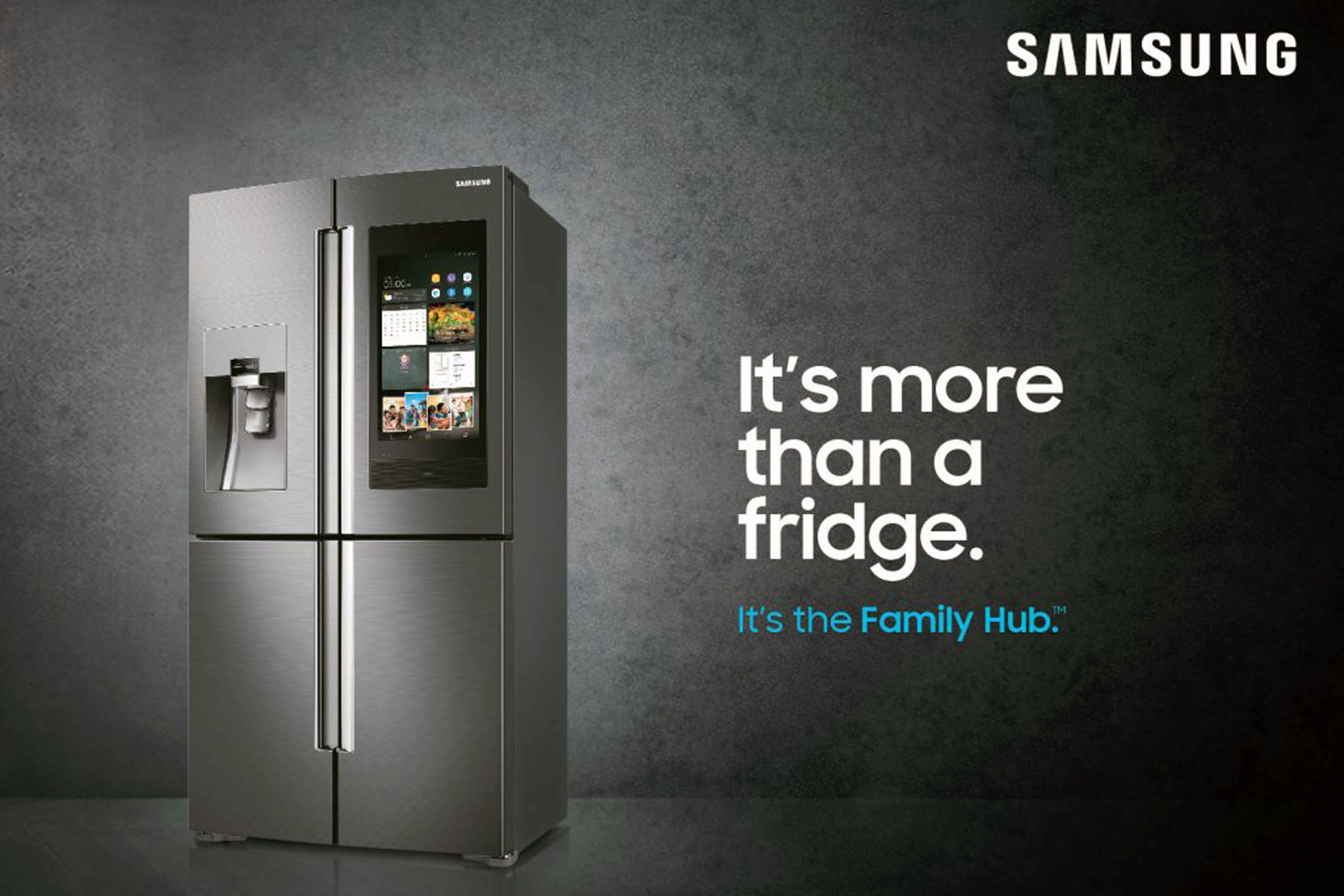 The Indian market is rapidly adapting to digitization as a result of large internet user base that is estimated to grow manifold. As a result, the lifestyle of the modern Indian family is undergoing the following transformations:
Evolving Shopping Behavior – bulk shopping once/twice a week at organized retail outlets and through shopping apps
Food Habits – greater awareness of global cuisines/ingredients and healthy living
Connected Living – households purchasing smart appliances that communicate with each other
A winner of the 2018 CES Best of Innovation Award, Family Hub ensures a superlative entertainment experience with its 21-inch touchscreen and Bixby voice control and allows consumers to do what seemed unimaginable in past, allowing consumers to do a lot more than what a regular refrigerator does.
"Family Hub offers a wide range of smart features that allow consumers to do what they could not do before. These include syncing up food storage, keeping family members better connected and organized, and providing enhanced entertainment. Family Hub is also more intuitive and intelligent with the addition of Bixby voice control and its integration with Samsung's SmartThings IoT ecosystem," said Saurav Katyal, Director, Consumer Electronics Business, Samsung India.
Simplifying Life with Connected Home Control : The Family Hub works with the Smart Things ecosystem, allowing users to control and monitor their connected appliances – Flex Wash Washing Machine and Smartphone – from the Family Hub screen. The built-in View Inside camera allows users to digitally label their food with expiration dates, or use a mobile device to peek inside their fridge from anywhere. So now, consumers can see what's inside their fridge from the grocery store and/or leave a note the screen to remind the kids to clean their rooms after school. Users can do countless other things without ever leaving the kitchen.
Enhancing Food Management : Consumers can manage food, with the View Inside app that enables users to see inside the fridge from anywhere. The recipes app offers multiple recipes to choose from around the world and prepare the food that the family loves.
 Strengthening Family Connections : The Family Hub keeps the family more closely connected and organized, with its built-in-screen whiteboard, Memo and Photo Album functions, ability to update and share calendars, photos and hand-write and sent notes. With Bixby, Family Hub can also recognize individual voices and provide personalized information based on preferences. Ask "Hi Bixby, what's new today?" and it will provide a read out of the news, weather and calendar updates.
Creating New Ways to Have Fun at Home : Users can access millions of songs through the web browser and live radio app, and mirror their Samsung Smart TV.[1] The new Family Hub also features AKG Premium Quality Sound Speaker for sound that is deep in bass and rich in mid-range.[2] Additionally, users can stream content from their smartphone to the Family Hub refrigerator.
Price and Availability : Samsung's latest Family Hub 3.0 in One French Door model with all the top of the line features such as multi-door format, Flex Zone (Convertible), ice and water dispenser, triple cooling and large capacity (810L). The Family Hub will be available for pre-booking exclusively on Samsung Shop and Amazon.com from July 18, 2018 at INR 280,000 with an exclusive offer of free Samsung Galaxy S9* available on pre-booking.