Sanitation Committee meeting held: A meeting of Sanitation Committee, Municipal Corporation Chandigarh was held here today under the chairmanship of Sh. Rajesh Kumar and attended by other members of committee namely Sh. Shakti Parkash Devshali, Sh. Mahesh Inder Siddhu, Smt. Ravinder Kaur Gujral, Smt. Heera Negi and Dr. Amrit Warring, Medical Officer of Health.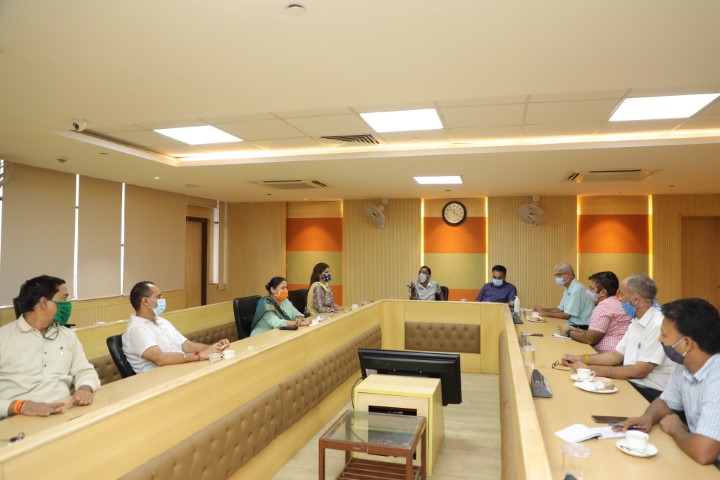 During the meeting the members discussed following important issues:
The Committee recommended that duty time of sanitation workers will be from 6 am to 2 pm in the summers with half an hour lunch break and from 7 am to 3 pm in the winters with half an hour lunch break. The members were of the view that there should be one fixed time schedule of duty without long hours break rendered by the sanitation workers.
The committee members appreciated the watch system in the services of the employees in Corporation and said that it should be strengthened in future also.
The members asked the concerned Chief Sanitary Inspectors to intimate the time schedule of road sweeping in their respective wards, which is being done through mechanical road sweeping machines.
The committee also reviewed the shortcomings in the Swachh Survekshan 2020 and asked the concerned officers to present all the relevant report alongwith component wise report and capacity building workshop to be organized in the Municipal Corporation regarding the Swachh Survekshan in future so that all the councilors and officers would work in their respective areas according to the toolkit/guidelines and necessary steps will be taken well before the third party assessment.
The members also asked the concerned officers to put of status of dog sterilization system and stray cattle management in the next meeting of the committee.