Sant Nirankari Charitable Foundation commemorates Guru Puja Diwas with cleanliness drive : With the blessings of Satguru Mata Sudiksha Ji Maharaj, Sant Nirankari Charitable Foundation commemorated Baba Hardev Singh Ji Maharaj's 65th birth anniversary by organising a huge nation-wide cleanliness drive and tree plantation drive.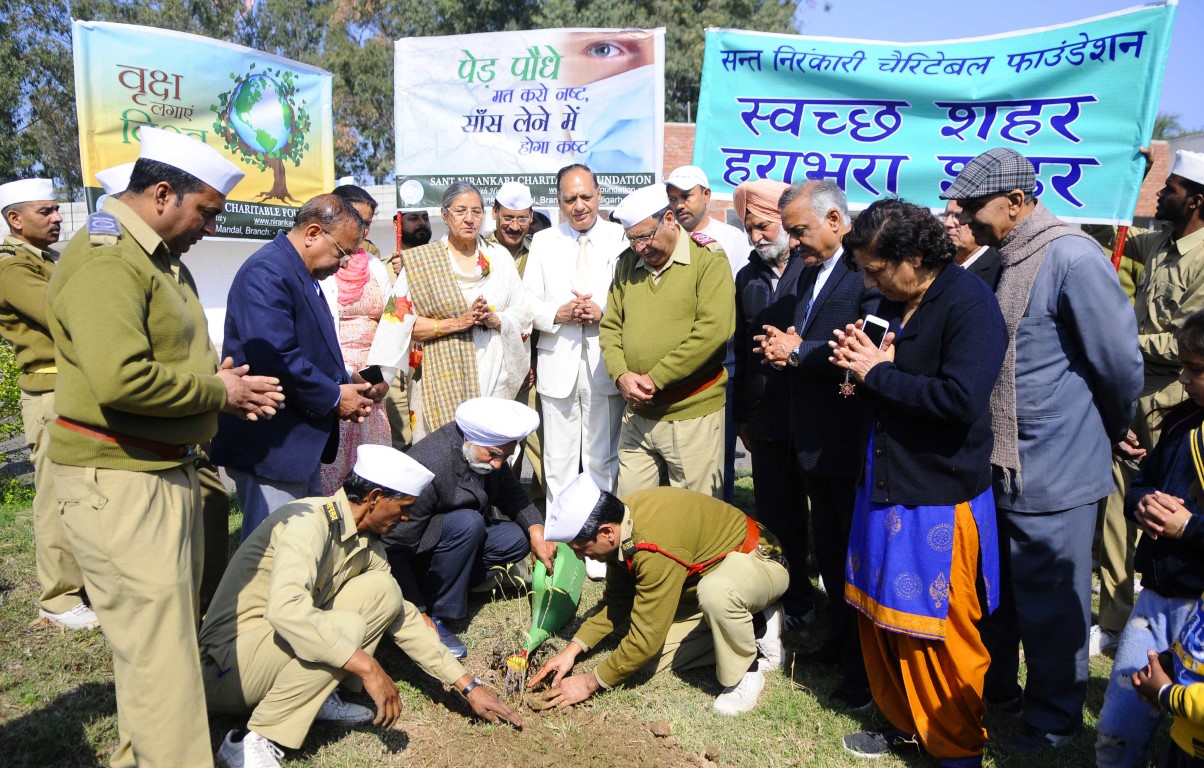 this occasion, Chandigarh Zonal Incharge Shri K.K Kashyap Ji stated that every year 23rd February is observed as Guru Puja Diwas in the memory of Baba Hardev Singh Ji Maharaj's birthday, by Nirankari devotees. To mark this day, a nation-wide cleanliness drive was organised today, in 925 hospitals and dispensaries.
He further stated that Satguru Mata Sudiksha Ji Maharaj has inspired one and all to imbibe the message of Baba Hardev Singh Ji Maharaj that "Pollution, outside or within, both is harmful", in our everyday lives and try to make the world a healthy and clean place to live.
Chandigarh Sanyojak Shri Navneet Pathak ji mentioned that on this day Nirankari devotees prayed to the Almighty and pledged towards a cleaner, pollution-free society. He further said that the cleanliness drive was organised in 15 hospitals and dispensaries in Chandigarh.
This included P.G.I.M.E.R sector 12, GMCH sector 32, civil hospitals in sector 22, sector 45, sector 40 and Manimajra, along with civil dispensaries in sector 56, sector 44, Daddumajra, Maloya, Palsora, Manimajra, Mauli Jagran Complex, New Indira Colony, Model Housing Complex Manimajra, sector 49, and Ayurvedic dispensary sector 47.

Present on this occasion were P.G.I Medical Superintendent Prof. A.K Gupta Ji, Dr. Pankaj Rawat Ji, and Prof. R.R Sharma Ji. Dr. Suchet Sachdev Transfusion Department, Blood Bank applauded the effort of Nirankari Mission towards cleanliness and said that the Mission is a role model for cleanliness, and is offering its vision to the society for the same.
The devotes of the Nirankari Mission have given out this message today that in a place like P.G.I, that sees thousands of patients every day, cleanliness is the only way forward. Following this, authorities at G.M.C.H sector 32 Dr. Ravi Gupta Superdent, Dr. G. P. Thami and Dr. Krishna Chaoudhary – SMO, Civil Hospital, Sector 45  also praised the effort of the Mission towards cleanliness and stated that one can only envision a healthy life by practicing and promoting cleanliness. Apart from this, tree plantation was done at Civil Dispensary, Sector 49, Chandigarh.
Also contributing towards this cause were Member Incharge Branch Administrative Smt. Joginder Kaur Ji, Sector 15 area Mukhi Shri S.S Banga Ji, Sector 40 area Incharge Shri Pawan Kumar Ji, Sector 45 area Incharge Shri N.K Gupta Ji, Sewadal Adhikari along with volunteers of Sant Nirankari Charitable Foundation, & sadhsangat's members