NewZNew (Chandigarh) : Nirankari Satguru Mata Savinder Hardev Ji Maharaj inaugurated here today voluntary Sewa towards preparations for the 69th Annual Nirankari Sant Samagam, at the vast Samagam Ground opposite Nirankari Sarovar along Burari Road in Delhi North. The ceremony was performed by Her Holiness by a cut in the ground. This information was given by Sh. Mohinder Singh Ji Sanyojak Branch Chandigarh.
Sh. Singh said that Lakhs of devotees of the Sant Nirankari Mission from all over India and abroad are expected to attend the 3-day Samagam from November 19 to 21, 2016, which will be dedicated to the memory of Baba Hardev Singh Ji Maharaj with the theme – A Tribute to Humanness.
The tented township spread over more than 400 acres of land will have all the necessary amenities like water supply, electricity, sewerage, etc. Besides Langar there will be canteens to provide tea, coffee and snacks at subsidized rates. The huge Satsang Pandal will be surrounded by offices, publication stalls, etc.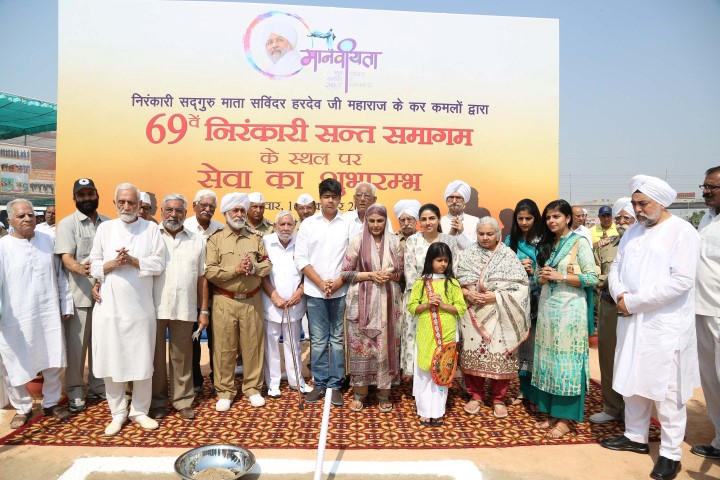 Addressing the Sewa Dal volunteers and other devotees, Satguru Mata Ji said that over the years Baba Hardev Singh Ji Maharaj has given a beautiful lay out to the Samagam. If we act upon the same, the coming Samagam will become all the more beautiful.
Satguru Mata Ji said that as often stated by Baba Ji, no Sewa is big or small. We have only to perform it with the spirit of selfless service. We have to keep our sense of ego or 'I' away and perform the duty whatever is assigned to us. Baba Ji himself donned the Sewa Dal uniform and served selflessly for years together.
Satguru Mata Ji pointed out that many devotees are already taking part in preliminary preparations. It is not a small thing to find them working without caring for their own domestic responsibilities, comforts etc., particularly when we find the feelings of selfishness so prevalent in the world outside. Let us make every effort to make all arrangements beautiful so that devotees coming from outside find their stay comfortable.
Satguru Mata Ji blessed with good health and happiness every child, young and the old contributing towards this noble task. She wished them to continue to serve the Mission in future also.
Earlier, Shri V.D. Nagpal Ji, General Secretary of the Sant Nirankari Mandal and Coordinator for the Samagam thanked Satguru Mata Ji for having inaugurated voluntary Sewa for the Samagam on its venue. This is a great opportunity for Sewa Dal and other devotees of the Mission to make some contribution for this huge event, for which they are all here with a spirit of dedication.
Shri Nagpal Ji sought blessings from Satguru Mata Ji for all the Sewa Dal members and other volunteers so that they are able to do Sewa in the grounds with the spirit of devotion, dedication and selfless service.
Shri Nagpal Ji said that for the devotees from various sectors from Delhi and Greater Delhi duties have already been notifies. The idea is that every devotee finds a chance to take part in this noble effort in groups. He hoped that they will carry out the duties as per the guidance of their seniors.
On arrival at the venue, Satguru Mata Savinder Hardev Ji Maharaj was welcomed with bouquets of flowers on behalf of all the devotees of the Mission by Shri Gobind Singh Ji, Chairman, Central Planning and Advisory Board and Shri J.R.D. 'Satyarthi' Ji, President, Sant Nirankari Mandal. The Sewa Dal Mukhya Sanchalak Shri J.S. Khurana and Incharge Lay Out Shri Mangat Rai assisted Her Holiness in the ceremony.