Sector 7 SOCIAL hosts a Tie and Dye Workshop on June 5: Sector 7 SOCIAL collaborates with Riya on a Tie and Dye DIY workshop.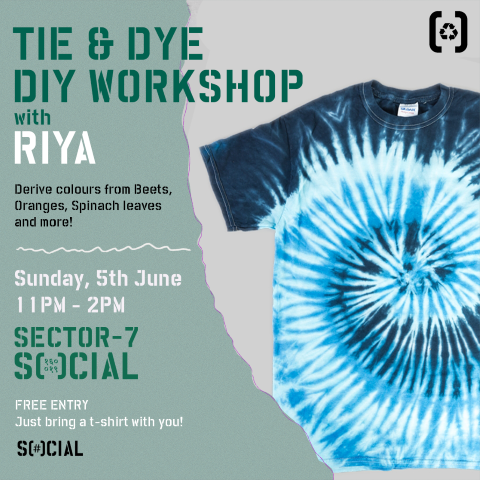 Learn to derive colors from organic ingredients like Beets, Oranges, Spinach leaves and much more and encourage awareness and action for the protection of the environment.
Get a t-shirt with you and be a part of this workshop on the occasion of World Environment Day.
Date: 5th June, 2022
Time: 11am to 2pm
Venue: Sector 7 SOCIAL, SCO 37, Madhya Marg, Sector 7-C, Sector 7, Chandigarh, 160019
Free Entry
Know More About Social
SOCIAL is a path-breaking urban hangout that's designed to take you offline while still keeping you connected. From an all-day café serving great food, coffee, and cocktails, SOCIAL transforms from this creatively charged collaborative space into a high-energy bar when work hours end, striking the perfect balance between work x play.
Each outpost is a representation of the neighborhood it resides in, from the Pincode to the people. It's a second home, workplace, and hangout, all wrapped up in one mind-blowing experience
Know More About Impresario Handmade Restaurants
Impresario Handmade Restaurants was founded in 2001 with its maiden venture Mocha – Coffees & Conversations. Today, Impresario boasts a network of 59 restaurants across 16 Indian cities and multiple brands.
Its umbrella of brands includes SOCIAL, antiSOCIAL, Smoke House Deli, Goodness to Go, Salt Water Café, BOSS Burger, Hung-Li, Lucknow, Ishaara, Slink & Bardot, Soufflé S'il Vous Plaît, Prithvi Cafe, and Mocha. The company's core strength lies in understanding the changing dining out habits of young India and delivering quality experiences tailored to delight its patrons.