Sector 7 SOCIAL is set to host a cultural extravaganza with Deluxe Thali: This Sunday, Sector 7 SOCIAL and Deluxe Thali curate a pop-up spanning fashion, music, art and a whole lot more.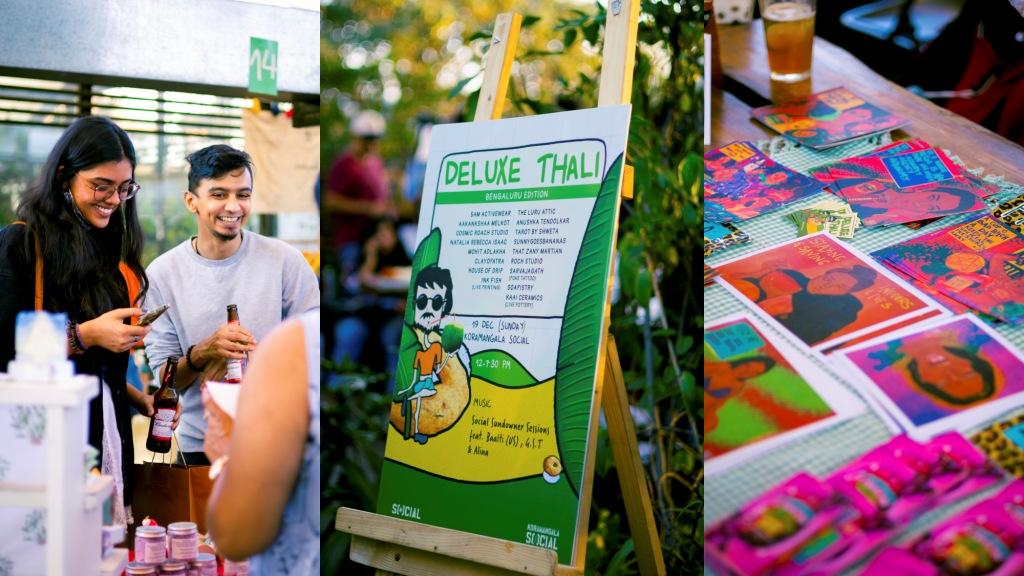 Amp up your weekend plans at your favourite neighbourhood all-day café & bar chain, SOCIAL. On 29th May 2022, Sunday, get your buzz on as SOCIAL hosts the first-ever Deluxe Thali at Sector 7 SOCIAL!
'Deluxe Thali' is an art-focused pop-up with a curated lineup of the hottest upcoming bands and artists from around the xcountry, bringing all the spices and flavours of a diverse, cool marketplace to a table near you. Since its inception, the Thali has hosted over 300+ brands and artists across Mumbai, Pune, Bengaluru, Chennai, and Indore with over 25 editions already. SOCIAL hosts the first-ever Deluxe Thali in the Tricity area at Sector 7 SOCIAL outpost this Sunday.
At its first debut edition in the city, the Thali features a mix of art, music, fashion, handmade accessories, upcycled apparel and products, tarot card readings, jewellery and a lot more! The lineup of artists originates from the love of everything homegrown – some of the brands and artists that will be participating in the Deluxe Thali at Sector 7 SOCIAL include: Roch Studio, The Little Craft, Label 16.19, HeadToNib, amongst many more. You can also enjoy signature SOCIAL #eats & #drnks, hang with your friends and new people, and dance the evening away with live performances!
What are you waiting for? Head to Sector 7 SOCIAL this Sunday and immerse yourself in the latest edition of Deluxe Thali.
Outpost: Sector 7 SOCIAL
Timings: 12pm-7:30pm (Marketplace) // 6 pm onwards (Performance) 
KNow More About Social
SOCIAL is a path-breaking urban hangout that's designed to take you offline while still keeping you connected. From an all-day café serving great food, coffee, and cocktails, SOCIAL transforms from this creatively charged collaborative space into a high energy bar when work hours end, striking the perfect balance between work x play. Each outpost is a representation of the neighbourhood it resides in, from the pincode to the people. It's a second home, workplace, and hangout, all wrapped up in one mind-blowing experience.
Know More About Impresario Handmade Restaurants
Impresario Handmade Restaurants was founded in 2001 with its maiden venture Mocha – Coffees & Conversations. Today, Impresario boasts a network of 63 restaurants across 18 Indian cities and multiple brands. Its umbrella of brands includes SOCIAL, antiSOCIAL, Smoke House Deli, Goodness to Go, Salt Water Café, BOSS Burger, Hung-Li, Lucknowee, Ishaara, Slink & Bardot, Soufflé S'il Vous Plaît, Prithvi Cafe, and Mocha. The company's core strength lies in understanding the changing dining out habits of young India and delivering quality experiences tailored to delight its patrons.