Delegates from India and overseas to converge at Seventh 'World Congress on Science and Medicine in Cricket' to be held in Chandigarh: Chandigarh, UT will be hosting the Seventh 'World Congress on Science and Medicine in Cricket' from November 3 to 5 wherein delegates from India and overseas will be dilerbating upon Science and Medicine in the gentleman's game of Cricket.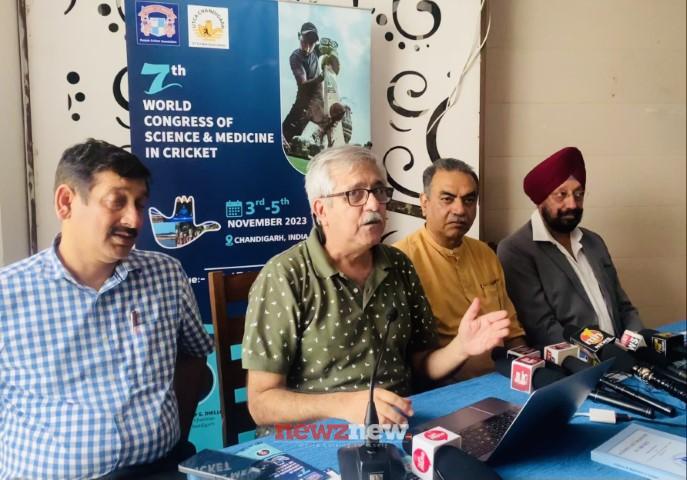 Professor Mandeep S Dhillon, Head of the Department of Orthopedics, PGI, Chandigarh, while addressing the press conference organized at Chandigarh Press Club, said that this is the second time for Chandigarh to get this prestigious hosting after the year 2011. The three-day symposium is well supported by the ICC and BCCI with PGI Chandigarh and partnering with local cricket boards – UT Cricket Association (UTCA) and Punjab Cricket Association (PCA) as partners in the event. The journey of this unique event began with the first edition during the ICC World Cup in South Africa in 2002-03, followed by West Indies and then returned to India (Chandigarh) in 2011. This event has also been organized in Sydney and England. The faculty participating along with India will include representatives from Australia, UK, South Africa, West Indies, New Zealand, Germany, Bangladesh, Afghanistan, Pakistan, Nepal and other countries.
Professor Mandeep Dhillon said that the objective of organizing this event is to bring out a deeper understanding of cricket by addressing other aspects like biomechanics, injury profiling, injury prevention, improvement in bowling and batting, mental health fitness along with the upliftment of women's cricket etc. The primary objective of this conference is to provide an excellent platform for exchange of ideas with top luminaries in the field of Sports Medicine, Physiotherapy and Cricket Science.
Professor Dhillon said that during this time, 1983 World Cup winning team captain Kapil Dev and former Sri Lankan Test cricketer Muttiah Muralitharan will be sharing their thoughts on medical issues faced in his sports career. VVS Laxman from National Cricket Academy (NCA) will conduct a one-day workshop wherein BCCI's trainers and physiotherapists from across the country will be appraised with injury prevention techniques. Women's cricket, hydration and nutrition including foot and shoulder injuries etc. will also be covered during the workshop.
Also present on the occasion, Sanjay Tandon, President UT Cricket Association and Preet Mohinder Singh Banga, Vice President, Punjab Cricket Association also spoke on the relevance of the event.