Shri Mahaveer Jain Yuvak Mandal ( MJYM ) organizes 26 th Annual Blood Donation Camp: In view of the current pandemic situation prevailing globally due to the COVID-19 outbreak, Shri Mahaveer Jain Yuvak Mandal (MJYM) in association with Colonel KC Jain Shiksha Jain charitable trust  conducted their 26th Annual Blood donation camp at Jain Sthanak, Sector 18-D Chandigarh.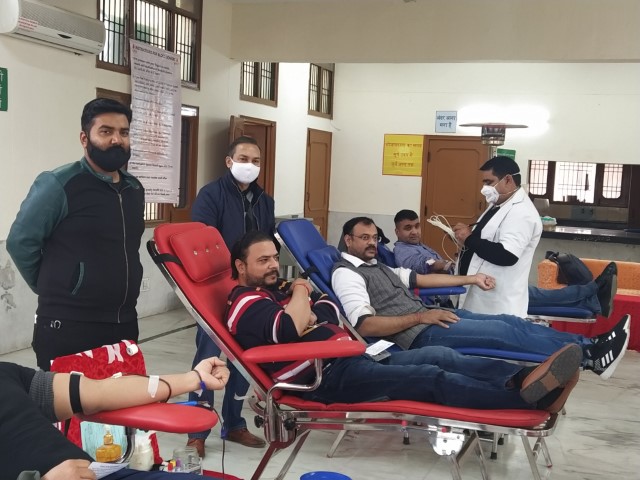 The camp was conducted in association with PGIMER, Chandigarh to create awareness about blood donation and to inculcate responsibility among individuals to pay back to the society in shape of donating blood . 
Divulging details about the camp, Adish Jain said that the unprecedented outbreak of COVID -19 taught us countless life lessons along with reinforcing the well known phrase 'Health is Wealth'. "However, people don't understand this at an early age. 
Even so, COVID-19 has enlightened people across the spectrum of society that well being of a person is way more important than the materialistic wealth they have", said Shaman Jain , executive member MJYM adding further that according to utmost priority to humanitarian principles, all should come forward to donate blood which is a great way of serving the mankind . Emphasising on the phrase "raktdaan Mahadaan " a unit of blood can be life saving as in such crisis time hospitals generally face shortage of blood.
Shri Vivek Jain trustee of Colonel KC jain shiksha jain charitable trust said that every individual who is healthy should volunteer and donate blood every three months . According to his philanthropic ideology It becomes a source of inner happiness when an individual observes that with one unit of blood donation done can prove vital and can be life saving for another individual. 
Notably, more than 100 units of blood were collected even in these times of pandemic and everyone who became a part of this noble cause received appreciation certificates. Dr Sandeep Bansal Associate Professor ENT ( PGIMER ) along with team of doctors cleared the myths with respect to blood donation and infact explained benefits related to it and inspired people to donate blood regularly. People from all walks of life felt gratified to be a part of the noble cause.
We are thankful to the entire team of MJYM who does this event with full pomp and show