100 visually challenged students benefit with Saarthi device: Rotary Club Himalayan Ranges Mansa Devi in collaboration with Rotaract Club Chandigarh Himalayan took an initiative to empower the visually impaired students with the project 'Saarthi'.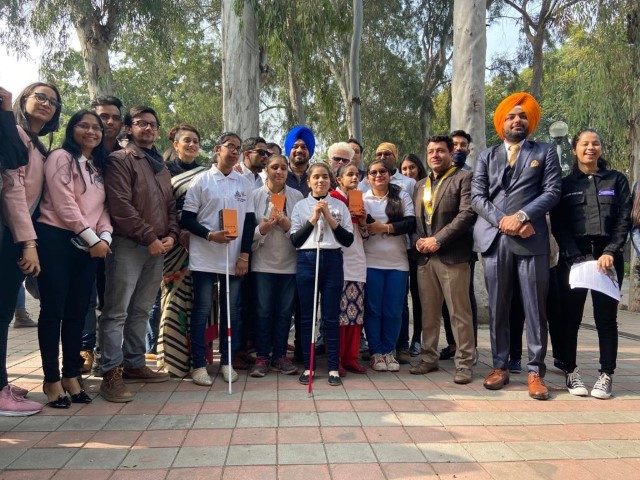 During this project, a total of 100 Saarthi devices were distributed to visually challenged at Tagore Theatre, Sector18 which will help visually impaired people by the awareness of hindrances on their way.
The event was graced by Rotarian Gaurav Ghai, President, Rotary Club Himalayan Ranges Mansa Devi and Rotaractor Kawalpreet Singh Judge, President Rotaract Club Chandigarh Himalayan, Rotarian Ramesh Bajaj, District 3080 District Governor, Comedian Gurpreet Ghuggi, Actor and Model Shivani Saini and International Paralympic Table Tennis player Mukesh Kumar.
This project Saarthi was initiated by Rotarian Gaurav Ghai which was aimed at empowering the visually impaired students. Saarthi warns the visually impaired people about the hurdles on their way so that they can change their path Saarthi device is a battery powered device which is very easy to learn and use.
It is charged with a USB charger port that lasts for more than a month despite using it daily and it has 99.9% accuracy with the navigational range of three different types – 2 feet(indoor), 4 feet(outdoor) and 8 feet (open area). This device will help a lot to the visually impaired students and will help them in their day to day hurdles.
Also present on the occasion were Rotarian Shivansh Sharma, General Secretary of Rotary Club Himalayan Ranges Mansa Devi, Rotractor Diksha Goel, General Secretary of Rotaract Club Chandigarh Himalayan, Rotarian Shiv Kumar Sharma, Event Chairperson Rotaractor Gaurav Badgujar, Superheads Rotaractor Mansi Mittal, Rotaractor Sanya Aggarwal and others.