'Ensuring Transparency an Article of Faith'
Noted Supreme Court Lawyer Vineet Bhagat gives Detailed Picture of Wrong Doings by Fastway
Punjab Government is committed to break the monopoly situation and to create level playing field in Cable TV industry." Disclosing this here today, the Local Government Minister, Navjot Singh Sidhu said that it is a long and sordid saga of corruption by the previous regime which would now be taken to its logical conclusion.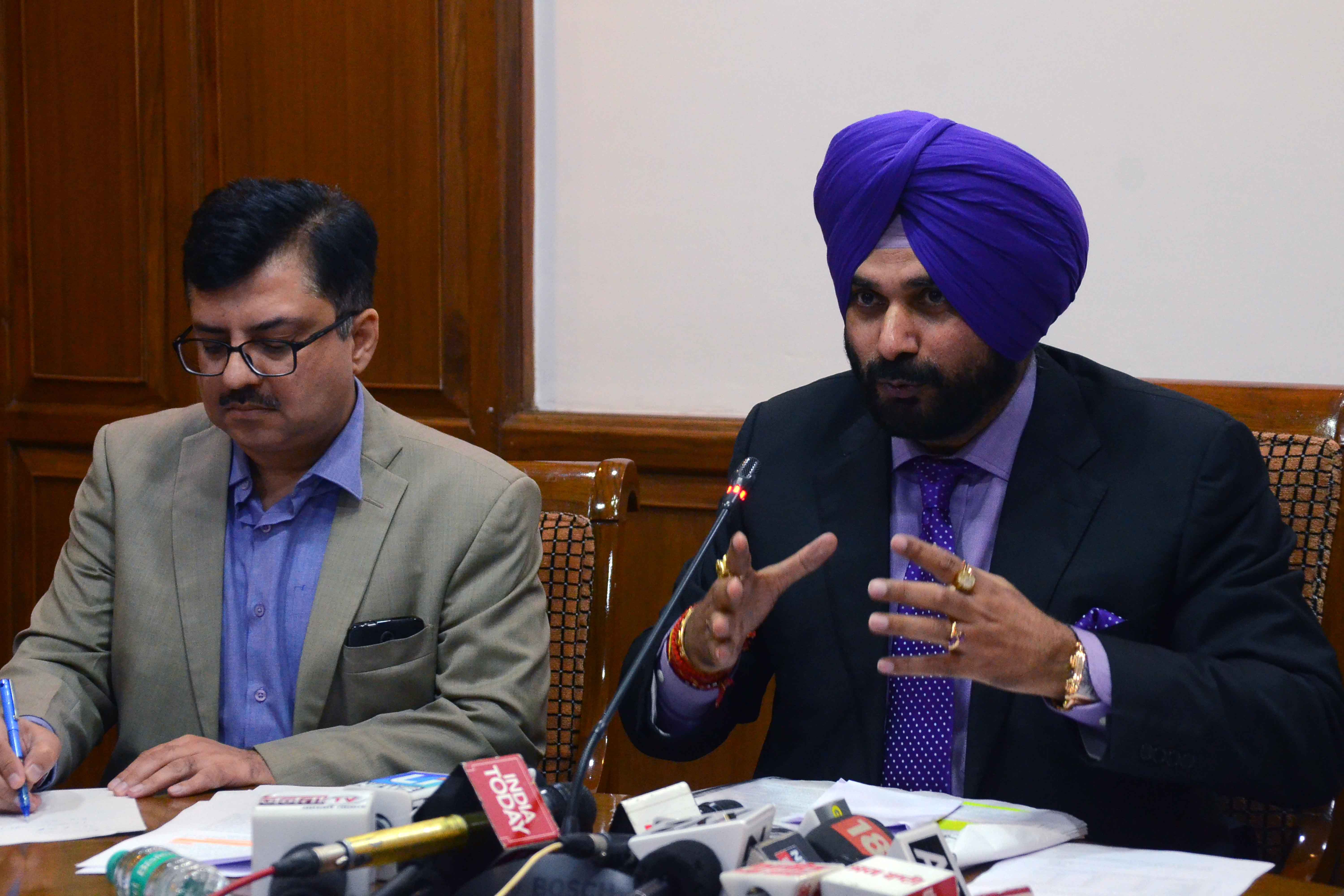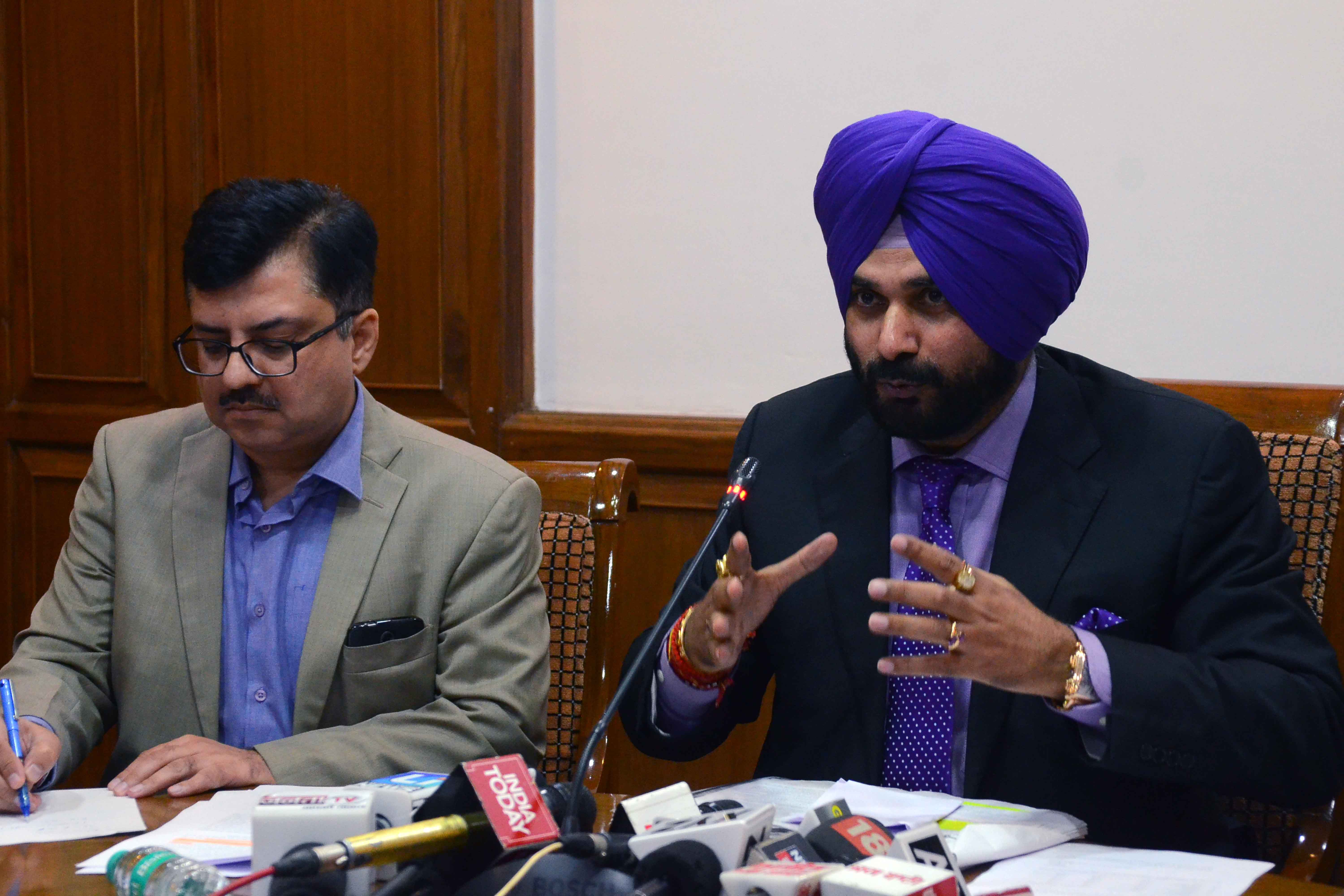 Divulging the details, the minister said that ensuring transparent functioning is an article of faith with him and he is fully committed to make sure that the true picture concerning wrongdoings done previously with regard to the cable tv industry is brought before the public.
Supreme Court lawyer Vineet Bhagat who also also fought cases for small cable tv operators against big fish, said that in 1995, the Entertainment Tax in Punjab was Rs. 50/- per Television. But the previous government amended the taxing provisions to keep FASTWAY out of tax net & imposed a meagre tax of Rs.15,000/- per annum on the Proprietors of the Cable TV Networks. Calculating the impact of the loss of revenue to the Government, taking into account a conservative figure of 40 Lakh connections of FASTWAY (as mentioned in the report of Competition Commission of India of 2012), it would come to (40L x 50 x 12 x 6) Rs.1440 Crores, which instead of finding its way to Government Exchequer was diverted to the pockets of private persons. This is a conservative figure for tax loss impact from 2010 to 2016. He further said that this is only a tip of the iceberg while the actual figure may go upto Rs 20,000 Crore.
Bhagat further said that to discourage DTH & to make it uncompetitive, a tax of 10% was levied on DTH services. And on top of it, that meagre tax of 15,000 was also not collected, because FASTWAY had usurped all the major Cable TV Networks in Punjab, by way of registering false cases against the Cable TV Network owners & poaching their area as well as customers. Continuing further, Sidhu detailed that 8 criminal case were lodged against Pappi Bhullar of Amritsar and his office was also ransacked but no case was registered against miscreants. Not only this but after becoming owners of all the major Cable TV Networks, FASTWAY did not even pay that meagre tax of Rs.15,000/-per year and no action was taken against it. Further, despite having more than 80 Lakh connections today, they have grossly under declared their connectivity at about 24 lakh connections to TRAI and continue to short change the Government & Regulator.
Clearing the picture further,he said that in the States where there is competition among Multi System Operators (MSO's) the rates being charged from Local Cable Operators (LCOs) are 60 in UP, 75 in Rajasthan and a whopping 130 in Punjab. That also without entering into any agreement & without raising any Invoices, whereby the LCOs were informed on telephone about their monthly liability & they had no option to dispute it but deposit the same. This is in contravention of the settled law that retransmission of Cable TV signals is illegal in the absence of written agreement. Furthermore, by creating the monopoly, they have an unequal bargaining power with Broadcasters and they pay less to the Broadcasters as compared to the States where there is competition & using the monopolist position they are also able to extract/extort huge Carriage/Placement Revenue from Broadcasters to the tune of Rs.200 Crores per annum.