Sikh Arts & Film Festival 2019 to premiere 3 films directed by Ojaswwee Sharma: Adding more laurels to his name, acclaimed filmmaker Ojaswwee Sharma's films have been officially selected to premiere at the Sikhlens: Sikh Arts & Film Festival (SAFF 2019) at Dodge College of Film & Media Arts, Chapman University, California this year from 22nd-24th November 2019.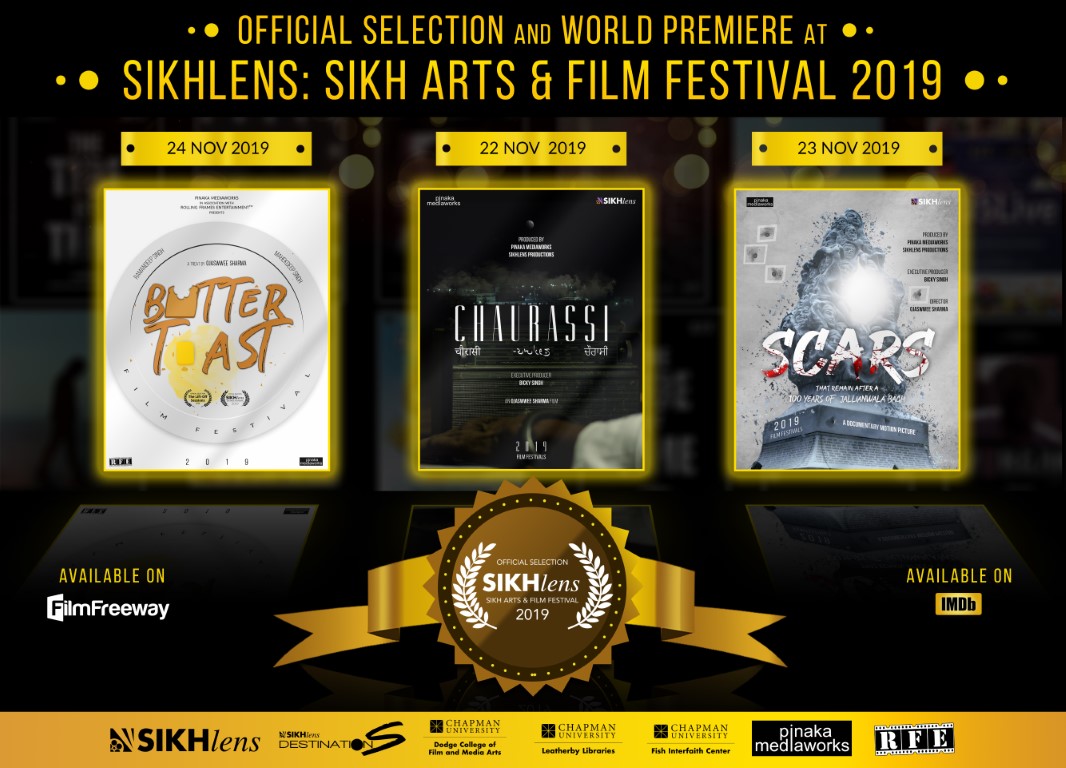 Three films will premiere at SAFF 2019 – Chaurassi (short film), Scars – After a 100 Years of Jallianwala Bagh Massacre (documentary) and Butter Toast (short film). This is the third consecutive year where Ojaswwee's films have screened at the Sikhlens festival in United Stated of America, previously – Zubaan (2017), The Tide of Time (2017) and Rooh (2018).
Co-produced by Sikhlens Destination S, Bicky Singh, Pinaka Mediaworks and Rolling Frames Entertainment, the 20 minute short film Chaurassi will be screened at the opening night of the festival on 22nd November 2019. Set in the year 1984, the film is based on a true incident, narrating the story of a bereft Sikh couple in Madhya Pradesh that have been sufferers at the hands of the events that shook the nation that year.
The film stars Chandigarh-based actors Madhu Bala, Ranjeet Pannu, Yaspal Tiwari, Harwinder Singh Shanty, Khushpreet Kaur, Saudamini Kapur, Siddharth Ohri, Sunny Dhillon, Sonpal Singh, Mohammad Faizan, Balwinder Bannu and Nitin Dilawri. This is the flagship film of 2019 by Ojaswwee Sharma.
Scars – After a 100 Years of Jallianwala Bagh Massacre, another Sikhlens Destination S, Bicky Singh, Pinaka Mediaworks and Rolling Frames Entertainment production, will be the second film to premiere at the festival on 23rd November 2019, with a run time of 20 minutes.
In an ode to the centenary of Jallianwala Bagh Massacre, the documentary is weaved through heart-wrenching narratives from the descendants of the martyrs who have kept the stories buried deep in their hearts over the generations. Artists, authors, historians and researchers revisit the tragedy in the film and narrate how things have unfolded since then, through their work of art, writing and research.  
Executive Producer for the films Chaurassi and Scars – After a 100 Years of Jallianwala Bagh Massacre, Mr. Bicky Singh, said, "Any work of art that helps retain Sikh history, fulfils our mission of keeping those golden memories alive. Chaurassi, meaning 1984, takes the viewers on a harrowing ride through the four national tragedies that engulfed and convulsed India in that fateful year, whereas Scars brings the emotion prevailing in Punjab even after a 100 years of the Jallianwala Bagh massacre. Both films are fine works of art, and we are proud we could support such important projects."
Another short film to screen at the Californian festival on 24th November 2019 is Butter Toast. It is a sweet 6 minute take on the essence and importance of food. India has teeming millions who go hungry to bed. This short film implores everyone to save every bit of food and share with the ones who cannot afford a proper meal to build a nation where everyone is privy to proper food and nutrition. The film features the father-son duo of Ramandeep Singh and Mahekdeep Singh.  
"Over the last three years, our films have been successfully received by audiences worldwide and Sikhlens has been a great platform where we've had the opportunity to make films that help us stay close to our roots in Punjab. As a filmmaker, I often choose subjects that are close to the sentiments of the people and hence, chose stories like Chaurassi and Butter Toast that they can relate to. Even the documentary, Scars, has been an emotional journey and took our entire crew through the struggles and journey of the common man today. Much like our previous films, these three are close to my heart as well and I hope that they convey the emotion across to our audience," said Director Ojaswwee Sharma.
Prior to these films, Ojaswwee has had more than 30 laurels to his name. His films have been critically acclaimed globally, with Admitted (2018) bagging 12 international laurels, Zubaan (2017) winning 16, The Last Date (2017) – 6, and Rooh (2018) – 7. All films, including Chaurassi, Scars – After a 100 Years of Jallianwala Bagh Massacre and Butter Toast can be found on IMDB for more details.