newznew (Bathinda) : "The technology and information savvy student of modern era is well informed & judicious while planning his or her career and does refrain from selecting an emerging field as a career rather than choosing a contemporary one" said Dr. R.S.Bawa, Vice-Chancellor, Chandigarh University during a press conference at Bathinda. "As a result Universities have to be well prepared by having rich Industry-Academia Interface, offering skill based education that goes beyond the scope of just churning out graduates & post-graduates as today's youth want to take-up skill oriented education which can lead to employment or entrepreneurship" added Vice-Chancellor.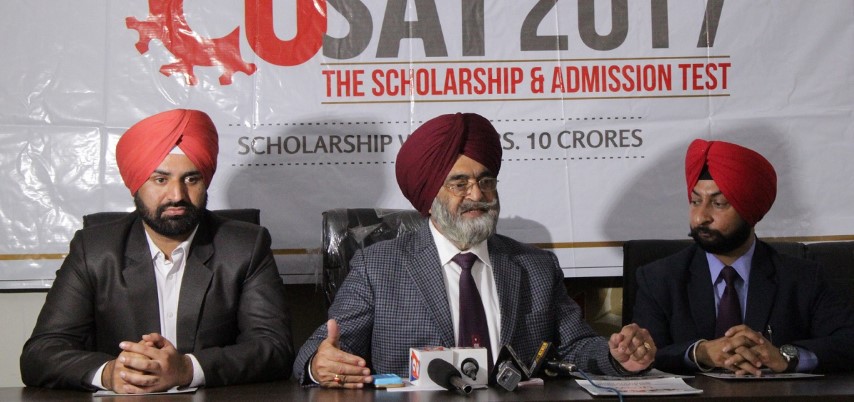 Dr. Bawa revealed that "Students from Punjab and especially from Malwa region are well up-dated as they are choosing emerging areas like Data Analytics, Information Security, Cloud Computing, Bio-Technology, Animation, Film Production as their career option keeping an eye on the changing job trends offered by the Industry".  More than 1400 students from different parts of Malwa region which includes 400 students from Bathinda who are currently studying at Chandigarh University. Chandigarh has always remained the most preferred destination for the students of Malwa belt for their higher education as the city beautiful offers quality education at a much cheaper fees, affordable cost of living, clean & secure environment besides good job opportunities" said CU Vice-Chancellor.
"Students from Malwa region have shown brilliant performance in academics and campus placements 2016" said Chandigarh University Vice-Chancellor, Dr. R.S.Bawa. Be it the academic results in board examination, capturing top positions in University or campus recruitments by Multi-Nationals, students from this region have proved their mettle in every field, added Dr. Bawa. More than 294 students of Engineering, Management and Hotel Management from Malwa region of Punjab who have managed to get 378 offer letters from top notch MNCs like Microsoft, IBM, Google, Amazon, Wipro, Cognizant, Bank of America and others during campus placements 2016, which is about 25% higher than the placements held in 2014, said Dr. Bawa.
There are more than 90 students from Malwa region of Punjab who have been selected by multiple companies during campus placements. "Students such as Mandeep Kaur who is Computer Science Engineering student from Barnala has been selected by 4 top notch MNCs which includes IBM, Wipro, Cognizant and Tech-Mahindra" he said. Talking about other students from the region, Dr. Bawa said "Subhangi Bhatnagar a Computer Engineering student from Ferozpur has been selected by Hitachi, Wipro, NCR Corporation and Cognizant".
"Students are now opting for Specialized and Industry Oriented Programs in emerging areas as it offers better placement opportunities and Chandigarh University has become the 1st University in the north region to offer programs in emerging areas such as Aerospace Engineering, Mechatronics Engineering, Industry Collaborative courses such as IBM Collaborative Computer Science Engineering in emerging fields of Cloud Computing, Big Data Analytics and Information Security" Vice-Chancellor.
While launching the All India Scholarship based Entrance Test, CU-SAT (Chandigarh University Scholarship and Admission Test), Dr. Bawa said, "CU-SAT would be a Scholarship based All India Entrance Test for Under-Graduate and MBA programs offered by Chandigarh University for 2017 session where students can become eligible for academic scholarships worth Rs. 10 Crores".
He further added that, "The All India Entrance Test would be conducted online in the month of May-June 2017 based upon which scholarships would be offered to more than 800 students across 21 streams and students from any stream after 10+2 and MBA aspirants would be eligible to appear for the online entrance examination and Test Centers would be available across 12 states. CU-SAT 2017 would offer 100% scholarship to first 1% toppers of CU-SAT 2015 while the next 2% toppers would be given 50% scholarship during their course tenure. In addition to above CU-SAT offers guaranteed scholarship of 5% for every student who would be securing 60% in CU-SAT Entrance Examination.
As a mark of respect towards the Defense Personals for their service towards Nation, Chandigarh University announced 5% seats reserved in every course offered at university for the wards of serving/martyred defense personals. The University also announced academic scholarship upto 25% for the wards of the security/military/para-military forces who will be seeking admission in the various courses offered by the Chandigarh University.
Dr. Bawa also launched professional career counseling facility at Chandigarh University Regional Office cum Facilitation Centre at Bathinda today. "The students of Malwa can avail this facility for career guidance free of cost through-out the year where a team of experts would be available to counsel the students of Punjab and help them by guiding them to choose career option and understand the future prospects of the various fields which are available".
Students from Punjab stand to reap benefits while studying at Chandigarh University, as good placements have always been top priority which can be established by the fact that more than 465 Multi-Nationals have offered 4950 placements to 2016 passing-out students till date, VC said. Companies like Amazon, Microsoft, IBM, Google, Tech-Mahindra and L&T have visited University campus at Gharuan this year for campus recruitments.