Smaaash PUBG Mobile League Season 1 launched: Stock your guns, grab your armor and get to the safe zone because Smaaash – India's leading VR, gaming and entertainment brand is launching the first season of the Smaaash PUBG Mobile League.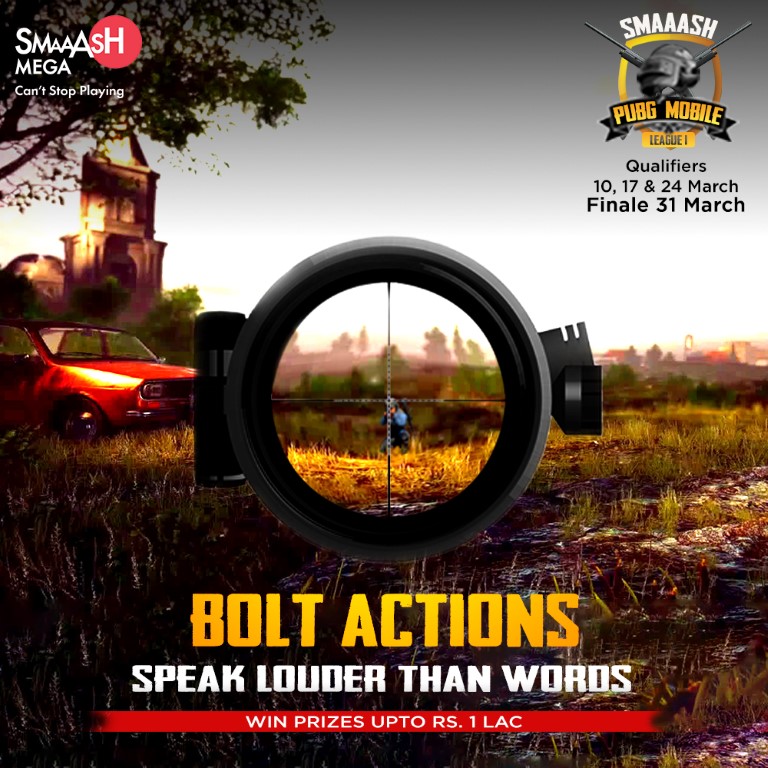 With Battle Royale game taking the country by storm, PUBG Mobile sure leads the pack with over 200M+ downloads. This game needs no introduction to any gamer, casual or pro.
Starting March 10th and to be held every Sunday of the month, Smaaash will be hosting the qualifiers in Solo and Squad formats. Top players/squads from each week will battle it out at the finale to be held on 31st March. The qualifiers and the finale will be held at Smaaash Kamala Mills – Lower Parel, where a unique PUBG themed arena has been set up with high-speed lag free internet, charging ports so you never run out of juice, PUBG Photobooths and PUBG merchandise.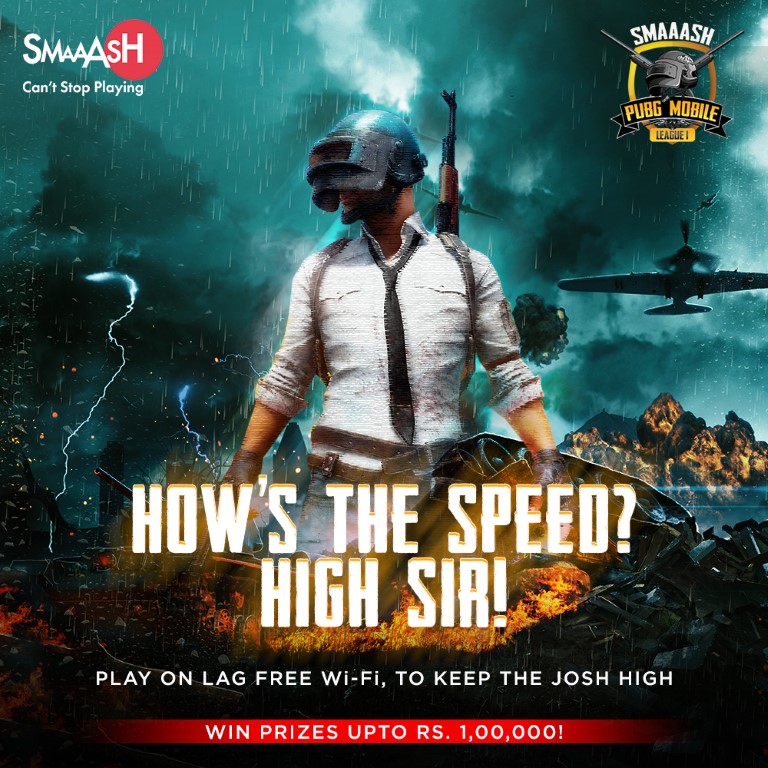 Commenting on the same SMAAASH's Head of Marketing, Abhishek Agarwal said
"In India, we believe that you can't stop playing PUBG mobile, no matter where you are. From South Bombay to Navi Mumbai, Player Unknown's Battle Grounds' user base from our financial capital has been the densest in the country. We have a introduced a physical PubG zone in SMAAASH Lower Parel.
Therefore we decided to have all the gamers under a single roof, club the demographics, and provide an ambiance that would amplify their gaming experience, apart from just free high-speed WiFi. We have had some of the top PubG players like Mortal come down and love our PubG zone. As a result of such encouraging feedback we decided to create a gamers launch pad in SMAAASH that will enable them to build a network and also promote the community gaming trend in India."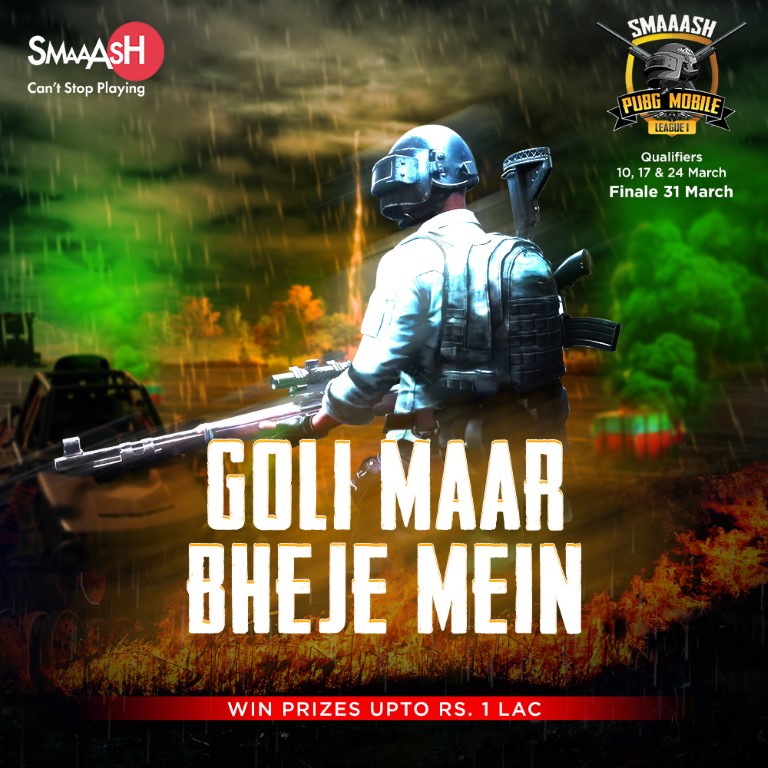 So zero-in on your enemies and be the last squad standing because if you win, you don't just get a Chicken Dinner (Or SubG dinner), but also tons of gadgets and goodies ranging from Bluetooth speakers to Zebronics headsets.
The entry fees for the tournament is just Rs 100/- per gamer per match and prizes of up to Rs 1 Lakh are up for grabs.
Showcase your skills and unleash your fury as a squad or a lone wolf. Experience PUBG Mobile like never before only at Smaaash Kamala Mills- Lower Parel.
Launched in 2012, SMAAASH is one of India's acclaimed gaming and entertainment centers that blends sports, virtual reality, music and dining into an immersive, evolved, interactive and innovative social experience for family, friends and children alike. Helmed by its creative ideator, ShripalMorakhia, SMAAASH is renowned in the field of sports simulation technology and proprietary gamification technologies such as a unique twilight bowling zone, motor racing and bike racing simulators and the go-karting tracks (in Mumbai & Gurgaon).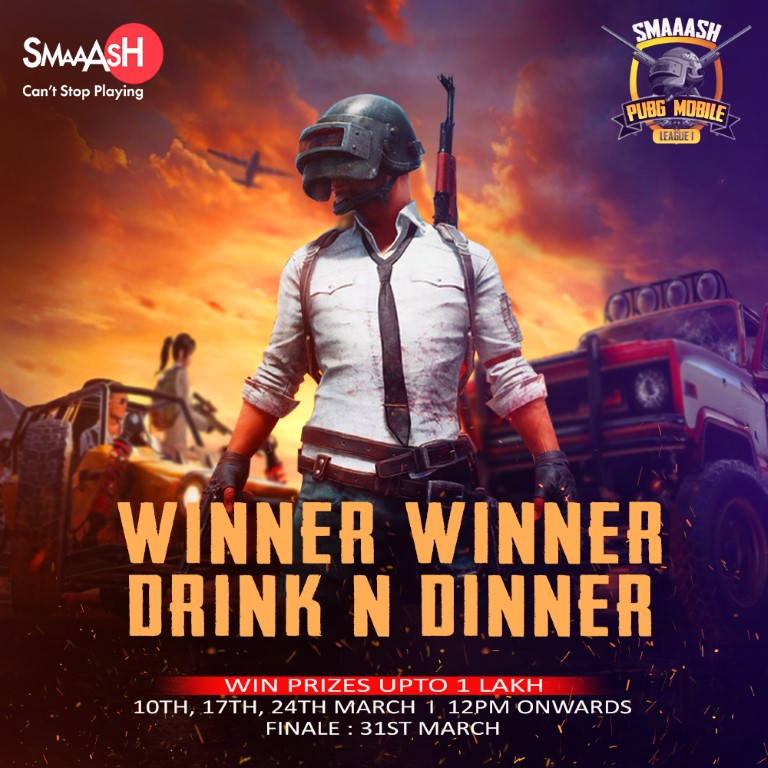 Being a virtual reality led entertainment gaming center – vastly credited to its in-house research and production capabilities, head mounted displays are used to produce games such as Walk the Plank, Finger Coaster, Cockpit 360 etc.
Recently, SMAAASH has acquired 100% stake in bluO entertainment (a premium bowling and entertainment format). The acquisition marks the doubling of the area under SMAAASH management from 276,000 square feet to approximately around 600,000 square feet in India.
With its current presence in Mumbai, Gurgaon, Delhi, Hyderabad, Bengaluru, Noida and Ludhiana, SMAAASH also touted as one of India's entertainment powerhouse in foreign shores with its Mall of America launch. Apart from this, SMAAASH has also acquired a 100% stake in SVM Bowling and Gaming, a popular bowling and entertainment format operated by SVM Private Limited. We are now present in 13 cities and are now 26 centers in total.
SMAAASH implores the child in you to joyously revel in an unmatched range of activities ranging from highly interactive sports simulators to many more thrilling and recreational attractions. Redefining sports entertainment and customer engagement with ground-breaking entertainment ideas and novel dining concepts, SMAAASH has something for everyone anyone of any age making it a perfect destination for "kids" of all ages.