Smart India Hackathon 2019 Grand Finals held at Chitkara University : The Smart India Hackathon 2019 #SIH2019 Grand Finale saw the most innovative students from all over India compete for the final prizes which was held on March 2-3 at Chitkara University, followed by a live interaction with Prime Minister Mr. Narendra Modi .
Smart India Hackathon, an initiative by MHRD Innovation Cell at the All India Council of Technical Education (AICTE), New Delhi, is a non-stop 36-hour software product development competition, where problem statements are modeled to technical students for innovative solutions.
The initiative is perceived as a building block for 'Start-up India' campaign, crowd source solutions for improving quality of life, and providing an opportunity for the people to provide innovative solutions for problems faced by our country. Chitkara University had been selected as one of the 48 Nodal Centres for the grand finale, and a total of 30 student teams from all over the country converged at Chitkara University for the event.
The first two editions SIH2017 and SIH2018 were successful in promoting innovation, out-of-the-box thinking in young minds, especially engineering students from across India. This year is the third edition of the event and it saw more than more than 50 lakh students from 6000+ institutions apply to compete to creatively solve problems and offer technical solutions for the top prize at 48 locations.
Also, this year, the Smart India Hackathon has two sub-editions Software edition (a 36-hour software product development competition) and Hardware edition (a five-day-long hardware product development competition). More than 500 problem statements have been received, including from several prestigious private sector organisations. AICTE and MHRD have collaborated with i4c, Persistent Systems, Rambhau Mhalgi Prabodhini, UGC, NIC, My Gov and other multi-national companies to organize Smart India Hackathon-2019.
The inaugural function at Chitkara University witnessed domain experts, senior professionals from the IT sector and those assigned to judge, in full attendance. The lamp lighting ceremony was initiated by Guest of Honour, Wg.Cdr.(Retd)RS Gill; Dr. Archana Mantri, Pro Vice Chancellor, Chitkara University; Dr. S C Sharma, Registrar; Mr. Deepak Chobey, Rep, AICTE. Dr. Anil Sahasrabudhe, Chairman, AICTE; and Shri Prakash Javedkar addressed the participants. During his address, HRD Minister Shri Prakash Javadkar, motivated and urged the participants to 'become owners of innovation'. "A country which does not innovate, cannot progress forward," he said.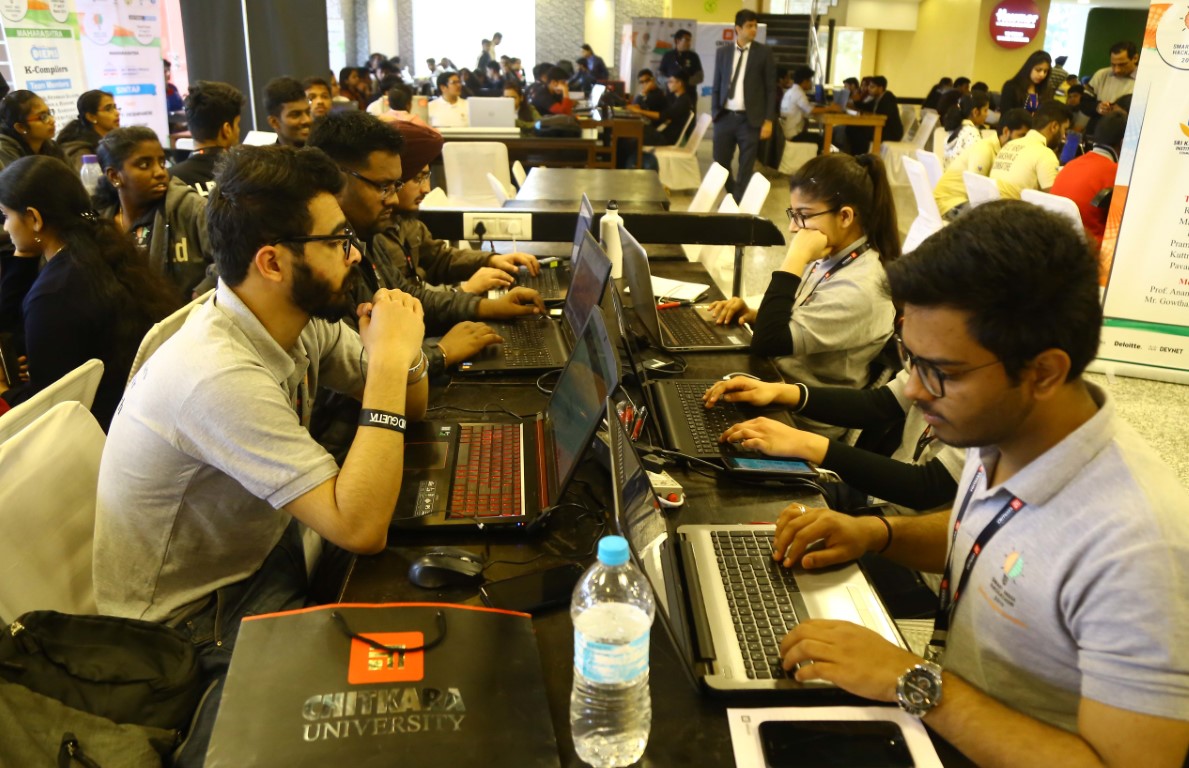 Day-1 of the non-stop 36-hour software product development competition, started with Hackathon participants working on creating world-class solutions for problems formulated by Rashtriya Chemicals & Fertilizers Ltd, Mahyco, Adani Power and MSME-DI, Ahmedabad.
The participants worked on challenges faced within these organisations and created world-class solutions. SIH 2019 included themes such as Smart Communication, Smart Vehicles, Agriculture and Rural Development, Food Technology, Healthcare & Biomedical Devices, Clean Water, Waste Management, Renewable Energy, Robotics and Drones, Security and Surveillance, technology ideas in tertiary sectors like Hospitality, Financial Services, Entertainment, Tourism and Retail.
The highlight for the day was Prime Minister Narendra Modi's interaction with Chitkara University students and participants of SIH, using VC facility. The PM discussed India's daunting problems thus providing opportunities to crowd source innovative solutions from the bright young citizens of India for improving governance and quality of life.
At Chitkara University, he specifically discussed how latest technologies like IOT and AI can help farmers increase crop productivity, avoid wastage and economize use of water and fertilizers. He was particularly impressed by the innovation such as "Bhugoal" (local weather prediction using low cost IOT applications for farmers) and E-deweeder (automatic farm traversing machine killing weeds without the use of chemical fertilizers) innovated by students of Chitkara University. He further encouraged the students to harness their creativity and expertise, which would further lead to building funnel for 'Startup India'.
Day-2 of the event saw the participants continue the non-stop 36-hours software product development competition, coding with superb enthusiasm! The event concluded with a glittering valedictory function, where prizes were distributed in three categories – Rs One lakh, Rs. 75000 and Rs. 50000 , to the winning teams by Chitkara University Vice Chancellor Dr. Madhu Chitkara, on behalf of the Industry and MHRD.
The judges for the event included Mr. Aashish Barwale, Mahyco, Director, and team including Dr Harikrishna, Mr. Arjun Jagtap, Mr. Mahendra Patil, Mr. Anand Deshpande and Dr Pankaj Biyani; Mr. Rajesh Deoli and Mr. Varun Bhavsar, both from Adani Group, Ahmedabad; Mr. Dhananjay Kulkarni, RCF, Mumbai; Mr. Deepak Chaubey, AICTE; Mr. Chetan Sharma, Assoc. VP, TT Consultant; Mr. Shivam Arora, Team Leader, TT Consultant; Mrs. Sunita Mehta, HoD CSE, Chandigarh College of Engg. & Tech., Chandigarh; Dr. Pradeep Walia, Prof., HoD, Comp. Appl. PG College for Girls, Chandigarh; Mr. Amit Dogra, ORION E-Solutions; Mr. Gagandeep Singh, Sr. Consultant, Infosys Ltd., Chandigarh; Mr. Gaurav Goyal and Dr. Sheifali Gupta from Chitkara University. The participants were evaluated according to novelty of the idea, complexity, clarity and details in the prescribed format, feasibility, practicability, sustainability, scale of impact, user experience and potential for future work progression. The prize money and rank was accorded on the level of complexity of the innovation idea.
Thanking all the participants for making the event a success, Dr. Madhu Chitkara, said, "I am overwhelmed to see the building of new India at the hands of the young innovative minds. This generation not only thinks positively, but also possesses the knack of finding 'never-thought-of' solutions to industry problems. This is a great initiative by MHRD and AICTE, as it has brought brilliant minds at the forefront, breaking barriers of geographical boundaries. Chitkara University is extremely happy and privileged to be involved in this event."
During the valedictory function, the sponsoring industries and jury members from local academic institutions were also honoured for their contribution in evaluating the teams.