SmartBike, India's fastest growing PBS Company, along with Chandigarh Smart City Limited (CSCL), is all set to change the course of commuting: A team of ardent cyclists at SmartBike, India's fastest growing PBS Company, is ready to revolutionise the transportation system in Chandigarh with the launch of its one-of-a-kind PPP project with Chandigarh Smart City Limited (CSCL) by setting up 617 Bike Stations with 5,000 SmartBikes across the city of Chandigarh eventually.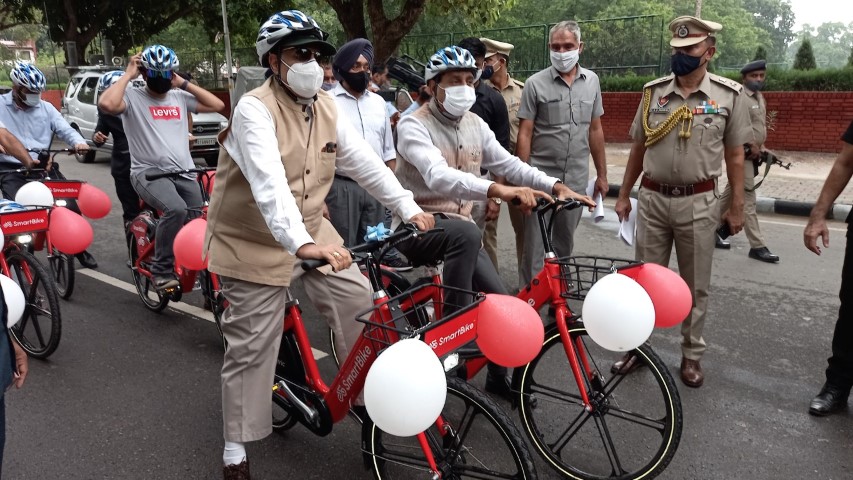 The project will kickstart with Phase 1 on the 12th of August in the presence of Chief Guest, Shri V. P. Singh Badnore, Governor, Punjab & Administrator Chandigarh and other dignitaries including Smt Kirron Kher MP, Shri Dharam Pal, Advisor, Chandigarh, Shri Ravi Sharma Mayor, Shri KK Yadav, CEO cum Commissioner, Chandigarh, Shri Anil Garg Addl CEO and Shri NP Sharma, Chief Engineer, MC, Chandigarh in a star-studded event held at Shanti Kunj, Sector 16, Chandigarh.
SmartBike has developed state of the art electric SmartBikes which will also be launched with the PPP project in Chandigarh. Their latest innovation in technology will shorten the journeys for its users and defy the city's undulations to climb the terrain with ease.
With a range of about 40 km and a safe speed limit of 25 km/hour, the electric SmartBike will represent a genuine eco-friendly alternative against the use of fossil fuel driven vehicles that pollute the atmosphere.
SmartBike dock stations will be set in the following locations: Sectors–01,03,04,07,08,09,10,11 15, 16, 17, 18, 19, 20, 21, 22, 23, 24, 26, 27, 28, 29, 30, 31, 32, 33, 34, 35, 36, 37, 38, 39, 40, 41, 42, 43, 44, 45, 46, 47, 48, 49, 52 and Punjab University, PGI, Punjab and Haryana High Court, Manimajra, Sukhna Lake, Rock Garden, Rose Garden, and GMSH Sector-16 (Government Multi-Specialty Hospital).
Further, SmartBike takes pride in their technology as these electric bicycles are very user friendly as they run on a 'pedal assist' system which makes the rider very comfortable.
The e-bike doesn't require a lot of energy to pedal. It comes with a motor and requisite speed, well in tune with RTA norms and complies with all safety requirements. This excludes it from being a motorised vehicle defined under Motor Vehicle Act, making it accessible to all age groups and even to people without a driving license. Depending on how they are used, larger numbers of electric bicycles may gradually be introduced.
To top that, this Public Bike Service System is fully automated which is operated by a state of the art, robust "SmartBike" mobile app. Through the App, a rider can locate the closest bike station, unlock the bike, ride & return the bike at any other bike station.
Elated to share his love and passion for cycling with the people of Chandigarh, Mr. D.V. Manohar, Chairman, SmartBike Mobility and also Vice President, World Cycling Alliance based at Brussels said, "Chandigarh is a well-designed city with the right infrastructure. We are in the process of transforming the way people travel in the city and thereby contributing to a eco-friendly commuting culture. We'll ensure that we cover every important spot in the city to enable people to cycle from Point A to Point B without having second thoughts. The pandemic has encouraged people to look at cycling as more than just a fitness regime as it enables automatic social distancing and we want to take that to the next level."
Mr Dharmin Dontamsetti, Co-Founder, SmartBike said "After coming back from USA, I realised that vehicular pollution menace is killing many people in India. Through our Startup SmartBike, we are trying to address this by promoting Cycling which is eco-friendly".
SmartBike is launching in Phase 1 of India's largest PBS system in Chandigarh with state-of-the-art 1250 electric and push SmartBikes at 155 bike stations. Upon completing all 4 phases, the project will have 5000 bikes at 617 stations across the Union Territory.
About Chandigarh Smart City Limited (CSCL):
Chandigarh was selected as a Smart City in May 2016 in the Fast-Track Round of the Smart Cities Challenge period. A Special Purpose Vehicle (SPV) in the name of Chandigarh Smart City Limited was formed in July 2016 for designing and execution of projects being funded by the India Smart Cities Mission. CSCL recently won the Cycle for Change Challenge along with award of ₹ 1 crore from the Govt of India.
About SmartBike:
SmartBike is India's fastest-growing Public Bike Sharing (PBS) company. With a successful and gratifying response in New Delhi under exclusive contract with New Delhi Municipal Council, SmartBike has also won the mandate from Greater Chennai Corporation (GCC) for setting up another world-class public bike sharing system in Chennai with 5000 Smart bikes & 500 Bike Stations eventually. Furthermore, SmartBike's curtain-raiser Public Bike Sharing system in Hyderabad is in the process of expanding in collaboration with the Hyderabad Metro Rail (HMR) & the Govt of Telangana.
SmartBike is India's largest Public Bike Sharing (PBS) Company and successfully operational in New Delhi, Hyderabad, Chennai and Chandigarh and will soon expand to other cities in India.