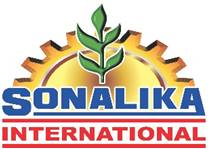 NewZNew (Chandigarh) : Sonalika International Tractors Ltd., the 3rd largest tractor manufacturer of India, is participating in the prestigious CII Agro Tech 2016, taking place at the Parade ground of Chandigarh from 19th to 22nd Nov' 2016. The company is displaying their technologically superior range of tractors from 20-120 HP at the fest. The company has its presence in more than 100 countries and sell tractors under the brand name of Solis , will also display Solis 26 & Solis 90 sold worldwide. These tractors are designed considering the special needs of farmers across the nation; with an aim to  bring in second green revolution in agriculture through innovation in farm mechanization.
All the tractors displayed by Sonalika ITL at the fest are ergonomically designed in order to efficiently carry out strenuous work without breakdown or fatigue. The technology of Sonalika tractors has made the company grow with double digit CAGR in past 15 years. Company is hopeful that their tractors will be equally appreciated by the farmers visiting the CII fair as well.
Sonalika ITL at Agro Tech will offer the visitors with a new experience of tractors. The farmers will also be able to interact with company representatives, who will help them to understand the technological advancement of the products. CII Agro Tech has always been a very popular event and Sonalika ITL takes it as great platform to understand farmer's needs, thus providing them with the best solutions.
Sharing his views on same, Raman Mittal, Executive Director of Sonalika ITL, said; "Being a part of CII's Agro Tech is a proud moment for us. Sonalika ITL, for more than 20 years, by following customer centric approach, has served farmers across India with technologically advanced products. We understand that every farmer growing different crops has different needs. Agri fests like CII Agro Tech, give us a platform, where we understand the needs and difficulties faced by the farmers in field. Consequently, we strive to offer top notch products that deliver heavy duty performance, while allowing the farmers to earn and save more."
Representing India to the world, today, Sonalika ITL is catering to more than 100 countries, including 20 European countries, with its product ranging from 20HP to 120HP that are completely made in India. Sonalika ITL has served over 600,000 customers worldwide with its technologically superior tractors. The company through its integrated tractor manufacturing plant provides complete agricultural solution to both global & domestic market requirements, while matching international quality standards.