NewZNew (Chandigarh) : In a solemn and impressive ceremony held today at the auditorium of St Stephens School, Chandigarh, acclaimed actor Sonam Kapoor conferred the prestigious Neerja Bhanot Award on Bangalore based Subhashini Vasanth. While Sonam was the Chief Guest, the Guests of Honour included Director Ram Madhvani and Producer Atul Kasbekar.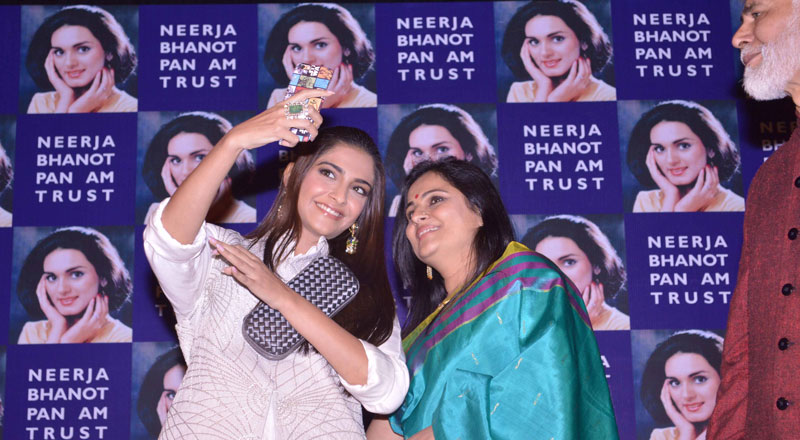 The annual Neerja Bhanot Award was instituted in 1990 in the memory of the brave Senior Flight Purser, Neerja Bhanot, who saved hundreds of lives while sacrificing her own, during a Pan Am plane hijack at Karachi Airport in September 1986. The Award consists of Rs. 1.50 lakh, a Citation and a Trophy. It is conferred on an Indian woman who, when faced with social injustice overcomes it with guts and grit and then helps other women in social distress. A specially constituted Jury comprising of three Rotarians of Rotary Chandigarh Shivalik – Manjit Kaur, Col. Vinod Nayar and Ashok Gupta – decided to confer the Neerja Bhanot award on Subhashini Vasanth.
Subhashini Vasanth is the Founder Trustee of Vasantharatna Foundation, started in the memory of her husband, Col. Vasanth V, who was awarded the Ashok Chakra (Posthumous) in 2008 for his selfless, supreme sacrifice while fighting terrorists in Jammu & Kashmir.  Her personal loss motivated her to start the Foundation to create a support system for the well-being of families of Jawan's martyred in the service of the nation.  The Foundation empowers the women and educates them and their children, besides providing emotional, legal, and financial counselling.  It acts as a bridge between the larger society, Government agencies and the families of martyrs.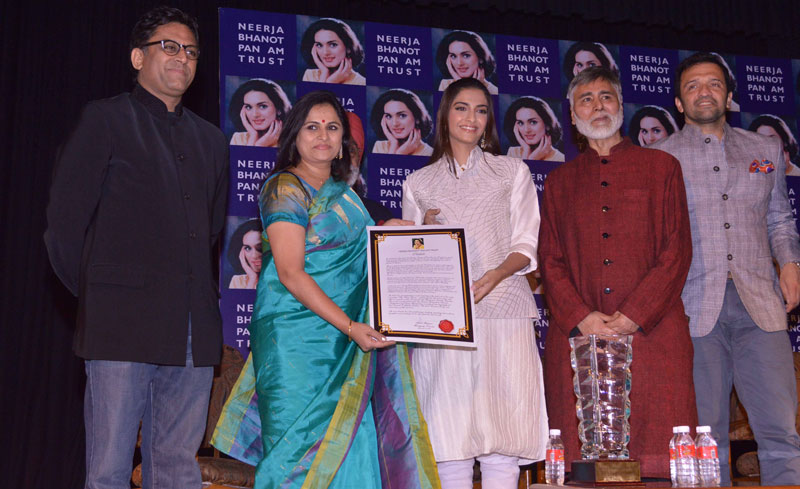 Accepting the Award, Subhashini Vasanth  said,  "I am proud to receive this Award as it represents the spirit of Neerja Bhanot's determination and grit in the face of overwhelming circumstances. A woman must always face all adversities in life and ensure that she is treated with respect. She must stand up for her rights, come what may."
Speaking on the occasion, Sonam Kapoor said that the true courage and compassion shown by both Neerja and Subhashini were highly inspiring for all of us. "In 1986 a young girl was faced by a force of terror that few people will face at any age. Yet she was just two days away from her 23 rd birthday. Itt made her do something that she would never have thought she was capable of. She exchanged her life for 359 other lives that were not hers. She sacrificed something that most of us believe is un-sacrificable. Today I am humbled by being asked to be here and I salute Neerja and Subhashini Vasanth for the incredible work she is doing. I also salute all the Award winners of the past years."
Ram Madhvani, the Director of the film said, "Today is really a day of immortality. Neerja is immortal because of what she did. Mrs Vasanth your husband is immortal. He lives because of what he did and what you are doing. Today I am here in full humility to salute those who have conquered death. I am proud to be honouring those who live on, those that are immortal."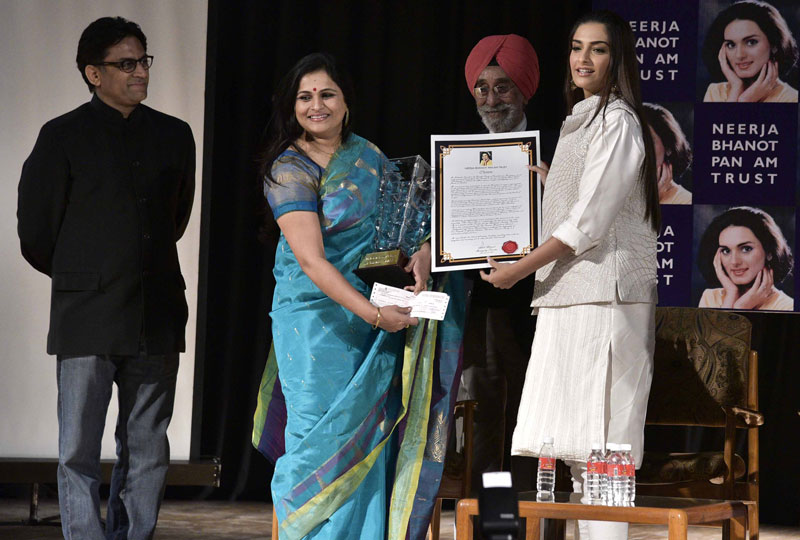 Congratulating the Awardee,  Akhil Bhanot, Managing Trustee, Neerja Bhanot Pan Am Trust exhorted her to continue with her Mission, "We are proud of you," he said, "and we look forward to you spreading compassion, love and affection to even more women in the coming years as you are a true Neerja heroine." He also  read out a  poet written shortly after the hijack by Harindranath Chattopadhya  .
Air Marshal R S Bedi, Trustee, Neerja Bhanot Pan Am Trust talked about how the Trust was formed and the way it has been promoting the two core values of Neerja: Do your duty, come what may and never tolerate injustice or compromise on self-respect.  He spoke about the care and attention to detail with which Mr. Harish Bhanot and the Trustees had structured the Trust in living up to the high ideals of Neerja.