NewZNew (Chandigarh) : DHI, global leader in hair restoration and hair solutions, on completing 45 years of its worldwide operations, today announced launching of new services, hair therapies and an array of hair care products in its Chandigarh Clinic in Sector 8.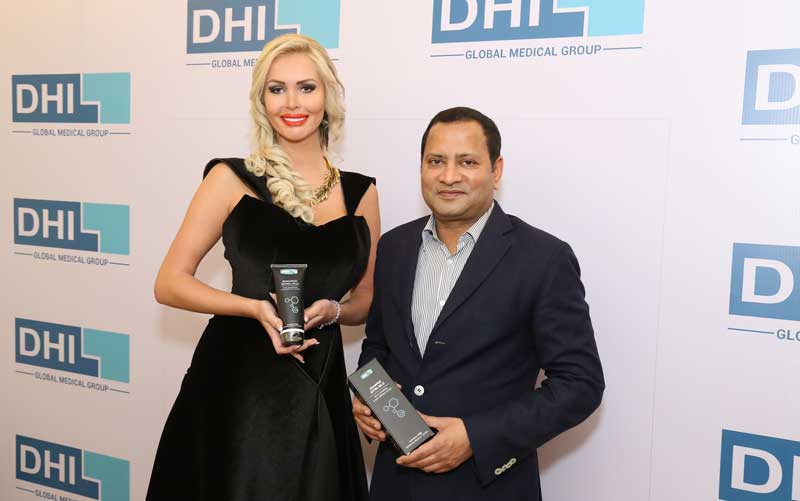 International model Mia Bella from Spain, who is the spokesmodel for DHI, presented the new services PRP, DHF and Anagen Laser Therapy, along with an array of hair care products like shampoo and hair loss lotion to ensure healthy and beautiful hair, in the presence of Ajay Bansal, CEO, DHI India. With this range of products, DHI has entered the hair solution and lifestyle segment.
DHI has dedicated the 45 years to education, research, diagnosis and treatment of Hair and Scalp related disorders. During these 45 years, DHI medical group has been a leader in the evolution of hair restoration industry by setting new standards and introducing innovative techniques and medical treatments. Treating baldness and other hair related issues since 1970, DHI has helped more than 2 lakh patients worldwide in regaining their confidence back. DHI India was launched in 2008 and since then the company has performed over 5000 procedures, including on bollywood celebrities, sports stars and politicians.
DHI's spokesmodel, Mia Bella, who has travelled to India especially to celebrate this key milestone, said, "Being a part of DHI when they celebrate 45 years of their success is a great privilege. DHI was founded in Greece in 1970 and over the last 45 years, DHI technique offers the best and natural treatment with consistent results to the hair-loss sufferers all over the world. Today DHI is well known in Europe and across the globe. Along with hair transplants, the services in which they excel includes PRP (Platelet Rich Plasma) growth therapy, Laser treatment, Scalp-Micro Pigmentation etc. I have personally taken their PRP Treatment to control hair loss and combined it with using their specialised shampoo and hair loss lotion. The results are astonishing, my hair have become more lustrous and thicker. I am so impressed with the products that they are an essential part of my hair care routine now."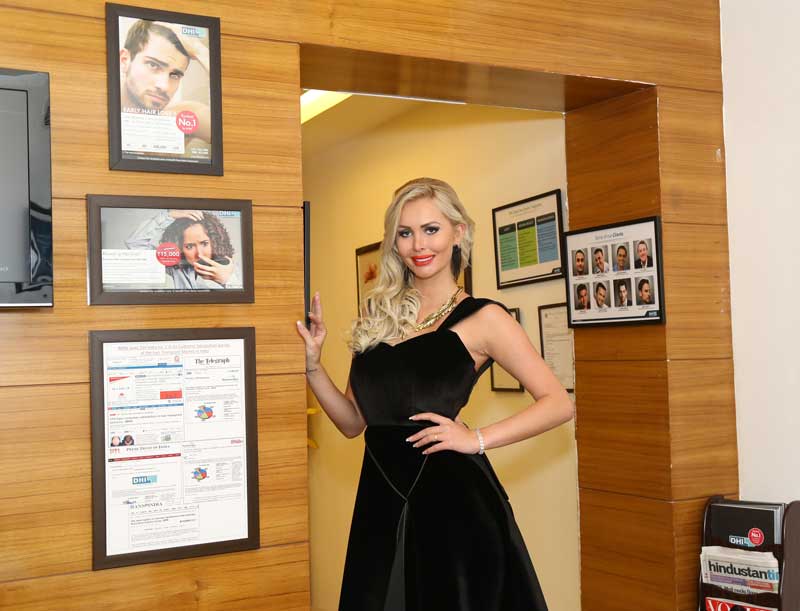 Mia has been taking the modelling industry by storm and is a well established model in Europe. She has set milestones in her carrier by winning several beauty contests such as Miss Globe 2011 Albania, Miss World of beauty and fashion 2012 Turkey, Miss evening gown on Miss model of the world 2011 China. She has been travelling around the globe for various assignments and working for renowned brands such as DobleTree Hilton Hotel. This is the beginning of Mia's modelling and acting career in India. Other than DHI some of the other endorsements she has already taken on include hi-end lingerie brand Clovia, a luxury spa Asian Roots and she is in talks for some Bollywood assignments as well.
Ajay Bansal, CEO, DHI India, says "It's a time of immense joy and pride for the DHI family. The last 45 years have been of learning, innovating and providing best solutions to people suffering from hair loss worldwide. DHI has always been dedicated to provide the best service with the most innovative and latest technology to its valued clients. We will make sure to carry forward the legacy of excellence and precision in the years to come as well"
The Indian hair-restoration industry is worth Rs 800 crore, according to Economic Times. While 80% of the market is mainly dominated by unorganised sector, the corporate chains and speciality clinics are coming up to tap deep into the market, especially in tier 2 – tier 3 cities. As the industry is majorly dominated by unorganised players, Mr. Bansal suggests having a thorough discussion with the doctor about his/her qualification and the techniques used in the procedure to make sure that you don't fall in the trap of under-qualified, self trained practitioners. DHI, with its 45 years of dedicated research in treating hair and scalp related disorders, offers the best and wide range of hair restoration solutions, across various stages of hair loss.
DHI's endeavor is to bring world standards in hair restoration to India. With a network of 16 clinics spread across all major cities in India, DHI has grown owing to its superior industry techniques to emerge as the number one player in this category. Every month 2 to 3 thousand clients reach out to DHI for their hair related problems.