Offers Cervical cancer screening and SRL's premium health screening package free for lifetime
Releases report on 'Importance of early diagnosis in women'
NewZNew (Chandigarh) : On the occasion of International Women's Day, SRL Diagnostics, a leading global diagnostics chain, today honored and felicitated 5 exceptionally spirited women from the city of Chandigarh, who have a commendable contribution towards women empowerment and have emerged as winners and are a role model for many. The five spirited women were honored by SRL Diagnostics with anhigh end cervical cancer screening and a lifetime offer of SRLs premium health screening package. In an endeavor to promote the message of preventive healthcare, the diagnostic chain also released a report on 'Importance of early diagnosis in women'. The 5 women felicitated included Sahar, Renu Mathur, Pooja Thakur, Rajni Talwar and Rajinder Rosy.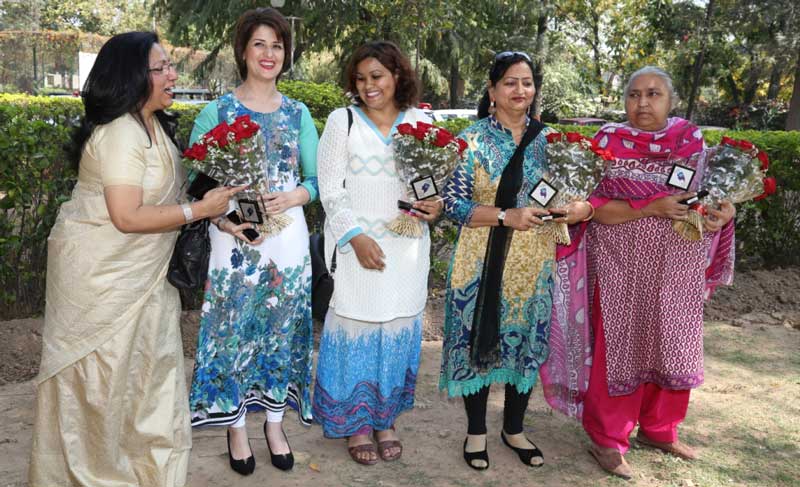 At the felicitation event held at Press Club, Chandigarh, Dr. Anita Sharma, regional head SRL Ltd­­­­said"We at SRL Diagnostics are privileged to stand among these 5 exceptional women. It gives me immense pleasure to acknowledge their spirited life which in itself is inspiring for all of us. In our small way we want to offer our gratitude by offering them free cervical cancer screening once in every five years in addition to a lifetime annual health checkup."
Pooja Thakur, HIV positive survivor, while talking about her life she got emotional and she said "I would love to be surrounded with those who stood beside me when I needed them. It was hard for me to get a shelter in chandigarh and I did not get support from my family in my crucial times it shattered me for once but i didn't lose hope and moved on for my children and to help people like me."
At the event, SRL Diagnostics released a report on the importance of early diagnosis in women. As part of the report it emerged thatmost of the women are not knowledgeable about the changes that their bodies undergo over time. These statistics reveal the grim scenario of women's health in Chandigarh.
Women in Chandigarh were examined for Anemia, Cardiovascular disorders, Thyroid, Vitamin D, diabetes & PCOD. According to the analysis (2012-2015) released by SRL, women from the age group of 31-45 years were found to be most susceptible to suffering from Anemia and the incidence of the condition in all the samples testedwas around 50%.Deranged HbA1c and FBS values were seen most frequently between the ages of 46—60 yearsand overall affecting around 30% of the total number of samples tested.Deranged thyroid function values were seen most frequently in the age group of 31—45 years. The incidence of abnormal thyroid function ranged from 15% to 20%.
"Women form the nucleus of every family. Unfortunately they are the most neglected section of our society. There is an urgent need for action to propagate the prominence of preventive healthcare in women. It needs to combat all kinds of ignorance regarding women's health, which is showing an alarming upward trend of late. At SRL Diagnostics we lay emphasis on prevention and not just an early detection. Symptoms if treated timely and long before they develop into a full blown serious ailment are always better than late action which means higher expenses, misery and anxiety for the patient and the family."said Dr. Anita Sharma, regional head SRL Ltd.
Among the women felicitated during the event is Sahar Gharachorloo, a life coach who went through 2 relationships which were physically and emotionally very abusive and she thanks to those times that what she is today and she wishes to help people not to go through the mistakes she has made in her life and concentrates on Acid Attack victims, marriage of poor girls, under privileged children and women who have been victim of abuse.
Renu Mathur, a social activist who was ditched by her business partner, came under the loss of the crores. Nobody helped her even closest people left her, she was in the worst situation and couldn't bear her basic expenses. That time she realized what kind of pain people feels, especially female when they don't get help on required time. After that she decided to help every needy woman in trouble. On her noble way she has started helpline 0172 5048788 for women timings 10 am to 5pm. She is eager to help especially acid attack sufferer female, dowry cases, humiliation and other women home violence.
Pooja Thakur, HIV-positive who lost her husband to AIDS in 2005 when she was just 23 and a mother of three children. When she discovered that she and her kids were also HIV-positive her family left her alone,   she had to come to Chandigarh for treatment from Sirmour, Himachal, which was hard for her to afford so she shifted to Chandigarh and started looking for a job so she could live in the city. She has now come forward and is helping others like her.
Rajni Talwar, President of Right way child. She owns a parlour where she gives free training to girls and also helps them become financially independent.  She doesn't get funds from Govt. or any other community but spends her own money for upliftment of poor children and women. She helps rape survivors and help them fight their case with their legal advisors. She has conducted 11 weddings so far on her own expense.
Rajinder Rosy,famous figure in the field of Literature. Rosy belongs to middle class family. Her father was a vegetable seller and mother was a less educated house wife. She was in 11th class when she translated Kamayani and she could not continue her study after 11th but it was because of her hard work only she learned Hindi, English, Punjabi, Sanskrit and Urdu. At the age of 20, she got married and continued her passion though she did not get support from her family but this could not stop her from writing.  She has written more than 500 poetries and has translated numerous poetries and books in different languages.Also, she is the life member of 'Indian Red Cross Society' and she runs a trust named Marwah, in which TB patients are taken care of.