Announces one-way domestic fares starting @ INR 769/- and international fares starting @ INR 2469/- all inclusive
Booking Period: 22nd  January 2018 – 25th  January 2018
Travel Period: Till 12th December 2018
Limited seats, offer available on First-Come-First-Served basis
In resonance with the 69th year of the Republic Day celebrations, SpiceJet, the country's favourite airline today rolled out its 'Great Republic Day Sale!'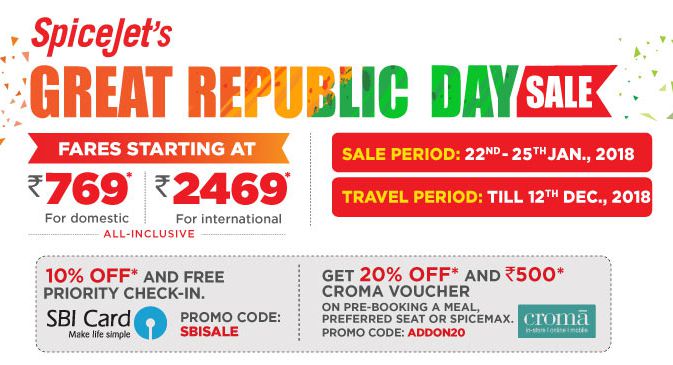 The sale offers an all inclusive one-way fare starting as low as INR 769/- and INR 2469/- for travel to select destinations on its domestic and international network respectively.
The four-day sale launched today will be open till midnight, 25 January, 2018 whereas the travel period covered is till 12th December 2018. SpiceJet flyers can, therefore, avail these very attractive fares to plan their domestic travel well in advance.
The starting offer of INR 769/-(all inclusive) is valid on popular domestic routes like Jammu – Srinagar, Silchar – Guwahati, Dehradun – Delhi, Delhi – Jaipur, Agartala – Guwahati, Coimbatore – Bengaluru, Kochi – Bengaluru and Delhi – Dehradun whereas on the airline's international network the starting offer of INR 2469/- (all inclusive) can be availed on the Chennai – Colombo route.
The airline is also offering exclusive benefits to the customers who will directly book on spicejet.com.  These benefits include additional 10% discount upto INR 500 on flights and a free priority check-in for SBI credit card customers. SpiceJet customers can also avail a 20% off and a Croma voucher worth INR 500 on pre-booking selected add-ons like meals, spicemax, preferred seats during the sale period.

Tickets for this sale can be booked on www.spicejet.com, on online travel portals, SpiceJet mobile app and through travel agents. Tickets under this offer are refundable (only statutory taxes refundable), though changeable with a change fee and fare difference.
There is limited inventory under the offer, and seats will be available on First-Come-First-Served basis. Blackout dates would be applicable. Sales fares are not applicable on group bookings and cannot be combined with any other offer. The offer is applicable only on non-stop flights and fares vary from sector to sector depending on the travel distance. Flight schedules and timings are subject to regulatory approvals and change(s).