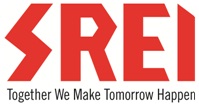 NewZNew (Chandigarh) : Srei Infrastructure Finance Limited ("Srei"), one of India's largest integrated infrastructure institutions, has filed the Draft Shelf Prospectus(DSP) with BSE Limited and National Stock Exchange Limited and Securities and Exchange Board of India (SEBI) for public issue of secured redeemable non-convertible debentures ("NCDs") of face value Rs 1,000 each aggregating up to Rs 1,000 crore (Shelf Limit).
The NCDs will be issued in one or more tranches, subject to the Shelf Limit in accordance with the terms and conditions set out in separate tranche prospectus for each such tranche issue.
The object of the proposed issue is to raise funds for various lending/financing activities, to repay the company's existing loans and business operations. The NCDs offered through this Draft Shelf Prospectus are proposed to be listed on the BSE and NSE. The NCDs have been rated 'BWR AA+' (BWR Double A plus) by Brickwork Ratings India Private Limited ("BRICKWORK").