Provides financial protection against 40 critical illnesses
100% return of premium in case of no critical illness claim
Additional cover for Angioplasty
Lower premium for female lives
Offers guaranteed premium rates for the first five policy years
Plan available for 18-65 years of age for policy term of 10 years
NewZNew (Chandigarh) : SUD Life (Star Union Dai-ichi Life Insurance Co. Ltd.), a joint venture between Bank of India, Union Bank of India and the Dai-ichi Life, Japan today announced the launch of its new critical illness plan – SUD Life AAROGYAM. The launch was announced by Mr. Girish Kulkarni, Managing Director and Chief Executive Officer, SUD Life, here today.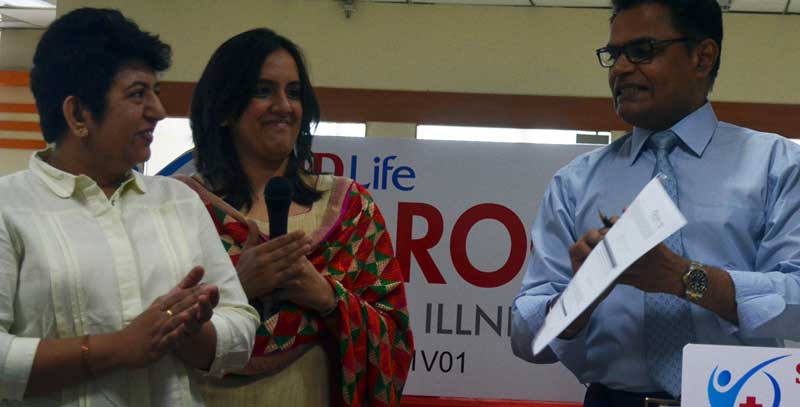 SUD Life AAROGYAM is a non-linked non-participating health insurance plan that pays the sum assured chosen as a lump sum amount in case the life insured is diagnosed with any of the listed 40 critical illnesses.
The new health plan guarantees a fixed rate of premium for first five policy years.
''SUD Life AAROGYAM is designed to protect your family from financial uncertainties emanating from the critical illness. It provides lump sum benefit irrespective of actual medical cost. We are confident that our new critical illness plan will help our customers be prepared to fight life's surprises,'' said Mr. Kulkarni.
Apart from providing cover against 40 critical illnesses, SUD Life AAROGYAM also provides an additional cover if the life insured undergoes angioplasty.
It offers lower premium for female lives and discounted premium on high-sum assured.
The coverage offered by this plan ranges from INR 5 lakh to INR 50 lakh with 100% premium pay back (excluding extra premium, if any) in case of no claims (except claim on Angioplasty) at the end of the policy term.
On diagnosis of the life insured with any of the 40 critical illnesses, Mr. Kulkarni explained, the sum assured chosen is paid and the policy terminates immediately.
"Our objective behind providing lump sum benefit is to help the customers develop control over their health spends and other life changes that they may need to make," Mr. Kulkarni.
SUD Life AAROGYAM will be available across 10,000 Bank of India and Union Bank of India branches.  It will also be promoted through SUD Life Plan Designers and advisors across the country.