AN ALL NIGHT 'STAR PARTY' AT DIKSHANT GLOBAL SCHOOL HELD
NewZNew (Zirakpur) : International Space Society (ISS) in association with Jyotirvidya Parisanstha (JVP), Pune organized an overnight Star Gazing party – 'Starry Night', at Dikshant Global School, VIP Road,Zirakpur. It is noteworthy that JVP was formed in August 1944 by a group of eminent astronomers & is the oldest association of amateur astronomers in India. Experts from JVP explained the finer details of Star gazing using telescopes & clarified many questions raised by students on Astronomy.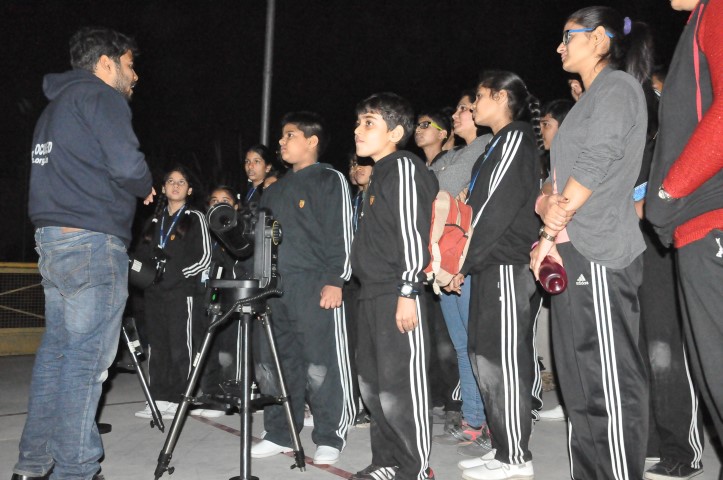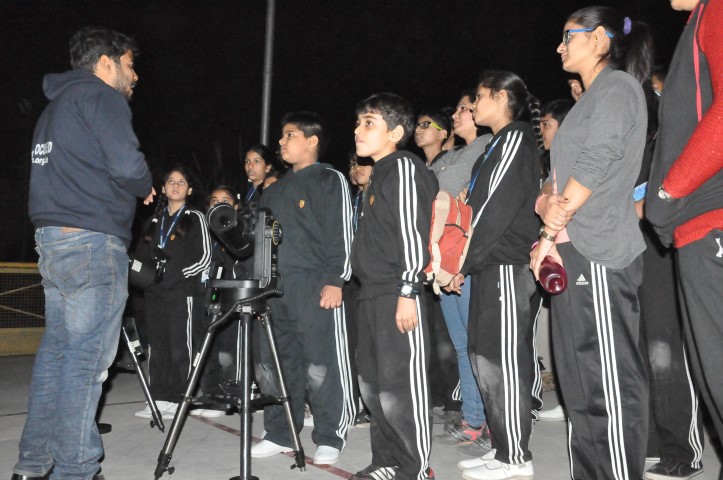 "The Star gazing activity started at 6:30 pm with onset of Sunset & continued through the night till sunrise at 5:45 am. Students from Dikshant International & Global schools  used telescopes & made use of the opportunity to understand basics of space science by engaging in discussions with the Experts from JVP. The event was held as part of a Space Outreach programme of ISS to develop a scientific temperament in students & to ignite in them an interest for Space science." Said Mitul Dikshit, President, ISS & Chairman, Dikshant Group of Schools.
The star gazing helped students look at some very important celestial objects. They were shown the legendary Hubble Space Telescope– one of the largest, most versatile, and vital research tool for astronomy. The young space scientists were also shown International Space Station — the largest artificial body in orbit. The students were told that the Space station's components have been launched by Russian Proton and Soyuz rockets, and American Space Shuttles. Students were also explained that the space station is a space environment research laboratory in which crew members conduct experiments. Another very interesting celestial phenomenon students were shown by the Experts through the telescopes was the Iridium-23 flare. The experts showed students the Iridium satellite constellation — a satellite constellation providing voice and data coverage to satellite phones, pagers and integrated transceivers over the Earth's entire surface. "The Iridium Flare is produced because of the shape of the Iridium satellites' reflective antennas, the satellites focus sunlight on a small area of the Earth's surface in an incidental manner. This results in an effect called Iridium flares, where the satellite momentarily appears as one of the brightest objects in the night sky." Explained  Atharva Pathak, An Expert from JVP, Pune.The students were also shown the CZ-4 R/B Satellite.
"The thrust of the Star Gazing this time was to show students man made satellites like the habitable International Space Station & how they work. The International Space Station consists of pressurised modules, external trusses, solar arrays, and other components, these were also shown to the young space enthusiasts." Said Sarang Sahasrabudhe the other Expert from JVP, Pune.
"I learnt a lot from the Starry Night Party. We saw International Space Station closely & learnt how scientists conduct cutting edge research in biology, human biology, physics, astronomy, meteorology, and other fields." Said Vedant  , A student of Class 10 at Dikshant International School, Zirakpur.
"The event provided an opportunity to us to see the legendary Hubble Telescope. We were told that it is one of NASA's Great Observatories. Many more such unique astronomical delights were shown." Said Gaurav Bansal,  a Class 9 student of Dikshant International School.
"It is not often that one gets a chance to be part of such a huge Star Gazing event. The activity provided ample learning & was quite exciting." Said Kunal a Grade 6 student of Dikshant Global  School, Zirakpur.
Students of Dikshant International & Global Schools, Zirakpur took part in the event.