NewZNew (Chandigarh) : As many as 300 students took out a cycle rally, organised under the ongoing Oil & Gas Conservation Fortnight (OGCF) 2016, by Hindustan Petroleum Corporation Ltd. (HPCL). The students of DAV Senior Secondary School (Lahore), Sec 8, Chandigarh through the activity made it quite clear that Fossil fuels are not available for eternity to mankind & the only way out was to save Oil and Gas. Mr. Arun Sood, Mayor , Chandigarh flagged off the young Cyclists in the presence of State Level Coordinator, U.T. Chandigarh & Senior Regional Manager of HPCL, Mr. Gagandeep Singh Sodhi. Principal of the School Ms. Vibha Ray was also present.
The students made some very creative slogans which were displayed on placards that gave the message of protecting the ecology & using Oil and Natural Gas in a judicious way. Said Mr. Gagandeep S Sodhi, "Under OGCF we are sensitizing people at large, about the need of saving these natural resources. The cycle rally today saw participation by school children who made it amply clear that the only way to save Oil & Gas from depletion is 'conservation'."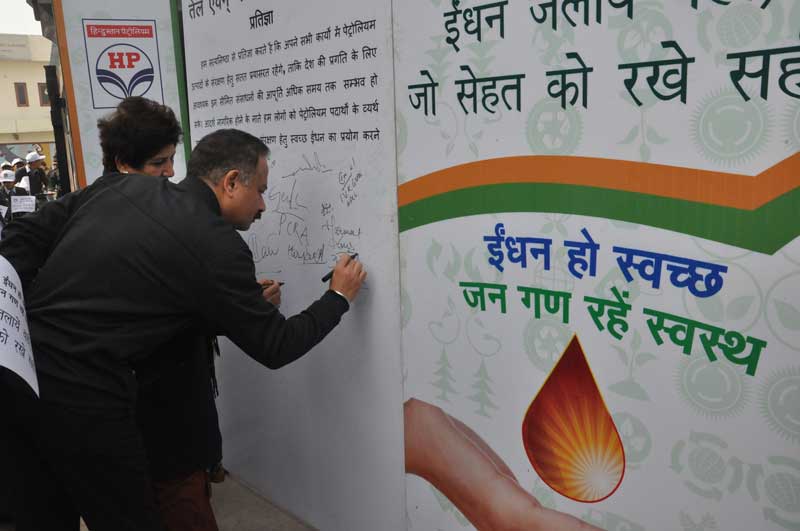 Under OGCF 2016's campaign to raise awareness about saving oil  & natural gas members of Oil Industry, Officials of Chandigarh Administration, Prominent Citizens, Industrialists, Journalists, Lecturers, Teachers, Students, Transporters, Agriculturists and Dealers of retail outlets of Petrol & Diesel, Kerosene & LPG are being involved.
The Cyclothon saw the young cyclists pedaling from Sec 8 to the Lake and returning to the start point. The effort by the student cyclists was aimed also at igniting parents and elders into action to save oil & gas before it's too late.