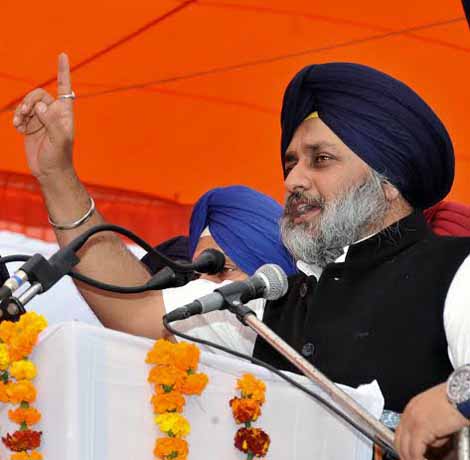 NewZNew (Chandigarh) : Shiromani Akali Dal (SAD) President Sukhbir Singh Badal will address all three Dharnas being organised by the SAD adjoining the international border at Attari, Hussainiwala and Sadiqi tomorrow to spread awareness about drugs as well as ensure greater vigilance on the border with Pakistan.
Disclosing this here today, a party release here said Mr Badal would first address the dharna at Attari following which he will travel to Hussainiwala and then Sadiqi.
The Attari dharna is being headed by senior leadership including Bikram Singh Majithia, Ranjit Singh Brahmpura, Nirmal Singh Kahlon and Suchha Singh Langah besides others. The dharna at Hussainiwala is being led by Sukhdev Singh Dhindsa, Jathedar Tota Singh and Janmeja Singh Sekhon. The dharna at Sadiqi is being led by Balwinder Singh Bhundur and Sikander Singh Malooka. All the Dharnas will be held between 12 and 2 pm.
Meanwhile the SAD President made it clear today that the party would not tolerate Punjabis being defamed on the issue of drugs. "The fact of the matter is that Punjabis have formed the crucial second front after the BSF and stopped drugs entering into the State from Pakistan from spreading further in the country. We should be applauded for this", he added.
Mr Badal said the SAD had only asked for greater surveillance of the border with Pakistan. "Drugs continue to seep into Punjab from across the border. We need technology like sensors and CCTV cameras to seal the borders completely. Similarly States like Madhya Pradesh and Rajasthan who are not only cultivating opium but selling the same for profit should be asked to stop this practice forthwith. "I can guarantee if this happens the entire country will become free from the menace of drugs soon", he added.