NewZNew (Chandigarh) : Thousands of youth congregated here today to support the Youth for Punjab campaign launched by Shiromani Akali Dal (SAD)president Sukhbir Singh Badal and vowed to start a "haksach di ladai" and usher in reelection of the SAD-BJP combine in the 2017 assembly elections.
Virtually sounding the 2017 election bugle amidst thunderous slogans of "Sukhbir teri soch te pehradayange thokke", Youth Akali Dal (YAD) supporters overflowed from the huge 'shamiana' erected in the party office and even jammed neighbouring roads and areas in their enthusiasm. The youth asserted they would stand up for the honour of Punjab and propagate the teachings of the Gurus for all round development of society.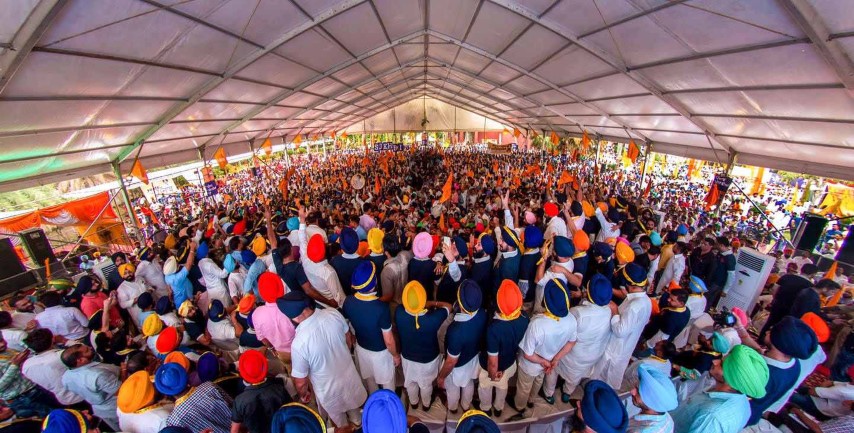 Leading from the front, Sukhbir Badal said "Today's rally has made it clear that the youth of Punjab is with the SAD-BJP combine. Today I get the same feeing as I did in December 2010 when youngsters got together and started a movement, which eventually resulted in victory for the SAD- BJP alliance in 2012
Making it clear that the tidal wave in support of the SAD would percolate down to the grass root level in days, the SAD president directed SAD general secretary Bikram Singh Majithia and YAD Patron Sharanjit Dhillon to spread this movement to each and every constituency in Punjab.
Amidst enthusiastic sloganeering of Youth for Punjab – "Punjab Punjabian da" which continued for one hour and even endangered the stability of the stage for a moment, Mr. Badal spoke about the stellar role played by SAD in the freedom movement and even afterwards by saving the waters of Punjab from being parted from the State. He said all development that had come into Punjab including building of two airports,thermal plants, Thein dam and world class road infrastructure had occurred under the Leadership of S. Parkash Singh Badal.
Earlier in a stirring speech SAD general secretary Bikram Majithia set the tone for the programme by thanking the youth for starting a tidal wave. Majithia said Punjabis were known to stand up for their honour. He went on to up the ante and even the sentiments of the youth by saying that if needed, we would make any sacrifice for the honour of Punjab
Majithia said the fight for 2017 was a fight for Punjab. "Eh haksach di ladai hai", he said adding "Punjabis would go to any extent and make any sacrifice to protect the honour of Punjab and its youth".
Among others present on the occasion included Irrigation Minister Punjab Sharanjit Singh Dhillon, CPS  N.K. Sharma, Advisor to the Deputy Chief Minister Manjinder Singh Sirsa, Media Advisor to the Deputy Chief Minister Jangveer Singh, OSD to the Deputy Chief Minister Parminder Singh Brar, President Youth Development Board Punjab Parambans Singh Bunty Romana and top brass of SAD and YAD.